Taiwan shares end higher amid optimism toward global trade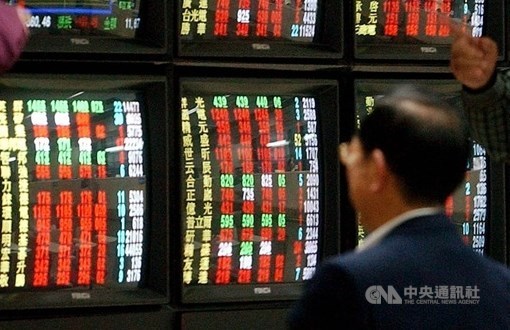 Taipei, Jan. 14 (CNA) Shares in Taiwan moved higher Tuesday on upbeat investor sentiment toward global trade, as the United States and China prepared to sign a phase-one trade deal later this week to resolve their disputes, dealers said.
Buying focused on the bellwether electronics sector, led by contract chipmaker Taiwan Semiconductor Manufacturing Co. (TSMC), on optimism about its fundamentals, while old economy and financial stocks appeared mixed as funds were largely concentrated in the high- tech sector throughout the session, dealers said.
The weighted index on the Taiwan Stock Exchange (Taiex) ended up 66.39 points, or 0.55 percent, at 12,179.81, moving between 12,140.27 and 12,186.62. Turnover totaled NT$152.92 billion (US$5.11 billion) during the session.
The market opened up 0.40 percent in a knee-jerk reaction to the gains on the U.S. markets, where both the S&P 500 index and the tech-heavy Nasdaq hit new highs Monday, rising 0.70 percent and 1.04 percent, respectively, on hopes of a Washington-Beijing trade deal, according to dealers.
The optimism followed the U.S.' decision to remove China from its currency manipulator list, saying Beijing had made "enforceable commitments" not to devalue the Chinese yuan against the U.S. dollar and had agreed to release exchange-rate data.
In Taiwan, the main board gained momentum Tuesday as increased buying in the electronics sector focused on large-cap stocks, TSMC in particular, helping to push up turnover and boost the Taiex by the end of the session, dealers said.
"Today's expanded turnover was an indication that many investors were willing to chase prices, which helped the Taiex close well above the 12,100-point mark and paved the way for a continued uptrend," Mega International Investment Services Corp. analyst Alex Huang said.
Tuesday's turnover, well above the NT$143.49 billion recorded the previous day, was coupled with an infusion of foreign funds into the local market, amid growing optimism toward global trade, he said.
"Foreign investors were parking their money in large cap stocks, and TSMC was their top choice," Huang said.
According to Taiex data, foreign institutional investors bought a net NT$4.10 billion worth of shares on the main board Tuesday after a net buy of NT$10.73 billion Monday.
TSMC rose 1.32 percent to close at the day's high of NT$346.00, with 30.15 million shares changing hands. The closing price was the highest in the stock's history and also pushed its market capitalization to a new high of NT$8.97 trillion on Tuesday.
TSMC's gains contributed to an increase of about 40 points on the Taiex and sent the electronics and semiconductor sectors 0.88 percent and 1.00 percent higher, respectively.
Also in the high-tech sector, Largan Precision Co., a supplier of smartphone camera lenses to Apple Inc., rose 2.57 percent to close at NT$5,180.00, power management solution provider Delta Electronics Inc. gained 1.00 percent to end at NT$151.00, and iPhone assembler Hon Hai Precision Industry Co. added 0.45 percent to finish at NT$90.00.
However, integrated circuit designer MeidaTek Inc. fell 1.42 percent to end at NT$416.00 amid market speculation that China, a major buyer of MediaTek's chips, was downgrading its forecast of smartphone shipments.
"With the electronics sector accounting for about 73 percent of the total turnover today, many non-tech stocks underperformed their tech counterparts today," Huang said.
Among the mixed old economy stocks, food brand Uni-President Enterprises Corp. fell 0.27 percent to close at NT$74.40, and Formosa Plastics Corp. lost 0.90 percent to end at NT$98.80, while China Steel Corp., the largest steel maker in Taiwan, finished 0.21 percent higher at NT$24.05.
In the financial sector, which ended up 0.40 percent, Mega Financial Holding Co. rose 0.95 percent to close at NT$32.00, and Fubon Financial Holding Co. added 0.43 percent to end at NT$47.00, while Cathay Financial Holding Co. closed unchanged at NT$42.85.
"I expect further gains on the main board down the road, but the Taiex would have to overcome the nearest technical resistance of 12,250 points before making another breakthrough," Huang said.