Taiwan shares end lower on tech stock losses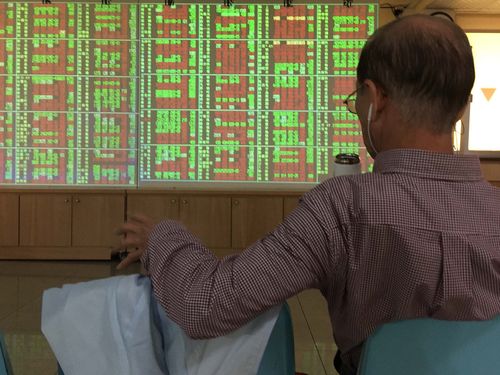 Taipei, Sept. 10 (CNA) Shares in Taiwan moved lower to close below the 10,800-point mark Tuesday, as investors locked in gains of recent sessions, with the bellwether electronics sector leading the downturn, dealers said.
Market sentiment remained cautious about the ongoing trade dispute between the United States and China, although the two sides have agreed to resume negotiations in October to resolve their trade issues, the dealers said.
The weighted index on the Taiwan Stock Exchange (TWSE), or Taiex, ended down 47.56 points, or 0.44 percent, at 10,753.58, after moving between 10,732.78 and 10,810.03, on turnover of NT$119.78 billion (US$3.84 billion).
The market opened down 9.19 points on mild profit taking from a session earlier, when the Taiex closed up 0.19 percent and selling continued as investors cut their holdings in the bellwether electronics sector, in particular among Apple concept stocks, just before the U.S. consumer electronics giant was scheduled to hold a "special event" later in the day, the dealers said.
While Apple did not disclose any details about the event, the market has widely anticipated that the company will introduce three new iPhones, each of which will add one more camera lens compared with previous models.
"Despite the planned launch of the next-generation iPhones, many investors have doubts that the new products will be well-received once they hit store shelves," Mega International Investment Services Corp. analyst Alex Huang said.
"In particular, after an American brokerage cut its target price on shares of Largan Precision Co., a smartphone camera lens supplier to Apple, investors' faith in the new iPhones has been undermined further," Huang said.
The U.S. brokerage has lowered its target price on Largan shares to NT$3,600 from US$4,800 and also downgraded its recommendation on the stock to "underweight."
Among the Taiwanese suppliers to Apple, Largan shed 5.39 percent to close at NT$3,775.00 and iPhone assembler Hon Hai Precision Industry Co. lost 0.80 percent to end at NT$74.10, while metal casing maker Catcher Technology Co. closed unchanged at NT$227.00.
In addition, Taiwan Semiconductor Manufacturing Co. (TSMC), a supplier of iPhone processors, also fell 1.32 percent to close at NT$261.50.
Led by TSMC, the most heavily weighted stock in the local market, the bellwether electronics sector closed down 0.93 percent and the semiconductor sub-index ended down 1.18 percent.
"We have to watch closely how Wall Street will react to the debut of the next-generation iPhones tonight, which will move tech stocks in Taiwan tomorrow," Huang said.
Bucking the downturn on the broader market, the financial sector closed up 0.90 percent, which prevented the Taiex from falling further.
"Financial stocks benefited from their relatively low valuations," Huang said. "As the market expects that the local central bank will leave its key interest rates unchanged later in the month, banks will be able to maintain their interest spread and profitability," he added.
In the sector, Fubon Financial Holding Co. rose 0.79 percent to close at NT$44.90, Cathay Financial Holding Co. gained 1.10 percent to end at NT$41.40 and E. Sun Financial Holding Co. added 2.12 percent to close at NT$26.50.
Among the mixed old economy stocks, textile maker Far Eastern New Century Corp. fell 2.21 percent to close at NT$28.75 and Asia Cement Corp. lost 1.46 percent to end at NT$43.85, while Formosa Plastics Corp. rose 0.32 percent to close at NT$95.50 and China Steel Corp., the largest steel maker in Taiwan, gained 0.65 percent to end at NT$23.35.
"Investors have been advised to keep a close eye on the global trade issues," Huang said. "The upcoming trade talks between Washington and Beijing (in October) have continued to create uncertainty in the market."
Huang said the local equity market could test the technical support level at around the 60-day moving average of 10,680 points, but after falling to that level, a rebound could follow.
Despite the fall in the index, foreign institutional investors bought a net NT$2.27 billion-worth of shares on the main board Tuesday, according to the TWSE.