Taiwan shares flat as tech gains offset financial stock weakness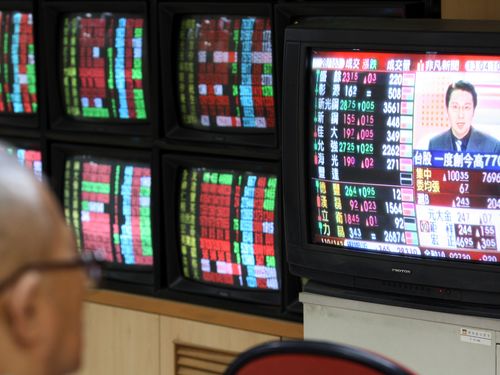 Taipei, June 12 (CNA) Shares in Taiwan closed little changed Wednesday as gains in the electronics sector offset losses suffered by financial stocks to keep the market above the 10,600-point mark, dealers said.
Escalating trade tensions between United States and China continued to haunt market sentiment, driving many investors to the sidelines and again limiting daily turnover, they said.
The weighted index on the Taiwan Stock Exchange (TWSE), the Taiex, ended up 7.90 points, or 0.07 percent, at 10,615.66, after moving between 10,566.37 and 10,630.69, on turnover of NT$100.89 billion (US$3.21 billion).
The market opened down 2.01 points and fell to the day's low in the middle of the morning after the Dow Jones Industrial Average closed down 0.05 percent overnight, stopping a six-session winning streak, dealers said.
At around noon, however, buying picked up and the market recouped its earlier losses by the end of the session as large cap stocks, including contract chipmaker Taiwan Semiconductor Manufacturing Co. and other "Apple concept stocks," gained ground, dealers said.
"Today's moderate turnover revealed the caution among a majority of investors here toward the global trade issue," equity analyst Andy Hsu said.
"Markets at home and abroad largely remained wary ahead of the upcoming G20 summit (scheduled for June 28-29), where the U.S. President Donald Trump and Chinese Xi Jinping are expected to meet."
Hsu said the positive effects of an announcement by Trump on Sunday that Washington would suspend indefinitely tariffs on goods imported from Mexico have been largely digested by the market, so attention was redirected to the U.S.-China trade issue.
"Bargain hunters turned active around noon today, focusing on select tech heavyweights, in particular those in the Apple supply chain, which had been hammered in recent sessions, which made up for losses incurred by financial stocks," Hsu said.
Thanks to TSMC, Hsu said, the bellwether electronics sector remained an anchor stabilizing the main board. The sector ended up 0.56 percent, and the semiconductor sub-index rose 0.65 percent.
TSMC, the most heavily weighted stock in the local market, rose 0.61 percent to close at NT$246.00, off an early low of NT$243.00, with 29.65 million shares changing hands, and iPhone assembler Hon Hai Precision Industry Co. gained 1.80 percent to end at NT$73.70.
Also among the "Apple concept stocks," metal casing supplier Catcher Technology Co. rose 3.19 percent to close at NT$210.00, and Pegatron Corp., another iPhone assembler, added 3.37 percent to end at NT$52.20, while smartphone camera lens maker Largan Precision Co. closed unchanged at NT$3,575.00.
The financial sector ended down 1.17 percent as investors locked in gains they had posted in the previous few sessions.
Shanghai Commercial & Savings Bank shed 3.44 percent to end at NT$56.10, Mega Financial Holding Co. lost 1.92 percent to close at NT$30.70, and First Financial Holding Co. fell 1.35 percent to end at TN$21.95.
The old economy sector closed mixed with Hotai Motor Co., the local sales agent for Japan's Toyota Motor Corp., lost 0.97 percent to close at NT$512.00, and food brand Uni-President Enterprises Corp. dropped 0.37 percent to end at NT$80.30.
China Steel Corp., the largest steel maker in Taiwan, rose 0.61 percent to close at NT$24.55.
"Before the G20 summit, I expect the local equity market will move in a narrow range, with stiff technical resistance ahead of 10,700 points and support at around 10,400," Hsu said, urging investors to lock in gains when the Taiex stages a rebound.
According to the TWSE, foreign institutional investors sold a net NT$133 million in shares on the main board Wednesday.