First Turkish MADO ice cream shop opens in Taiwan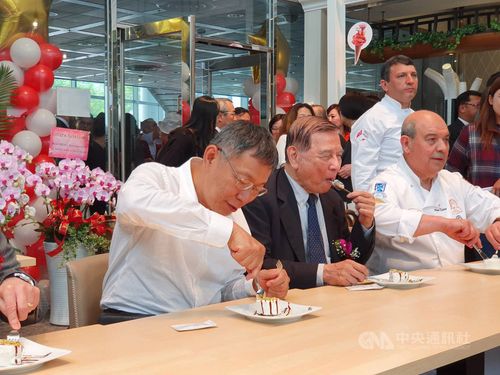 Taipei, April 24 (CNA) The Turkish ice cream and pastry brand MADO opened its first shop in Taiwan on Wednesday in a joint venture with the Taiwanese conglomerate Teco Group.
The shop in Nankang Software Park in Taipei is part of the MADO Group's chain that sells pastry and some 30 flavors of ice cream made from goat's milk.
The goal of the partnership between Teco and MADO is to establish at least six such shops in Taiwan by the end of the year, and 84 in the next four years, according to Teco Group Chairman Theodore Huang (黃茂雄).
A renowned Turkish pastry chain with a 168-year history, MADO has about 300 outlets in Turkey and 22 other countries around the world.
The group promotes its milk ingredients as being produced by goats raised in fields of thyme, astragalus, hyacinth and saffron.
Huang, who is also chairman of the Taiwan-Turkey Business Association, said Teco plans to help bring more quality international food brands to Taiwan to expand consumers' choices.
The MADO store is the 15th brand in Teco's food and beverage business in Taiwan.