TSMC's 2018 net profit hits new high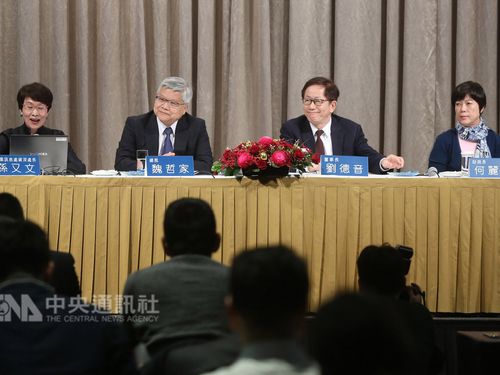 Taipei, Jan. 17 (CNA) Taiwan Semiconductor Manufacturing Co. (TSMC), the world's largest contract chipmaker, recorded its highest ever annual net profit in 2018, according to data released Thursday.
Market analysts said the strong showing in TSMC's bottom line reflected strong demand for chips produced on the chipmaker's advanced 7 nanometer processor in the fourth quarter, when Apple Inc. unveiled its latest iPhones.
TSMC is believed to be the sole supplier of processors for the new iPhones.
In a statement released after the local equity market closed, TSMC said it posted NT$351.13 billion (US$11.4 billion) in net profit, up 2.3 percent from a year earlier, with earnings per share at NT$13.54, compared with NT$13.23 in 2017.
In 2018, TSMC's consolidated sales passed the NT$1 trillion mark to hit a new high of NT$1.03 trillion, up 6.5 percent from a year earlier, TSMC added.
In the fourth quarter alone, TSMC posted NT$99.98 billion in net profit, up 12.3 percent from a quarter earlier and also up 0.7 percent from a year earlier. The fourth quarter EPS stood at NT$3.86, compared with NT$3.44 in the third quarter and NT$3.83 over the same period of the previous year, the data showed.
In the three month period, TSMC's consolidated sales rose to a record high of NT$289.77 billion, up 11.3 percent from the third quarter.
On the back of the strong showing of its 7nm technology, TSMC's gross margin, which reflects the difference between revenue and cost of goods sold in the fourth quarter rose from 47.4 percent in the third quarter to 47.7 percent, which was within the chipmaker's earlier estimate of 47.0-49.0 percent made in September 2018.
Its operating margin -- the difference between sales, the cost of goods sold and operating expenses -- for the fourth quarter, rose from 36.6 percent from the previous quarter to 37.0 percent. The fourth quarter figure was also within the company's estimate of 36.0-38.0 percent.
During the October-December period, chips made on TSMC's 7nm processor, which command a higher profit margin, accounted for 23 percent of total sales, up from 11 percent in the third quarter, and chips made on the 10nm process made up 6 percent of total sales, unchanged from a quarter earlier, while chips made on its 16nm and 20nm process represented 21 percent of total sales, down from 23 percent in the third quarter.
TSMC is expected to give its sales guidance for the first quarter at an investor conference later in the day, which is being closely watched by local and foreign investors.