Taiwanese factories in Vietnam resuming operations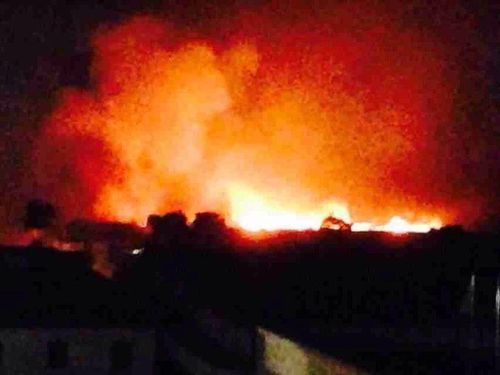 Taipei, May 15 (CNA) Two Taiwanese companies said Thursday that their production base in Vietnam will resume operations later in the day while others are expected to follow their lead later as anti-China protests have shown signs of easing.
Yang Ying-ming, chairman of Kenda Rubber Industrial Co., said operations of the company's factory located in Dong Nai Province, east of Ho Chi Minh City, were suspended the previous day when more and more protesting Vietnamese surrounded the base.
Yang said that the company's factory could resume operation as early as Thursday afternoon since it has not incurred any material losses.
KMC, a leading Taiwanese manufacturer of bicycle chains, also announced that its plant in Dong Nai will resume operation that day, saying its production lines were not damaged.
Riot police have been stationed around AMATA industrial zone, where the KMC plant is located, and order has been restored, the company added.
Dong Nai was less affected by looting than neighboring Binh Duong Province when riots broke out Tuesday.
Vietnamese province of Binh Duong (left) and Dong Nai:
Vietnamese have been staging protests against China after Beijing deployed an oil rig in what Hanoi claims as its economic waters near the Paracel Islands in the South China Sea.
Self-governed Taiwan is not part of the People's Republic of China, but many protesting Vietnamese failed to distinguish between Chinese and Taiwanese and attacked Taiwanese businesses.
The violence was concentrated in Binh Duong, where many Taiwanese investors operate, including Kenda, one of Taiwan's leading tire producers.
Cheng Shin Rubber Ind. Co., another Taiwanese tire maker, said its suspended factory in Binh Duong suffered more losses after protesting Vietnamese broke in and looted. So far, Cheng Shin has no timetable for the factory to resume operations.
Elcat Textile Co., a major garment manufacturer, said it could get back to business Friday. Its has five plants in Nhon Trach, Dong Nai Province.
According to the Ministry of Economic Affairs, more than 100 Taiwanese companies operating in Vietnam have been affected by the riots, including 11 that were set on fire.
The ministry said that so far, no exact figure for losses is available, as some affected Taiwanese investors need to return to their factories to assess the situation, but the footwear sector suffered heavier losses than other sectors due to the unrest.
Taiwan ranks as the fourth-largest foreign investor in Vietnam after pouring US$27.3 billion into the Southeast Asian country between January 1988 and March 2014.
Currently, about 40,000 Taiwanese, comprising investors and their families, run businesses in Vietnam, and more than 30,000 of them live in southern Vietnam, the ministry said.
(By Tien Yu-pin, Huang Chiao-wen and Frances Huang)ENDITEM/J
Related stories:●May 15: Hundreds of Taiwanese factories affected by Vietnam riots: MOEA●May 15: Situation in Vietnam has improved: foreign minister
(Click here for developments related to the anti-China protest-turned-riot in Vietnam.)