Wages for first-time jobseekers down 10% in 13 years: job bank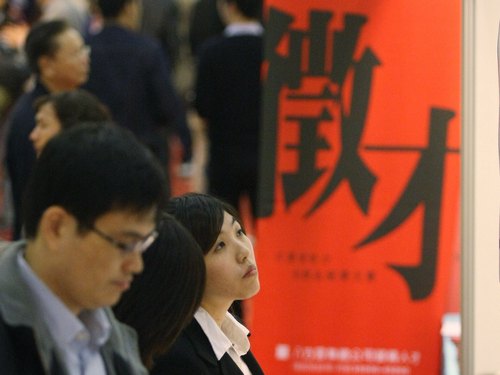 Taipei, April 16 (CNA) Wages for first-time jobseekers with a college degree have fallen by roughly 10 percent over the past 13 years, according to a report released Wednesday.
In the report, 104 Job Bank, one of Taiwan's major job recruitment agencies, said that during the 2000-2013 period, the average wage for job market newcomers fell about 10 percent to about NT$30,000 (US$993).
However, during the same period, local consumer prices moved in the opposite direction, rising some 10 percent, the job bank said. These higher consumer prices have prompted many employees to ask the government to rein in prices so they do not have to contend with falling living standards.
The job bank analyzed the data of about 6 million jobseekers aged 22-26 who have used the job recruitment agency over the 13-year period to calculate the drop in wages.
According to the job bank, amid the financial crisis that occurred during the period, the average wage among young employees even fell to below NT$30,000 at one point.
After the financial crisis, many of those who suffered wage drops failed to see their wages rebounding to pre-crisis levels, the job bank said.
The agency added, however, that semiconductor engineers and software designers did enjoy wage rebounds after the financial crisis.
The 104 Job Bank's report corresponded to a recent government survey, which showed that Taiwan's real average overall wage after adjustment for inflation stood at NT$44,739 in 2013, lower than 1998's real average wage of NT$44,798.
According to the job bank, young employees should sharpen their minds, boost their ability to reason and learn to express themselves clearly in order to make themselves more competitive in the job market and secure better wages
(By Wu Ching-chun and Frances Huang)ENDITEM/J