Hon Hai announces US$40 million U.S. investment plan (update)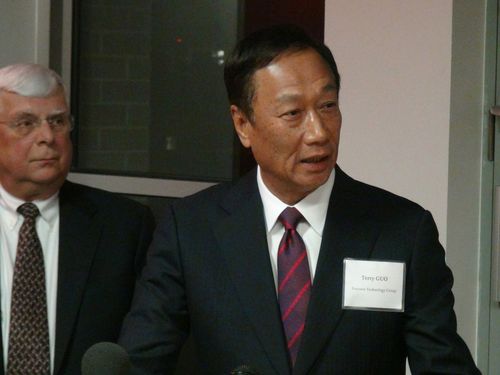 Washington, Nov. 21 (CNA) Taiwan's Hon Hai Group, the main assembler of Apple Inc.'s iPhones and iPads, will build a high-end manufacturing base in the U.S. state of Pennsylvania, the company's chairman and founder said Thursday.
Terry Gou said Hon Hai, known as Foxconn in China, will invest US$40 million over the next two years in the expansion of its existing R&D operation in Harrisburg, Pennsylvania and in research and development (R&D) in manufacturing innovation and automation.
Gou announced the plan at a ceremony in Washington, D.C., during which he signed a letter of intent on the investment project with C. Alan Walker, secretary of the Pennsylvania state Department of Community and Economic Development.
A total of US$30 million of the investment will be used to convert the group's current R&D offshoot in Harrisburg into a high-end manufacturing base.
Gou said he welcomed U.S. President Barack Obama's policy to reboot the country's manufacturing sector and has picked Pennsylvania in part because Hon Hai already has a small operation in the state's capital.
He stressed that Hon Hai, the world's largest electronics manufacturing service provider, does not intend to move low-end jobs from China to the Pennsylvania facility.
The company instead aims to create a high-tech, high-precision, high value-added manufacturing business that uses robotics and automated technologies to reduce production costs, Gou explained.
He expected the expansion plan to generate at least 500 new jobs in the coming years.
The remaining US$10 million will finance a robotics and automation technology project backed by Carnegie Mellon University (CMU), one of the world's top institutes for robotics research, Gou said.
Jim Garrett, dean of CMU's College of Engineering, said at the ceremony that the school ultimately hopes to transform manual labor-oriented factories into facilities that use robotics technology to make goods.
Senior executives of Select USA, a U.S. investment promotion unit under the Department of Commerce, also attended the ceremony.
Gou is visiting the United States as a member of a high-profile business delegation headed by former Vice President Vincent Siew to promote trade, investment and economic cooperation between Taiwan and the U.S.
(By Tony Liao, Lin Shu-yuan and Sofia Wu)enditem/WH/ls