Taiwan overpowers U.S., sits on top of standings at U-18 Baseball World Cup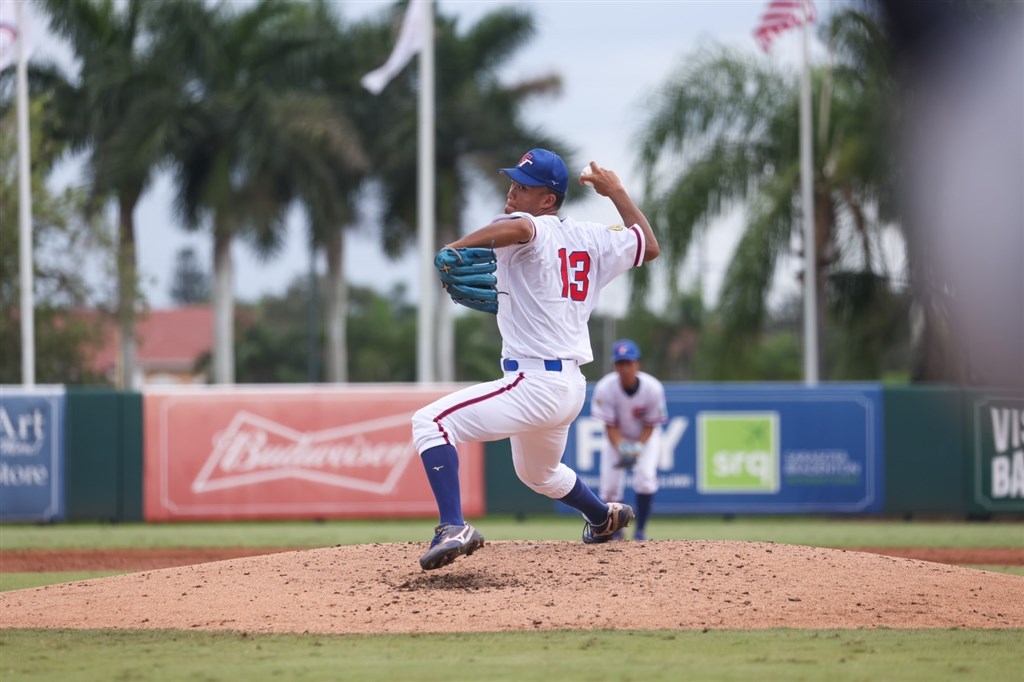 Taipei, Sept. 16 (CNA) Defending world champions Taiwan clinched the top spot in the Super Round standings at the WBSC U-18 Baseball World Cup in Florida on Thursday after overpowering previously undefeated United States 6-2.
Competing under the name "Chinese Taipei," Taiwan's team now holds a 3-0 record and sits atop of the standings after its first game in the Super Round because it had carried over head-to-head records against Japan and Mexico in the preliminary round.
During the latest game, Taiwan was paced by starting pitcher Yang Nien-hsi (陽念希), who allowed only two runs over seven complete innings and struck out five U.S. batters.
Taiwan's youth team took control early and were quick to put numbers on the scoreboard as left fielder Chen Chih-yu (陳致語) pocketed the first run of the game on a throwing error to first base after a sacrifice bunt in the bottom of the first inning.
Just two pitches later, Lin Chia-wei (林佳緯) hit a sacrifice fly to center field to raise the score to 2-0 as second baseman Zheng Jun-wei (鄭俊瑋) made it back to the home plate.
However, it wasn't until in the bottom of the third that Taiwan staged a decisive four-run bonanza where designated hitter Sun Yi-lei (孫易磊) singled through the right side for Lin to score. Sun later scored on a double off the left field wall by catcher Sung Jia-xiang (宋嘉翔).
Sung and outfielder Lin Sheng-en (林聖恩) also scored in the inning to lift Taiwan's lead to 6-0.
The U.S.' only two runs of the game were unleashed in the top of the fourth inning when first baseman Bryce Eldridge smacked out a two-run homer that went over the center field wall.
Both sides went scoreless for the remainder of the game, with Taiwan winning 6-2.
Yang's complete-game performance follows Lin's one-hit gem against Mexico on Monday.
Taiwan will next face South Korea at LECOM Park in Bradenton, Florida on Friday.
The top two sides from the round-robin Super Round, which also features the Netherlands, will advance to the tournament's championship game, with the third and fourth place teams battling it out in the bronze medal match.
Updated
Sept: 18: Taiwan finishes second at WBSC U-18 Baseball World Cup, loses to U.S.
Sept. 17: Taiwan shuts out Netherlands, punches ticket to U-18 Baseball World Cup final
Related news
Sept. 14: Taiwan outscores Panama to remain undefeated at U-18 Baseball World Cup
Sept. 13: Taiwan overpowers Japan to advance in U-18 Baseball World Cup
Sept. 12: Taiwan shuts out Mexico 4-0 in U-18 Baseball World Cup
Sept. 11: Taiwan defeats Italy 2-1 in U-18 Baseball World Cup opener