P. LEAGUE+ & T1 LEAGUE
/
Hsinchu Lioneers' Singh Bhullar named P. LEAGUE+ Import Player of the Year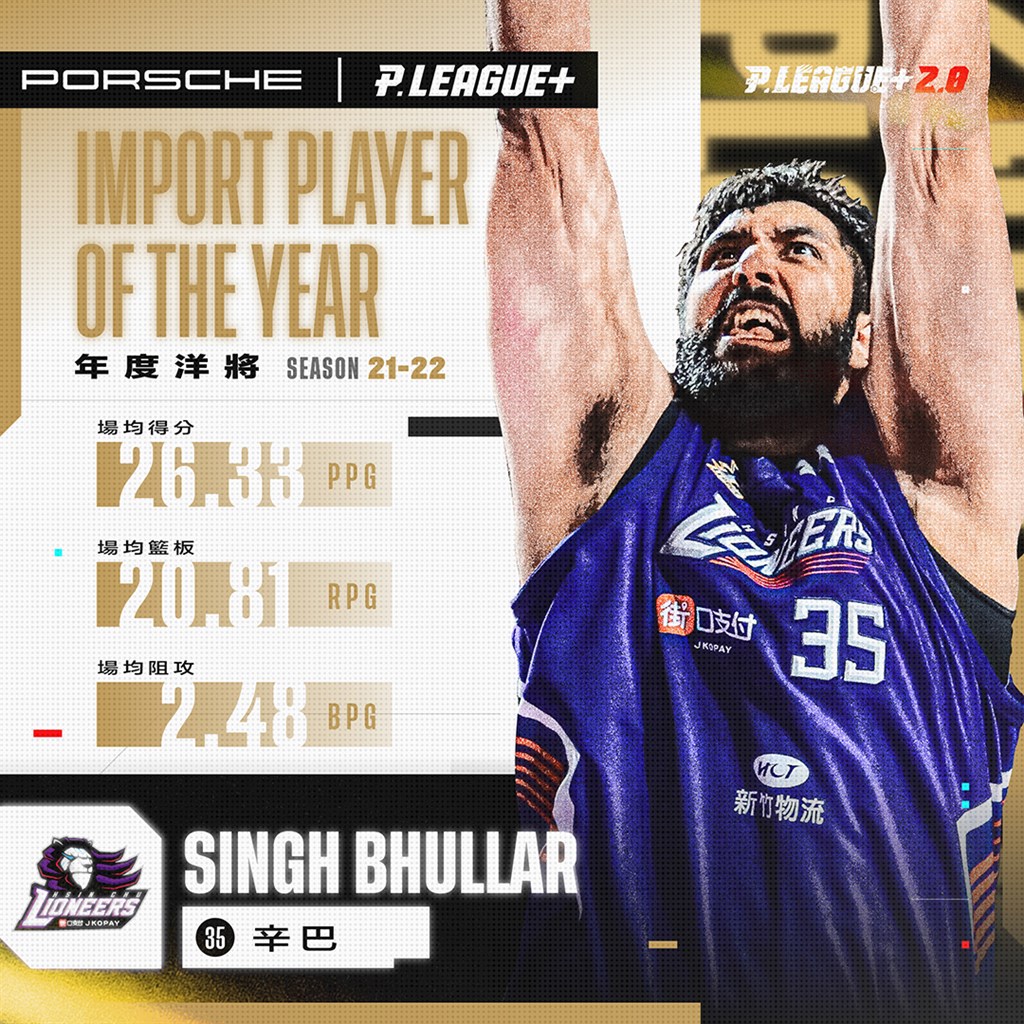 Taipei, June 25 (CNA) Hsinchu Jko Lioneers center Singh Bhullar was named Import Player of the Year for Taiwan's professional basketball league P. LEAGUE+'s 2021-2022 season, in recognition of his efforts to lead his team to the top of the regular season rankings.
The 2.26-meter-tall Canadian professional basketball player of Indian heritage topped the regular season points and rebounds leaderboard with an average 26.3 points and 20.8 rebounds, respectively, per game, according to a league statement on Friday.
Furthermore, out of the 27 games he played in the regular season, there were eight games where he recorded over 30 points and 20 rebounds, including an away game on April 17 against the New Taipei Kings at Xinzhuang Gymnasium, where Bhullar posted a herculean double-double of 50 points and 32 rebounds.
He was named MVP for the month of April for his prolific performance that month, which helped capture a 6-1 record for the Lioneers, moving the team to the top spot in the six-team rankings.
Bhullar's explosive play in the paint makes it difficult for him to be guarded, while his performance also gives confidence to the rest of the team, the P. LEAGUE+ said in a statement in May.
Prior to joining the Lioneers for the second season of the P. LEAGUE+, Bhullar played for the Yulon Luxgen Dinos in 2020 and the Dacin Tigers from 2017-2018 in Taiwan's semi-professional Super Basketball League.
He also played for the Guangxi Rhino in the Chinese National Basketball League in China in 2017.
Prior to playing basketball in Asia, Bhullar was also the first basketball player of Indian heritage to step onto the hardwood in an NBA game when he played for the Sacramento Kings in 2015.
Also on Friday, the P. LEAGUE+ announced New Taipei Kings forward Yang Chin-min (楊敬敏) as the recipient of the Most Valuable Player Award.
Yang led all local players with a scoring average of 21.2 points in the 29 games he played during the regular season, including an explosive outing of 39 points on March 13 in an away game at Kaohsiung Fengshan Stadium against the Kaohsiung Steelers.
Known for his clutch shooting, Yang has stepped up to take on the role of the go-to man in the fourth quarter, draining crucial buckets for his team.
A household name in the Taiwan basketball scene, Yang has an extensive resume from playing in the SBL, the regional ASEAN Basketball League, and on the country's national team.
The best-of-seven P. LEAGUE+ finals are currently underway with Game 4 to be held on Saturday at Taipei Heping Basketball Gymnasium. The Taipei Fubon Braves are ahead 2-1 against the Lioneers.
The winner of the P. LEAGUE+ 2021-2022 season is set to compete with other top teams from East and Southeast Asia in the East Asia Super League 2022-2023 season, which tips off in October.
View All