OLYMPICS
/
Taiwan men's badminton duo advances to Olympic semifinal in historic first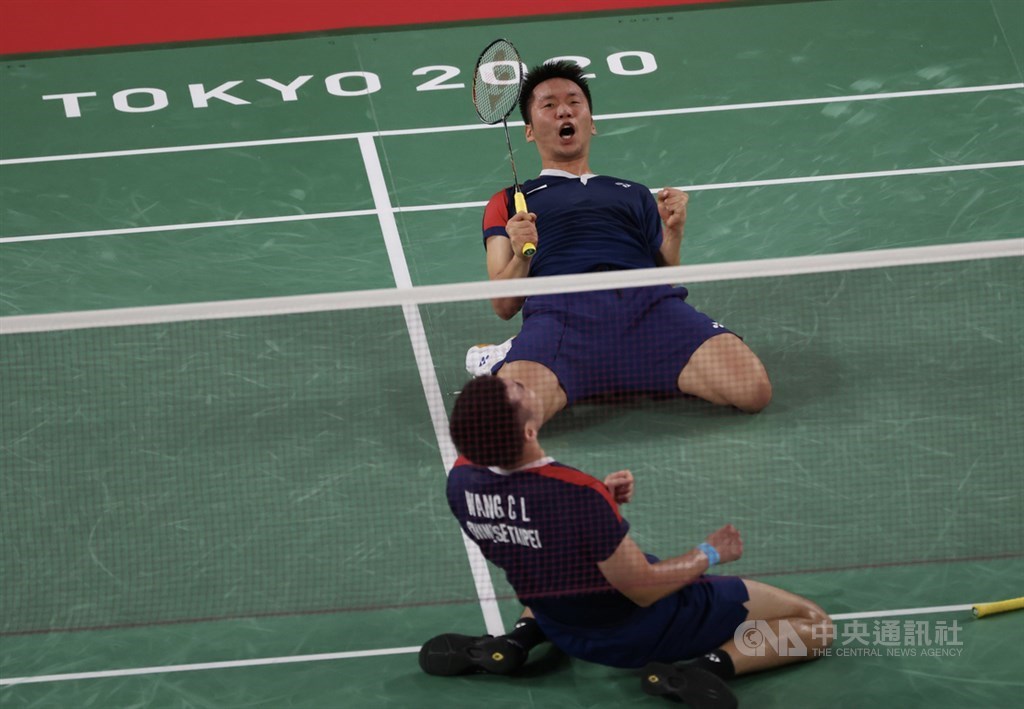 Tokyo, July 29 (CNA) Taiwanese badminton duo Lee Yang (李洋) and Wang Chi-lin (王齊麟) made history in Tokyo Thursday by becoming the first Taiwanese shuttlers to advance into the Olympic semifinals after the pair edged their Japanese rivals in the quarterfinals of the men's doubles event.
The world No. 3 Taiwanese duo defeated Hiroyuki Endo and Yuta Watanabe 21-16, 21-19 in 44 minutes in the match held at Musashino Forest Plaza to qualify for the semifinals.
By reaching the final four, the pair have recorded Taiwan's best ever showing in Olympic badminton, surpassing the quarterfinals finish of Lee Sheng-mu (李勝木) and Fang Chieh-min (方界民) in the men's doubles event at London 2012.
After clinching the hard-earned victory, Lee dropped to his knees while clenching his fists in celebration.
The Taiwanese pair got off to a bumpy start in their Olympic journey this week after they were upset by a world No. 10 duo from India in their opening round match.
But they bounced back by defeating a British team before upsetting the world's top-ranked men's doubles team from Indonesia, earning a 2-1 record in Group A and qualifying for the final eight knockout round.
Asked to comment, Lee and Wang said it has been an incredible journey thus far -- "as if we have just crawled out of hell," Wang added.
Wang also said that after losing their opening match, both he and Lee felt they had nothing to lose and thus felt free of pressure.
The pair are now scheduled to face world No. 2 Mohammad Ashan and Hendra Setiawan of Indonesia on Friday, the winner of which will go on to compete for gold in the finals.
Lee and Wang said they will focus on defense in Friday's match, an uphill battle which they compared to "fighting a boss character" in a video game.
The Taiwanese duo has a 4-6 record against the Indonesian pair.
View All