Sun Moon Lake swimming gala to be held as scheduled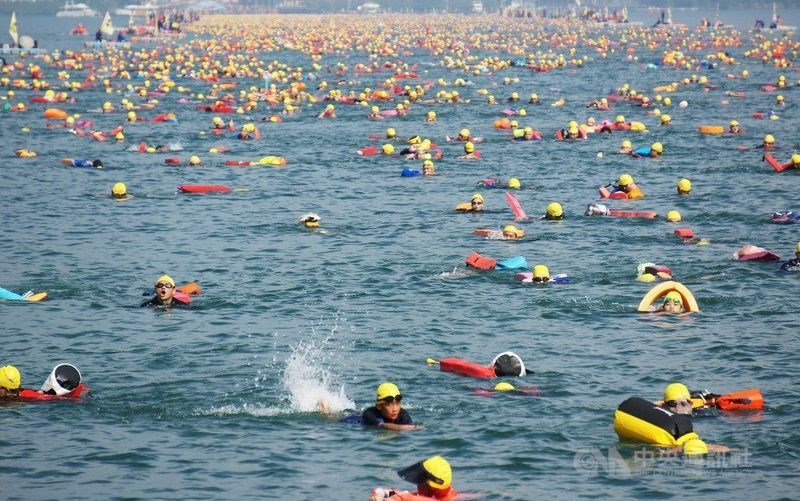 Update: Tens of thousands swim across Sun Moon Lake in annual festival
Taipei, Sept. 15 (CNA) The annual swimming competition in Nantou County's Sun Moon Lake will be held on Sept. 27 as scheduled, despite the COVID-19 pandemic, the county government announced on Tuesday.
The Sun Moon Lake International Swimming Carnival, organized by the local government around the time of the Mid-Autumn Festival every year since 1983, will be held that day, albeit with tightened restrictions to prevent the spread of the virus.
It will cooperate fully with the Centers for Disease Control and the Sport Administration under the central government in the hope that the event, which attracts some 10,000 people each year, will take place successfully, the county government said.
According to the county government, all participants will be required to carry at least two surgical face masks with them and maintain social distancing while the event is being held, and they are also required to provide identification.
Swimmers must wear a face mask upon reporting to the reception center until the time they enter the water, the local government said, noting that no one other than swimmers and event staff will be allowed to enter the restricted area at Ita Thao Pier.
Should swimmers leave that area, they will not be allowed to re-enter, it said.
During the swim, they will have to keep their masks in a waterproof bag, and put the mask on again when they complete the swim, it added, stressing that social distancing must be observed before swimmers enter the water and after they swim ashore.
Those who fail to abide by this rule could face a fine, it warned.
Potential participants who have not completed 14 days of quarantine and undergone a week of self-health management if they have returned from an overseas trip will not be allowed to attend the event, which usually draws swimmers from around the world, the county government said.
Friends and relatives accompanying swimmers to the event will also need to provide their personal data to facilitate follow-up contact-tracing if necessary, it added.
Covering a distance of approximately 3,000 meters, the event was officially listed in the World's Swimming Hall of Fame in 2002.