Taiwanese teams into semis at German table tennis tournament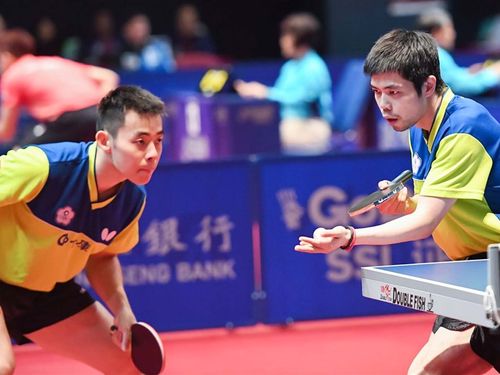 Taipei, Oct. 11 (CNA) Three Taiwanese teams reached the semifinals of the 2019 ITTF World Tour Platinum German Open table tennis event on Friday, but the men's doubles duo was later narrowly ousted by a German duo, leaving two teams left to vie for spots in the final.
The men's doubles team of Chuang Chih-yuan (莊智淵) and Chen Chien-an (陳建安) won their quarterfinal match against compatriots Lin Yun-ju (林昀儒) and Liao Cheng-ting (廖振珽) early Friday afternoon in a match in which they were one game away from defeat.
Chuang and Chen won 11-5, 9-11, 9-11, 11-7, 11-7 to snatch a spot in the semifinals.
A few hours later, however, they could not overcome Germans Benedikt Duda and Dang Qiu after being unable to complete a rally from two games down.
The Germans took the match 11-3, 13-11, 8-11, 8-11, 11-6 in just over half an hour.
Defeated in the men's doubles, Lin reached the semifinals in the mixed doubles with partner Cheng I-ching (鄭怡靜) after they swept past South Koreans Jeon Jihee and Lee Sangsu in straight games 11-5, 11-4, 11-9.
Lin, ranked 10th in the world in men's singles, and Cheng were to face Xu Xin (許昕) and Sun Ying-sha (孫穎莎) of China later Friday.
In women's doubles, meanwhile, Taiwan's Chen Szu-Yu (陳思羽) and Cheng Hsien-Tzu (鄭先知) scored an upset over the highly touted duo of Sun and Wang Man-yu (王曼昱) from China, holding off a spirited comeback by their rivals.
The duo pulled through 11-9, 12-10, 3-11, 6-11, 11-7 and later faced South Koreans Jihee Jeon and Haeun Yang for a spot in the final.