Taiwan wins another gold at tug-of-war world games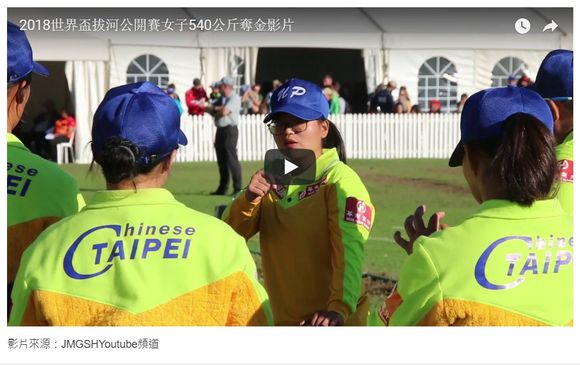 Taipei, Sept. 21 (CNA) Taiwanese athletes snagged a gold medal at the 2018 TWIF World Outdoor Championships in South Africa on Thursday, their fourth since the international biennial tournament opened Wednesday.
The tug-of-war team from Taipei Jingmei Girls High School and National Taiwan Normal University (NTNU) defeated Basque Country to win the the women's 540 kilogram title.
Prior to Thursday's competition, Taiwan had also snatched gold medals in the U23-560kg mixed category, the U23-500kg female category, and the junior girls' 480-kilogram class tournament.
The Tug of War World Championships, which are being held Sept. 19-22, features Open Clubs Championships in the first two days, with clubs from around the world eligible to participate. The official World Championships are scheduled for Friday and Saturday.
A total of eight clubs from Taiwan are competing, including school teams from Jingmei Girls High School, NTNU, National Taiwan Sport University, Taoyuan Municipal Shou Shan Senior High School, and Nantou High School.
According to organizers, more than 1,100 competitors from 20 countries have entered the competitions, including Australia, Belgium, England, France, Germany, Italy, the United States, China, and Zimbabwe.
The Jingmei-NTNU team won Asia's first gold medal in the outdoor tug-of-war championships in 2010. Since then it has garnered a total of 13 gold, 2 silver and 2 bronze medals at the games.