Martin Scorsese heads to Taichung to scout for new film 'Silence'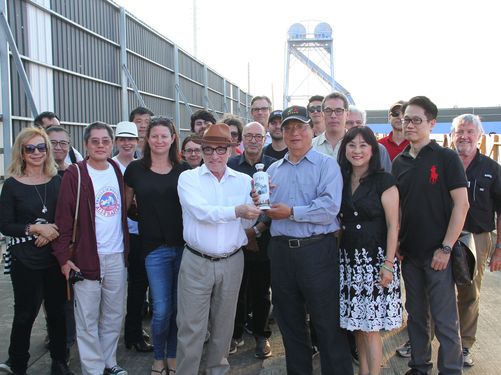 Taipei, Nov. 26 (CNA) Oscar-winning director Martin Scorsese could shoot his new historical drama "Silence" in Taichung next year, according to the mayor of the central city on Wednesday.
Mayor Jason Hu told the media that earlier in the day, Scorsese visited Taichung Gateway Park -- where scenes in Ang Lee's "Life of Pi" were filmed -- to inspect a wave pool for "Silence," the story of Jesuit missionaries in 17th century Japan.
"The great director praised the good weather and film-making environment in Taichung," the mayor said, revealing that he expects Scorsese's crew to begin shooting in the city between February and March next year around the time of Chinese Lunar New Year.
It was at the recommendation of Taiwan-born Lee, who won an Oscar for best director for "Life of Pi," that Scorsese decided to film in the country, according to Hu.
Though he will have to battle to keep his position as head of the city of 2.7 million people in the election this Saturday, Hu nevertheless promised the city government will offer Scorsese's crew any necessary assistance during its time in Taichung.
Scorsese's most recent award for direction was the Golden Globe in 2011 for "Hugo."
The 72-year-old director, screenwriter, producer, actor and film historian is widely regarded as one of the most significant and influential filmmakers in cinema history.
If he does end up shooting in Taiwan, it will be the first major Hollywood production to film in the country since Luc Besson's "Lucy" shot in Taipei in 2013.
(By Hau Hsueh-chin and Elizabeth Hsu)ENDITEM/WH