Couple use wedding photos to draw attention to Nantou garbage issues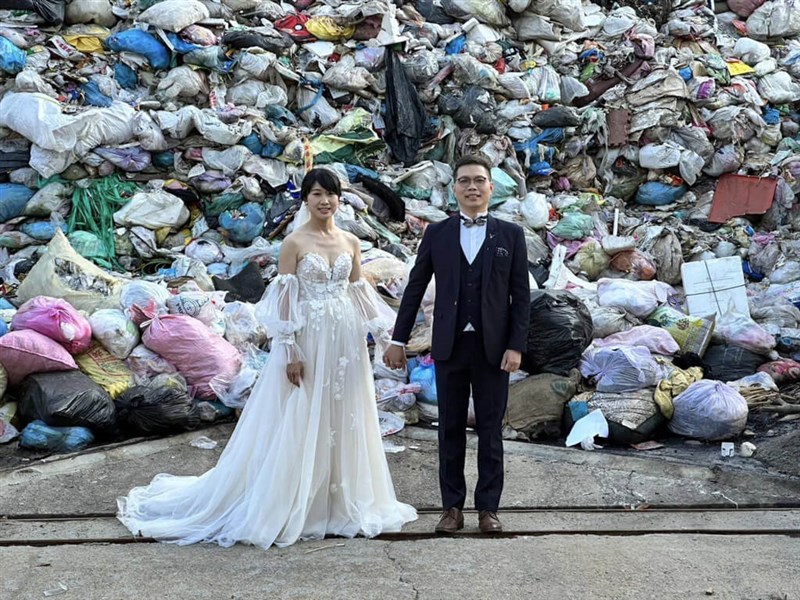 Taipei, Oct. 15 (CNA) A Nantou couple on Saturday had their wedding photos taken in front of a temporary trash storage site, or "garbage mountain," to raise awareness of the waste management problems in the mountainous central Taiwan county.
The couple took the photos in front of a site operated by sanitation workers in Puli Township, one of several locations in Nantou where garbage has been piling up in recent years due to the county's lack of an incinerator and insufficient landfill space.
In a Facebook post written after the photos were picked up by the media, the bride-to-be, surnamed Hsueh (薛), said the couple's photographer thought she was joking when she proposed taking pictures at the site.
The driver, meanwhile, said it was the first time he'd heard such a request in more than 30 years of driving couples to their wedding shoots, she said.
Despite the "strong odor" at the dumping site, Hsueh said she hoped the photos would bring attention to the issue of excess waste, and would encourage people to create less garbage and help keep Taiwan beautiful.
Asked about the photos, Lee Yi-shu (李易書), director of the Nantou Environmental Protection Bureau, told CNA on Sunday that multiple townships in Nantou do not have landfills or permanent facilities for disposing garbage.
While the environmental bureau has arranged for some of the trash to be moved to other cities and counties, this only accounts for a small portion of the waste generated in Nantou each day, Lee said.
In order to truly resolve the issue and get its "garbage mountain" removed, Puli Township needed to designate space for a landfill, Lee said.
Earlier this year, the Nantou Environmental Protection Bureau estimated that around 240,000 metric tons of garbage had piled up at temporary storage sites around the county, with the largest by volume in Caotun Township.
Nantou County, with a population of 477,000, produces around 2.62 million metric tons of garbage each day, according to the bureau.