Body of last person unaccounted for in Pingtung factory fire found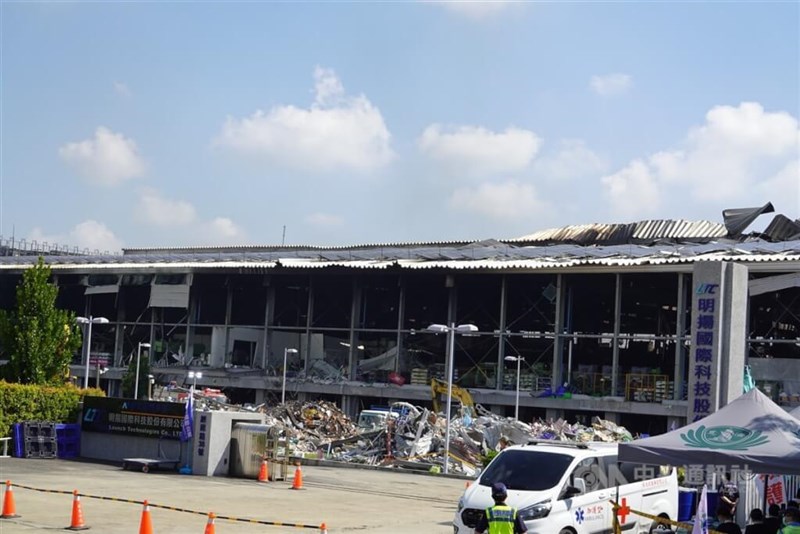 Pingtung, Sept. 30 (CNA) The body of the last person who had been missing following a fire at a golf ball factory in Pingtung County on Sept. 22 has been found, the Pingtung County Bureau of Fire and Emergency Services said Saturday.
According to Chang Che-hao (張哲豪), a firefighter at the bureau's Changjhih Branch, the search area was narrowed down after speaking with a hospitalized factory worker, and the body was discovered about five minutes after rescue personnel entered the premises.
Pingtung County Magistrate Chou Chun-mi (周春米) told reporters the body was found at 8:45 a.m. Saturday and that it had been partly buried under heavy machinery.
Chou added that the body was later confirmed to be the last missing person, who was an employee at the factory, after his belongings were identified by his family.
Rescue personnel successfully removed the body at around 2:45 p.m.
The blaze began at Launch Technologies Co.'s factory at Pingtung Technology Industrial Park on the evening of Sept. 22. An explosion occurred at 6:09 p.m. after several firefighters had entered the premises, causing part of the building to collapse and trapping several firefighters and workers beneath the rubble, according to local authorities.
A second explosion occurred at 6:28 p.m. and the fire was finally extinguished at 9:56 p.m. on Sept. 23, after more than 28 hours of firefighting.
As of Saturday, the incident had led to the deaths of 10 people, including four firefighters, and injured 112 others.
Meanwhile, Chou said Monday that Launch Technologies Co. had been fined NT$2.4 million (US$74,598) for violating the Fire Services Act, including by storing excessive amounts of flammable materials in the workplace.
She added that 3,000 kilograms of organic peroxides -- a fire and explosion hazard -- that are used to manufacture the inner cores of golf balls had been stored in the factory, far more than the 100 kg that is permitted.
Local authorities will work with the Ministry of Economic Affairs and the National Fire Agency to conduct a comprehensive review of firefighting management and occupational safety at the industrial park, and will require all companies to comply with related regulations, Chou said on Saturday.