Mayor of Taiwan's Hsinchu City indicted for corruption (update)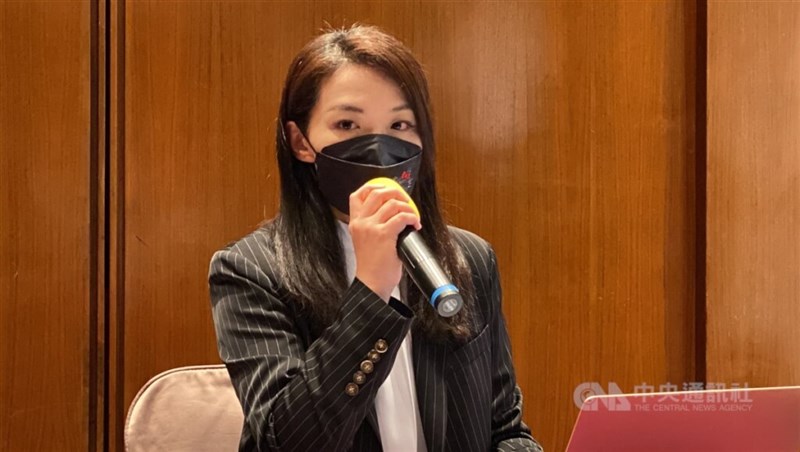 Taipei, Aug. 14 (CNA) Hsinchu Mayor Kao Hung-an (高虹安) of the opposition Taiwan People's Party (TPP) was indicted on Monday on a corruption allegation in which she was accused of making fraudulent payroll deductions and misusing public funds.
After an eight-month investigation into the case, the Taipei District Prosecutors Office formally charged Kao with violating the Anti-Corruption Act and falsifying documents during the period of Feb. 27, 2020 to Dec. 31, 2020 when she served as a legislator-at-large in the Legislative Yuan.
Kao has repeatedly denied the allegations.
However, prosecutors decided not to indict Kao in another case in which she was suspected of breach of trust when working for the government-sponsored Institute for Information Industry (III) due to insufficient evidence. Kao was previously accused of taking advantage of research and development results from work to apply for patents under her name instead of her employer III.
Kao was named as a suspect in the corruption case in December 2022 after prosecutors ordered a raid of her offices and summoned her for questioning.
Kao was suspected of falsely registering her boyfriend Lee Chung-ting (李忠庭) as an office assistant and using public funds to pay his salary, while also taking money from legislative aides' salaries that she paid into a "provident fund" for her personal expenses.
In the indictment, prosecutors said Kao had misused more than NT$460,000 (US$14,465) of public funds through the fraudulent payroll deductions.
Kao's legislative office directors Chen Huan-yu (陳奐宇) and Huang Hui-wen (黃惠玟), as well as aides Wang Yu-wen (王郁文) and Chen Yi-kai (陳昱愷), were charged with corruption for following Kao's instructions regarding the payroll deductions.
However, Lee was not indicted because prosecutors determined that he had actually carried out duties as an aide to Kao.
Prosecutors said Kao received a salary of more than NT$190,000 as a legislator and an additional allowance of NT$70,000 per month, and had more than NT$12 million in savings, but still colluded with aides to access public money for her personal spending. They added that her attitude was poor throughout the investigation.
Prosecutors requested the court impose an appropriate jail sentence on her, and deprive her of her civil rights.
Kao responded by saying prosecutors had failed to take all factors into account and that the indictment was reckless.
Kao added that the indictment was politically motivated, and vowed to defend herself and her aides in court. She said she had confidence that the judicial system would not be influenced by political factors.
The Hsinchu mayor said she had not ruled out the possibility of filing a lawsuit against those who had made "false accusations" against her.
Citing the Local Government Act, an official from Hsinchu County's Civil Affairs Department told CNA that local government chiefs will be suspended from duty if they are found guilty of corruption by the court of first instance, and their deputies will take their place as acting county magistrate or acting city mayor.
If the court of second instance reverses the decision made by the lower court and they are found not guilty, they can resume their post, but if they are found guilty, they will be dismissed from office and a by-election will be held within three months of their dismissal.
However, if the dismissal is ordered at a time when the public servant only has less than two years of their term remaining, a by-election is not needed and the Executive Yuan will instead dispatch a replacement to see out the rest of the term, the official said.
Therefore, despite the indictment, Kao is, for now, able to remain in her job.
Ahead of the indictment and despite these allegations, Kao was still elected Hsinchu mayor on Nov. 26, 2022 by defeating the Democratic Progressive Party's (DPP) Shen Hui-hung (沈慧虹) and the Kuomintang's Lin Ken-jeng (林耕仁). Kao took office on Dec. 25.
Kao, 39, was an aide to tycoon Terry Gou (郭台銘), the founder of iPhone assembler Hon Hai Precision Industry Co., better known globally as Foxconn.
She later sat in the Legislative Yuan as a member of the TPP, which was founded by former Taipei mayor Ko Wen-je (柯文哲), who is a candidate in Taiwan's January 2024 presidential election.
Speaking with reporters, Chen Chih-han (陳智菡), a spokesperson in Ko's office, said the TPP supported Kao and believed the mayor would be able to provide more evidence in court to defend herself and clear her name.
Gou, meanwhile, said he had faith in Kao's integrity, adding that justice must not be used as a tool to suppress political rivals.
DPP's Hsinchu City Councilors said Kao, who has been a controversial figure since the mayoral election campaign last year, owed the public an apology and should step down immediately.