Taiwan donates US$200,000 to Guam for typhoon relief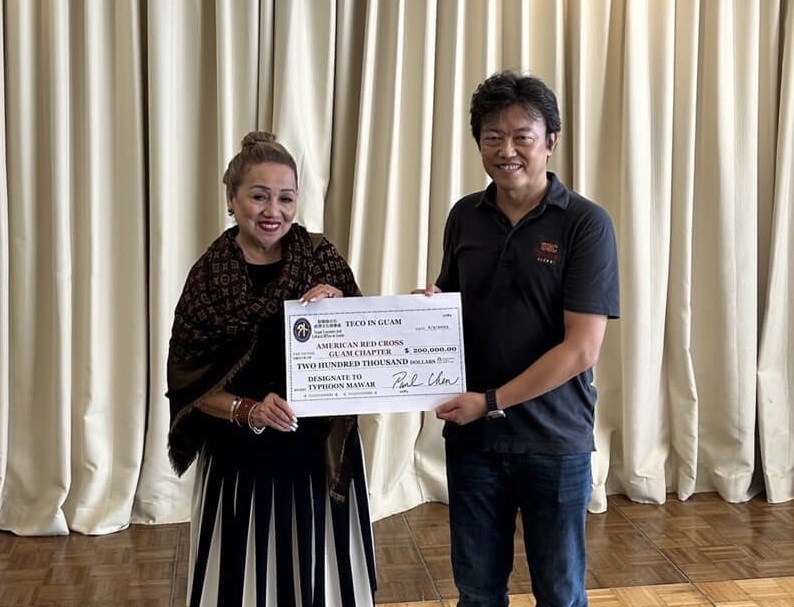 Jakarta, June 2 (CNA) Taiwan on Friday donated US$200,000 to help the U.S. island territory of Guam in the western Pacific with recovery efforts in the aftermath of Typhoon Mawar, the Taipei Economic and Cultural Office (TECO) in Guam said in a statement.
The donation was presented on behalf of Taiwan's Ministry of Foreign Affairs by TECO Guam Office Director-General Paul Chen (陳盈連) to Chita Blaise, head of the American Red Cross Guam Chapter, at a ceremony held that day.
According to Chen, Guam was hit last week by the worst typhoon in 20 years.
It is hoped that the donation will help the people of Guam overcome the difficulties they face in the aftermath of the typhoon disaster, he said.
The US$200,000 donation by the Taiwanese government is the highest sum the Guam Chapter has so far received in relation to Typhoon Mawar disaster relief, said Blaise and Denise Everhart, division disaster executive of the American Red Cross.
Hundreds of volunteers from the American Red Cross have distributed drinking water, food and sanitation supplies to assist with the aftermath of the disaster, and will continue to cooperate with the Guam government to use donations from Taiwan to help victims rebuild their homes, they added.
Tina Rose Muna Barnes, vice speaker of the Guam Legislature who was also at the event, said Typhoon Mawar caused water and power outages across the island, damaged hundreds of homes and left thousands of people homeless.
The tourism industry, which Guam takes prides in, also collapsed overnight, Barnes said.
The donation by Taiwan will help improve the situation of victims, she said, and called on people from all sectors to respond positively and donate generously to help the people of Guam overcome the difficulties they face.