Taiwan issues sea warning for Tropical Storm Nesat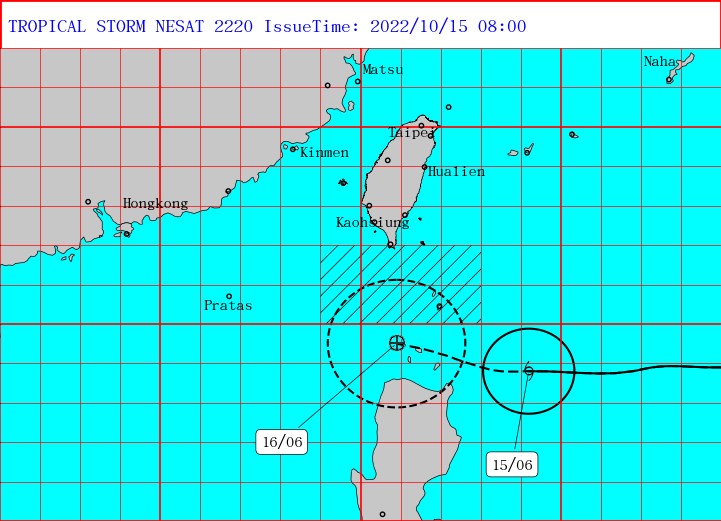 Taipei, Oct. 15 (CNA) The Central Weather Bureau (CWB) issued a sea warning Saturday for the newly formed Tropical Storm Nesat, which was approaching the Bashi Channel between Taiwan and the Philippines as of 4 p.m.
The cyclone was upgraded from a tropical depression to a tropical storm at 2 p.m. Saturday.
As of 2 p.m., Nesat was located 490 kilometers southeast of Eluanbi, the southernmost tip of Taiwan, moving in a west-northwesterly direction at 16 kilometers per hour, according to the CWB.
According to the bureau, the storm has a radius of 120 km and is carrying maximum sustained winds of 65 kph with gusts of up to 90 kph.
The bureau forecast that the periphery of Nesat will bring extremely heavy or torrential rain to mountainous areas in Taipei on Saturday.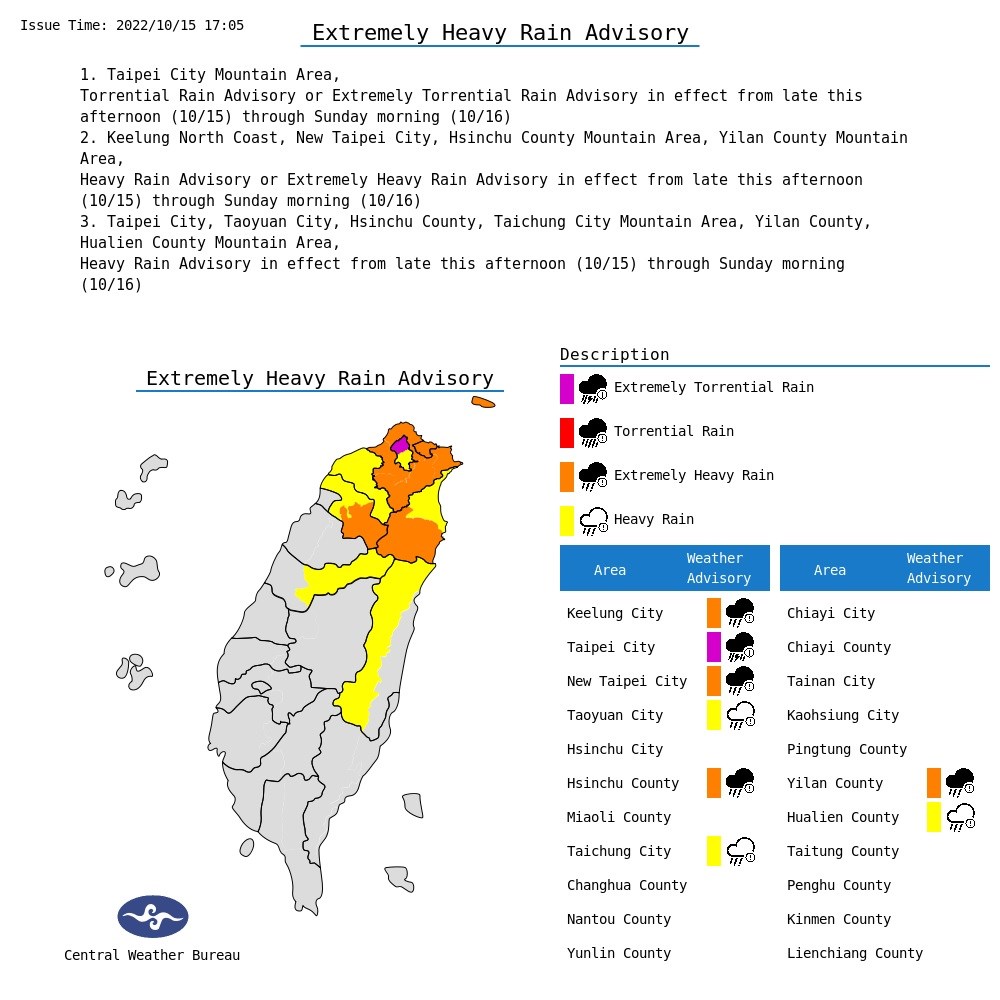 Heavy or extremely heavy rain is forecast for Yilan, mountainous areas in New Taipei, Keelung and Taiwan's northern coast, the CWB added.
There is also a chance of heavy rain in other areas north of Hsinchu, Taichung and the mountainous areas of Hualien.
The CWB defines heavy rain as accumulated rainfall of 80 millimeters or more within a 24-hour period or 40 mm or more in an hour. Extremely heavy rain refers to accumulated rainfall of 200 mm or more within 24 hours.
Torrential rain refers to accumulated rainfall exceeding 350 mm within 24 hours or three-hour accumulated rainfall exceeding 200 mm.
The CWB also warned of high waves in the coastal areas of Taiwan and its outlying counties.
The bureau added that Orchid Island, Green Island, Penghu, Kinmen, and Matsu, as well as coastal and open areas in western Taiwan and the Hengchun peninsula, could see wind gusts of 76-104 kph.