Taipei Zoo giant panda undergoes tests after falling ill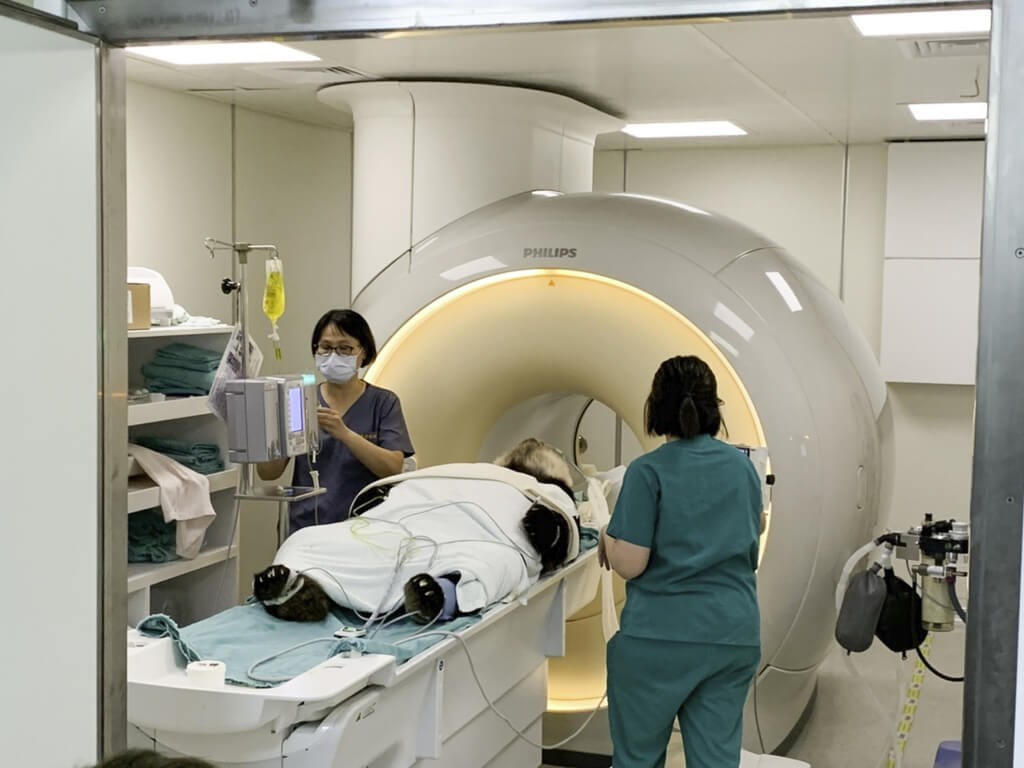 Taipei, Sept. 23 (CNA) An MRI done on a giant panda at the Taipei Zoo that recently fell ill has found evidence of brain disease that could potentially threaten the animal's life, the zoo said Friday.
Zookeepers recently observed that the panda had less of an appetite than usual and was foaming at the mouth, and decided to check past surveillance footage to see if they could find any clues on what might be wrong with the 18-year-old male panda named Tuan Tuan (團團).
They found that the panda suffered a three-minute epileptic seizure at around 7 a.m. on Aug. 23 and decided to conduct an MRI, Wang I-min (王怡敏), head of the animals division at Taipei Zoo, said at a press conference.
The MRI, performed at National Taiwan University Veterinary Hospital on Sept. 18, found that the panda had symptoms of encephalomalacia in both sides of the brain, but it was more severe in the left cerebral hemisphere, Wang said.
Encephalomalacia is a form of brain disease that causes a softening of brain tissue.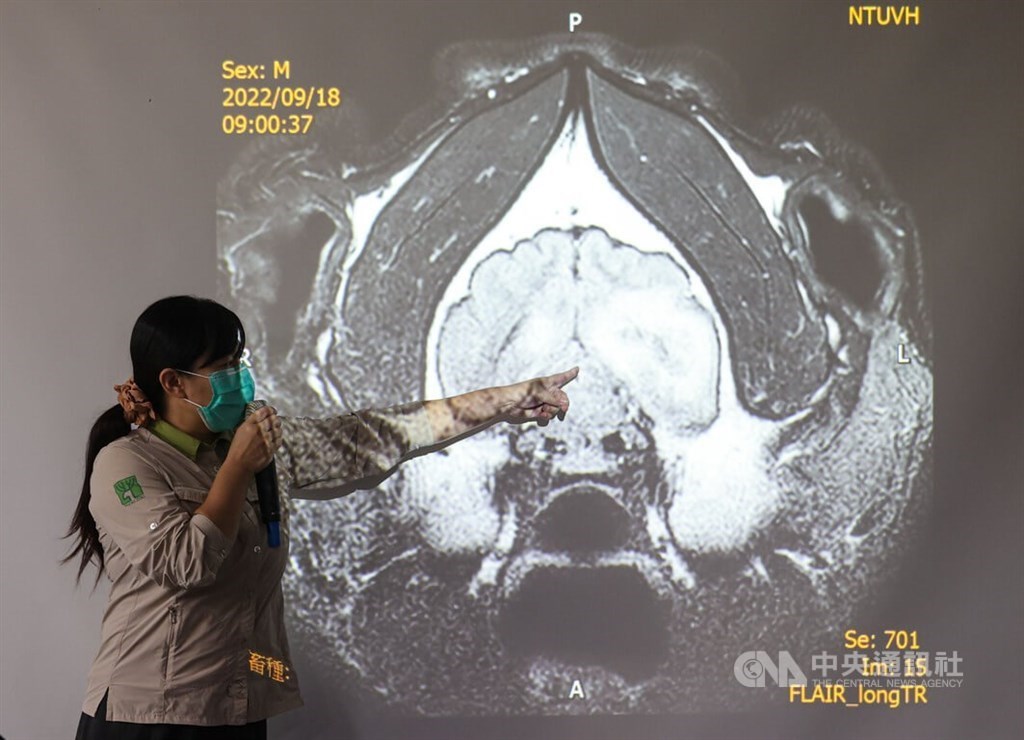 Tissue samples were taken from the panda, and further details such as the cause of disease and path of treatment will be announced at a later time, Wang said.
Chen Yu-yen (陳玉燕), head of the zoo's Giant Panda House, said Tuan Tuan has been resting since the MRI scan and is recovering well but is not its usual self.
"We are still waiting for results before we start planning what to do next," she said.
In the meantime, however, Tuan Tuan will start taking medication for epileptic seizures, the zoo said.
When asked if there was a major risk of death, Cheng Chiu-hung (鄭秋虹), a veterinarian at the zoo, indicated that it could not be ruled out, but she said the actual prognosis would not be known until the test results became available and the cause of Tuan Tuan's condition was identified.
Results are usually available within one or two weeks after the tests are conducted, but the time frame also depends on how busy the test laboratories are, Wang said.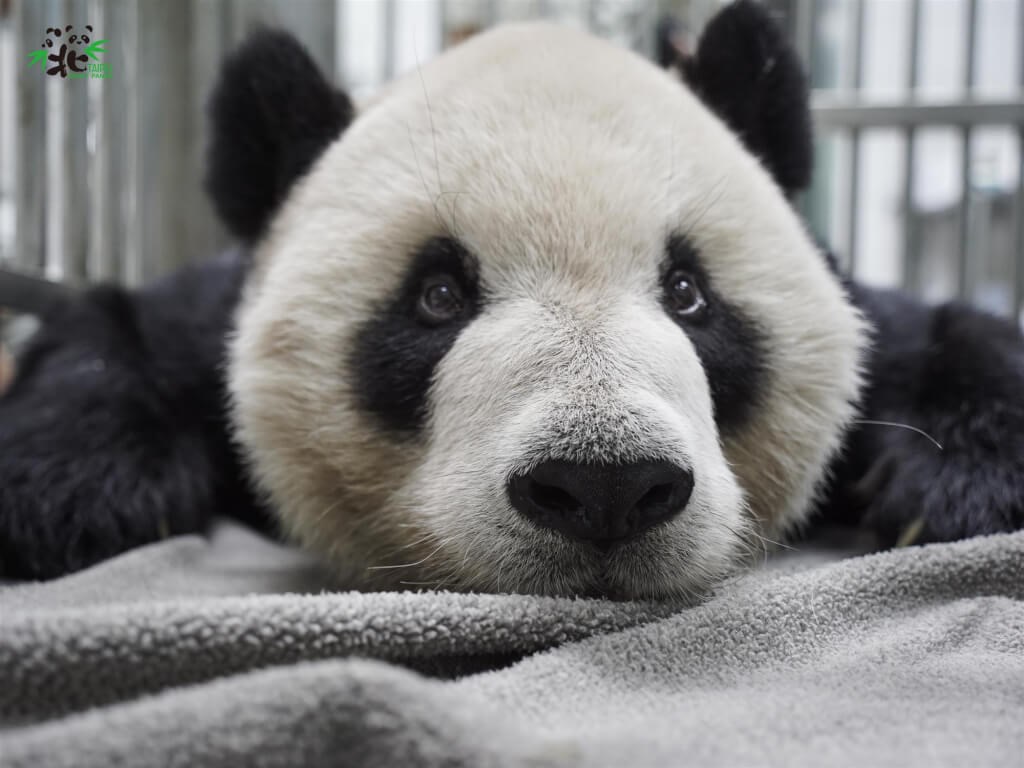 Tuan Tuan is one of two giant pandas that were gifted by China in 2008 to mark then warming relations between the two sides. The pandas were 4-years-old when they arrived in Taiwan.
Chinese President Hu Jintao (胡錦濤) first offered the pandas to Taiwan as a gift of friendship in May 2005 when then-opposition Kuomintang Chairman Lien Chan (連戰) made an ice-breaking visit to Beijing.
However, the gift was blocked at the time by the ruling Democratic Progressive Party, which objected to China's treatment of the panda transfer as a "domestic transfer" between zoos because it implies that Taiwan is part of China.
The issue was resolved under the Ma Ying-jeou (馬英九) administration, which favored improving ties with China. Both sides decided to sidestep the issue of country name by agreeing to identify the importer as "Taipei, Taiwan" and accepting "Chengdu, Sichuan" as the origin of export.
Over the years, Tuan Tuan and his mate Yuan Yuan (圓圓) have had two cubs, Yuan Zai (圓仔) and Yuan Bao (圓寶) in 2013 and 2020, respectively.