LGBTQ RIGHTS
/
Taiwanese organizers announce cancellation of WorldPride 2025 (update)
Taipei, Aug. 12 (CNA) Taiwanese organizers have decided to end preparations for the WorldPride 2025 event due to disagreements with InterPride, the group behind the global biennial event, over the use of "Taiwan" in the event's name and other issues.
"After months of preparation and collaboration with various government departments and corporate enterprises, it is a great pity to announce that the project of WorldPride Taiwan 2025 has been terminated," the WorldPride 2025 Taiwan Preparation Committee said in a statement Friday.
"There were major discrepancies between our stances on the event's naming, understandings of Taiwan's culture, and expectations of what a WorldPride event should look like," said the committee, which consists of Kaohsiung Pride and Taiwan Pride.
The name "WorldPride Taiwan 2025" was used throughout the entire bidding process, the committee said, and the name Taiwan was agreed upon at a meeting of InterPride, the Ministry of Foreign Affairs (MOFA) and Kaohsiung Pride shortly after Kaohsiung Pride won the bid in November 2021 to host the 2025 event, the committee said.
In an InterPride statement released on Nov. 16, 2021, it congratulated Kaohsiung Pride for winning the bid, with a graphic showing "WorldPride Taiwan 2025."
It was a departure from the global event's standard usage of host cities in the event's name, including WorldPride Copenhagen-Malmo 2021 and Sydney WorldPride 2023.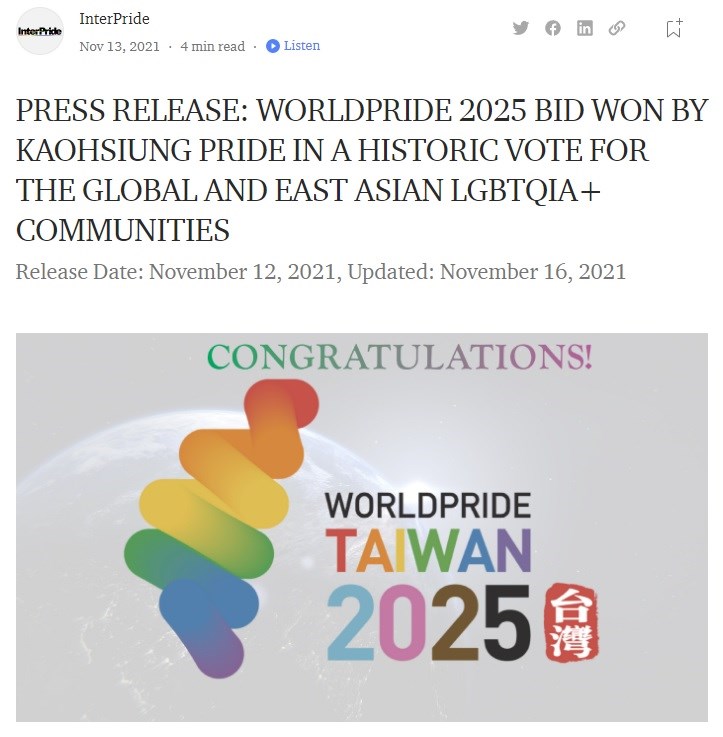 While the Taiwanese side was negotiating the contract to host the event, it received an "abrupt notice from InterPride, requiring the name of the event to change from 'WorldPride Taiwan 2025' to 'WorldPride Kaohsiung 2025,'" organizers said.
Moreover, "InterPride repetitively raised their concerns and doubts about whether Taiwan has the capacity, economic and otherwise, to host an international event like WorldPride," said the committee, adding that it has organized "some of the largest Pride events in Asia."
The Taiwan LGBT Pride parade in Taipei, which is set to celebrates its 20th anniversary in October, attracted a record 200,000 people from around the world in 2019, prior to the country's implementation of COVID-19 border control measures.
The decision announced Friday was made "in the face of many uncertainties such as InterPride's inconsistent attitude toward the event naming and doubts about our team and the Taiwan market," the committee said.
Meanwhile, MOFA said Friday's announcement may not be the best result for all parties, but it respected the committee's decision.
InterPride had not responded to the Taiwanese organizers' decision as of Friday night Taipei time.
Update
Aug. 14: InterPride gave no 'Kaohsiung, Taiwan' option: WorldPride 2025 organizers
View All