CORONAVIRUS
/
Taiwan reports 23,919 new COVID-19 cases, 32 deaths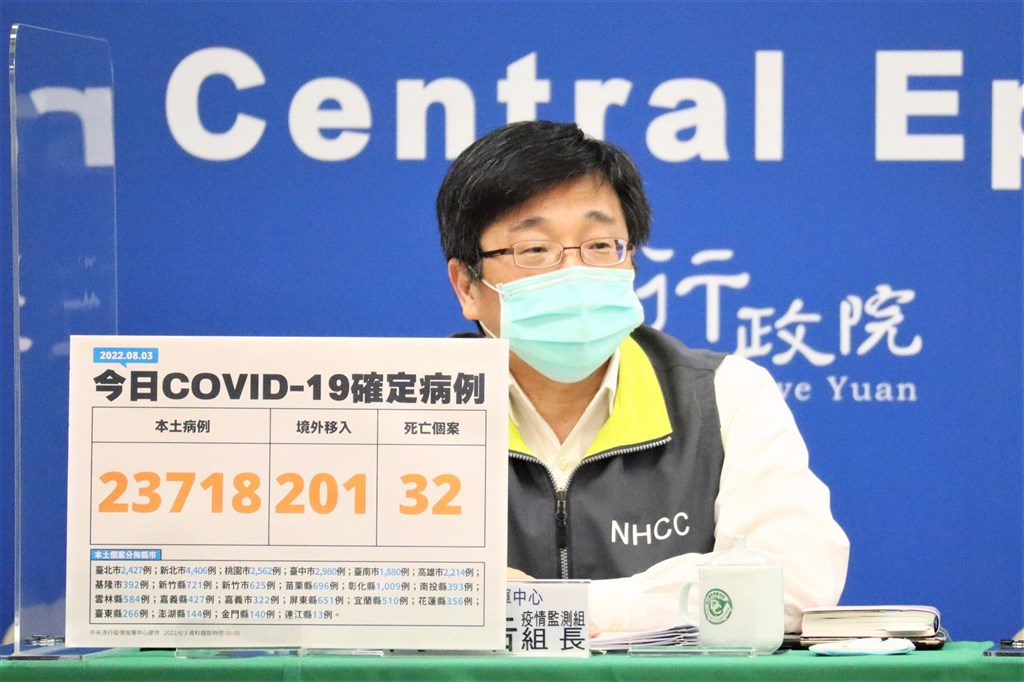 Taipei, Aug. 3 (CNA) Taiwan recorded 23,919 new COVID-19 cases on Wednesday, all but 201 of which were domestic infections, and 32 deaths from the disease, according to the Central Epidemic Command Center.
The deceased ranged in age from their 40s to their 90s. All but one suffered from chronic illnesses or serious diseases and 14 were unvaccinated, the CECC said.
Two of the newly reported deaths were men in their 40s, one of whom was unvaccinated and suffered from a chronic liver condition, according to the CECC.
The other individual, who had no history of chronic illness and had received three COVID-19 vaccine shots, tested positive on July 24 and was found dead in his house three days later, the CECC said. The man died of pneumonia and respiratory failure, the CECC said, adding that the case is still under investigation.
Severe, moderate cases
Also on Wednesday, the CECC reported 36 new severe COVID-19 cases and 98 classified as moderate infections.
Among the severe cases were two 1-year-old boys, who were diagnosed with encephalitis and multisystem inflammatory syndrome in children (MIS-C), respectively, but have both since recovered and have been discharged from hospital, the CECC said.
According to CECC statistics, a total of 144 children in Taiwan, aged 12 and under, have contracted severe COVID-19 infections, and 77 of them developed MIS-C, 26 developed encephalitis, and 20 developed pneumonia.
Of the 4,593,102 domestic cases reported in Taiwan this year, 9,496 have been classified as severe infections and 11,777 as moderate, accounting for 0.21 percent and 0.26 percent of the total, respectively, according to CECC data as of Aug. 2.
In all other cases, the infected persons were either asymptomatic or had mild symptoms, the CECC said.
Regional breakdown
Regionally, New Taipei recorded the highest number of new cases on Wednesday, with 4,406, followed by Taichung with 2,980 and Taoyuan with 2,562.
Taipei reported 2,427 cases, Kaohsiung 2,214, Tainan 1,880, Changhua 1,009, Hsinchu County 721, Miaoli 696, Pingtung 651, Hsinchu City 625, Yunlin 584, Yilan 510, Chiayi County 427 and Nantou 393.
Keelung reported 392 new cases, Hualien 356, Chiayi City 322, Taitung 266, Penghu 144, Kinmen 140 and the Matsu Islands 13, the CECC said.
To date, Taiwan has recorded 4,652,186 COVID-19 cases since the pandemic began in early 2020, including 4,631,408 domestic infections.
With the 32 deaths reported Wednesday, the number of confirmed COVID-19 fatalities in the country rose to 9,026.
Recent cases
Aug. 2: Taiwan reports 23,556 new COVID-19 cases, 31 deaths
Aug. 1: Taiwan reports 16,584 new COVID-19 cases, 36 deaths
July 31: Taiwan reports 21,069 new COVID-19 cases, 34 deaths
July 30: Taiwan reports 21,501 new COVID-19 cases, 60 deaths
July 29: Taiwan reports 23,289 new COVID-19 cases, 57 deaths
View All