CORONAVIRUS
/
Taiwan reports 23,556 new COVID-19 cases, 31 deaths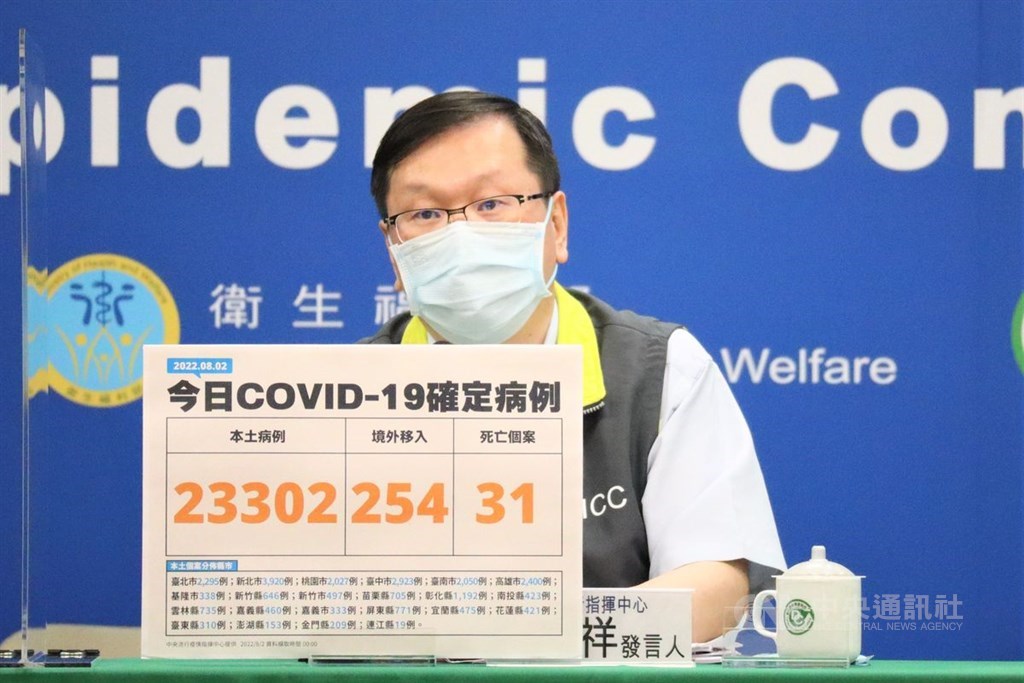 Taipei, Aug. 2 (CNA) Taiwan recorded 23,556 new COVID-19 cases on Tuesday, all but 254 of which were domestic infections, and 31 deaths from the disease, according to the Central Epidemic Command Center (CECC).
The deceased ranged in age from their 40s to their 90s. All but three suffered from chronic illnesses, and 10 were unvaccinated, the CECC said.
Also on Tuesday, the CECC said that 30 previously reported cases had become severe, while 54 other individuals had developed moderate symptoms.
Of the 4,569,821 domestic cases reported in Taiwan this year, 9,454 have been classified as severe infections and 11,685 as moderate, accounting for 0.21 percent and 0.25 percent of the total, respectively, according to CECC data as of Aug. 1.
In all other cases, the infected individuals were either asymptomatic or had mild infections, the CECC said.
In terms of the regional breakdown, New Taipei recorded the highest number of new cases on Tuesday, with 3,920, followed by Taichung with 2,923, and Kaohsiung with 2,400.
Meanwhile, Taipei reported 2,295 cases, Tainan 2,050, Taoyuan 2,027, Changhua County 1,192, Pingtung County 771, Yunlin County 735, Miaoli County 705, Hsinchu County 646, Hsinchu City 497, Yilan County 475, Chiayi County 460, Nantou County 423, Hualien County 421, Keelung 338, and Chiayi City 333.
Taitung County had 310 cases, Kinmen County 209, Penghu County 153, and the Matsu Islands 19, according to the CECC.
To date, Taiwan has recorded 4,628,294 COVID-19 cases since the pandemic began in early 2020, including 4,607,705 domestic infections.
With the 31 deaths reported Tuesday, the number of confirmed COVID-19 fatalities in the country rose to 8,994.
Recent cases
Aug. 1: Taiwan reports 16,584 new COVID-19 cases, 36 deaths
July 31: Taiwan reports 21,069 new COVID-19 cases, 34 deaths
July 30: Taiwan reports 21,501 new COVID-19 cases, 60 deaths
July 29: Taiwan reports 23,289 new COVID-19 cases, 57 deaths
July 28: Taiwan reports 23,971 new COVID-19 cases, 62 deaths
View All