Suspect in Nantou firm mass shooting arrested in Taichung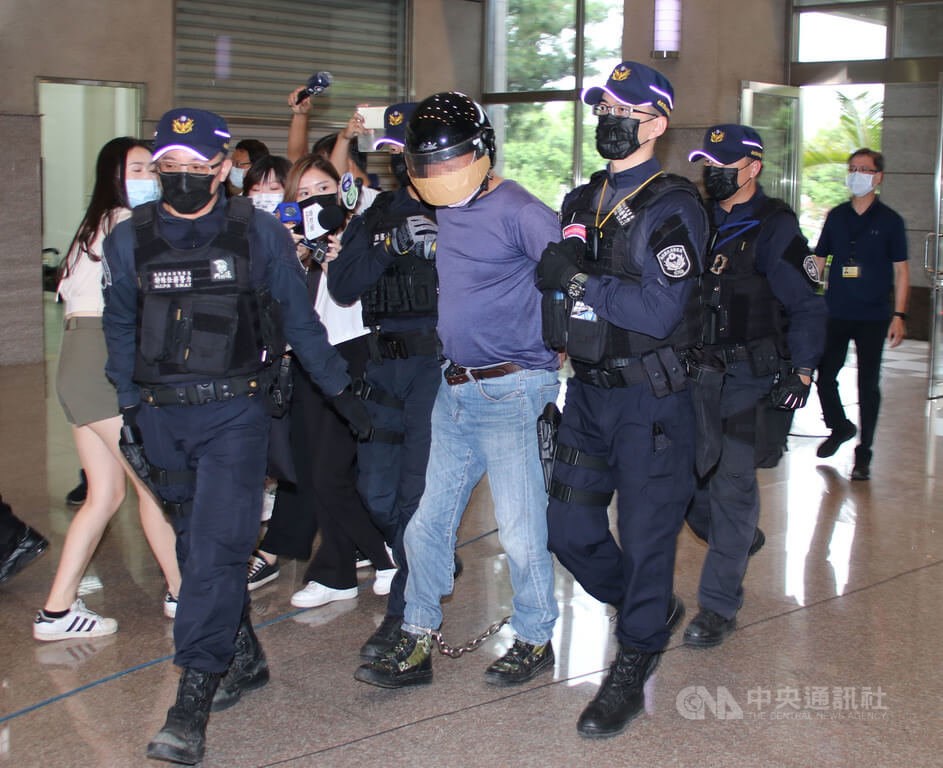 Taichung, July 15 (CNA) The suspected gunman in a mass shooting at a biotechnology company in Nantou County that resulted in four dead and one critically injured has been arrested in Taichung, Nantou police said Friday.
The suspect, identified as Lee Hung-yuan (李鴻淵), was arrested at around 2 p.m. Friday, Caotun police precinct chief Kang Chien-chun (康健浚) told CNA.
Lee was arrested roughly 21 hours after being on the run. Facing media cameras as he was escorted in handcuffs by police from a massage parlor where he had been apprehended, he yelled out that "I killed for revenge."
At a press conference held after Lee's arrest, National Police Agency Director-General Huang Ming-chao (黃明昭) said the suspect had three modified pistols with 179 unused bullets when he was caught.
During preliminary questioning, Lee confessed to the crime, Huang said, noting that Lee's motive for committing the murder is still being determined.
The police head added that the suspect was arrested without a single shot fired by the police.
Update: Suspect in mass shooting in Nantou County detained, held incommunicado
The mass killing happened on Thursday afternoon, when four people were found dead on the premises of Kang Jiann Biotech Co. in Caotun Township, and Lai Min-nan (賴敏男), head of the company, severely injured. All five had been shot.
The fatalities were Lai's brother, who is in his 70s; his 40-year-old daughter; a male department head surnamed Liu (劉); and a 45-year-old female employee surnamed Chang (張), police said on Thursday.
The shooting was described by the police as execution-style since the victims had all been shot in the head, with the suspect, wearing a hat and covering his face, having fled the scene on a scooter, they added.
Earlier Friday, Nantou police said roadside surveillance cameras had caught the suspect fleeing toward Taichung.
Police were later able to pinpoint the suspect's location in Taichung's Wufeng District and tried to arrest him. However, by 4 a.m., an officer who led the arrest operation said the suspect had managed to escape.
Following Thursday's mass killing, one of Lai's relatives told the media that the shooter was likely a former employee surnamed Lee, who was in his 50s and familiar with the internal operations of the company.
The suspected Lee was employed by Kang Jiann Biotech from Sept. 3, 2012 to Oct. 27, 2013 as a production staff, according to a court document issued by the Taichung branch of the Taiwan High Court.
During his time there, he often had rows with a female section chief surnamed Hung (洪) over problems about operating machinery, the document showed. After leaving the company, in February 2014, Lee allegedly beat Hung in the head with a metal rod outside the company's premises while reportedly shouting that he wanted her dead.
Lee was later charged by prosecutors for attempted murder that same year, but was subsequently found not guilty by the Nantou court as he was able to present an alibi.
During the hearing, Lai Min-nan, Liu, and Chang all served as witnesses corroborating Hung's testimony.
Whether the suspect arrested on Friday is the former company employee Lee is yet to be confirmed by the police.
Huang Yu-feng (黃愉芬), a resident surgeon at Taichung Veterans General Hospital where the injured Lai is being treated, told the media on Friday that the victim was not out of danger yet, despite having undergone surgery to remove a bullet from his head.
The bullet penetrated his skull from behind one ear, causing cerebral hemorrhaging in a large area of his brain, Huang said.
The patient is currently in an intensive care unit as his condition will need to be closely observed, Huang added.
Kang Jiann Biotech is a developer and manufacturer of nutrient products made from mushrooms and fungus, according to its website.
A holder of a doctorate of National Taiwan University in agricultural chemistry, Lai Min-nan is a mushroom expert who is called the "father of Antrodia cinnamomea" in Taiwan for having developed a number of technical patents related to its extraction.
Antrodia cinnamomea is a type of highly-valued fungus used in Taiwanese traditional medicine.