CORONAVIRUS
/
4-year-old dies from COVID-19 complications, new MIS-C case reported
Taipei, June 22 (CNA) Taiwan reported 171 deaths from COVID-19 on Wednesday, including a 4-year-old girl, as well as a new case of multisystem inflammatory syndrome in children (MIS-C), the Central Epidemic Command Center (CECC) said.
The 4-year-old girl was taken to the hospital on June 14 after developing a fever and muscle spasms. She tested positive for COVID-19 and was diagnosed with encephalitis, or inflammation of the brain.
Her condition continued to deteriorate after she was admitted to an intensive care unit (ICU) the next day. She later developed liver, kidney, and brainstem dysfunction, and passed away due to sudden bleeding in her lungs on June 17, the CECC said.
The new MIS-C case is a 9-year-old boy who tested positive for COVID-19 on May 19. He initially had a three-day fever, stuffy nose, and a headache but soon recovered.
However, he developed a fever of 40.5 degrees Celsius on June 15, and also had a headache, cough, swollen neck, and bloodshot eyes. His fever persisted after his parents took him to a clinic, where he was prescribed medication, and he latterly began displaying symptoms including vomiting, fatigue, and a lack of appetite.
He was taken to hospital on June 18 and diagnosed with MIS-C. Although he was initially admitted to an ICU, his condition has improved and he has since been transferred to a regular hospital ward, the CECC said.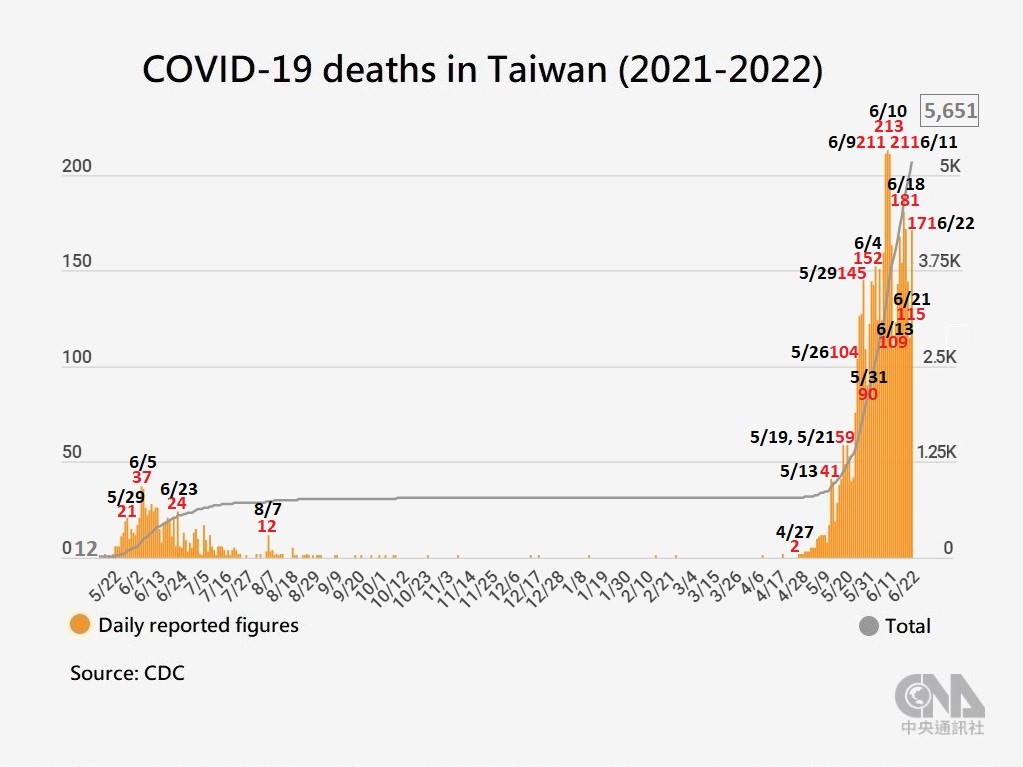 MIS-C is a rare but potentially serious inflammatory reaction that affects children, typically those in the 6-12 age group, two to six weeks after they contract COVID-19. The inflammation can affect different body parts, including the lungs, kidneys, brain, skin, eyes, or gastrointestinal organs.
Common symptoms of MIS-C include a persistent fever, rash, low blood pressure, red eyes, headache, diarrhea, vomiting, and abdominal pain, according to the CECC.
To date, 66 children under 13 years old have developed severe COVID-19 infections, including 19 who have passed away.
The CECC also reported Wednesday that a 19-year-old had passed away after contracting COVID-19, but that the disease was not the main cause of death.
The boy had a chronic cardiovascular disease and had been taking blood-thinning medication for a long period of time. He developed a fever, cough, and runny nose on May 29, and tested positive for COVID-19 two days later.
On June 1, he was taken to the emergency room because he had a headache and was coughing up blood. He was diagnosed with intracerebral hemorrhage (ICH), a type of bleeding within the skull, and underwent surgery. However, his condition deteriorated and he fell ill with sepsis.
His death on June 17 was attributed to ICH and COVID-19, with ICH listed as the primary cause of death, the CECC said.
Related News
June 18: Taiwan to roll out Moderna COVID-19 vaccine for children under 6 in July
June 15: Taiwan records first teen MIS-C case
June 11: 5 more children in Taiwan develop MIS-C, raising total to 8
June 10: 6-year-old girl with MIS-C now recovering: CECC
June 9: Boy with week-long 40-degree fever diagnosed with MIS-C
June 8: Taiwan reports first MIS-C case
View All