CORONAVIRUS
/
Local gov'ts to receive children's Pfizer-BNT vaccines on 6/22
Taipei, June 21 (CNA) The Central Epidemic Command Center (CECC) said Tuesday it will distribute 550,000 doses of the Pfizer-BioNTech COVID-19 vaccine for children to local governments on Wednesday for use in an upcoming second-dose rollout.
The vaccine is for children aged 5-11, and local governments will arrange for them to get vaccinated at hospitals or schools, according to Lo Yi-chun (羅一鈞), deputy head of the CECC's medical response division.
Lo added that children who were 11 years old when they got their first vaccine dose but will have turned 12 by the time they get their second dose should receive the dosage intended for older children and adults.
However, these children can choose to get their second shot four to eight weeks after their first, as is the recommendation for the 5-11 age group, or opt for the 12-week interval recommended for those 12-17 years old, due to myocarditis concerns.
The Pfizer-BioNTech vaccine for children aged 5-11 contains 10 micrograms of mRNA, compared to 30 micrograms for older children and adults.
Moderna's vaccine for the 6-11 age group contains 50 micrograms of mRNA, while the vaccine for older children and adults contains 100 micrograms.
The CECC has said previously that the Moderna COVID-19 vaccine will become available for children aged 6 months to 5 years in July, with 450,000 doses expected to arrive in Taiwan early next month.
The CECC is also negotiating a deal to purchase Pfizer-BioNTech's COVID-19 vaccine for children aged 6 months to 4 years.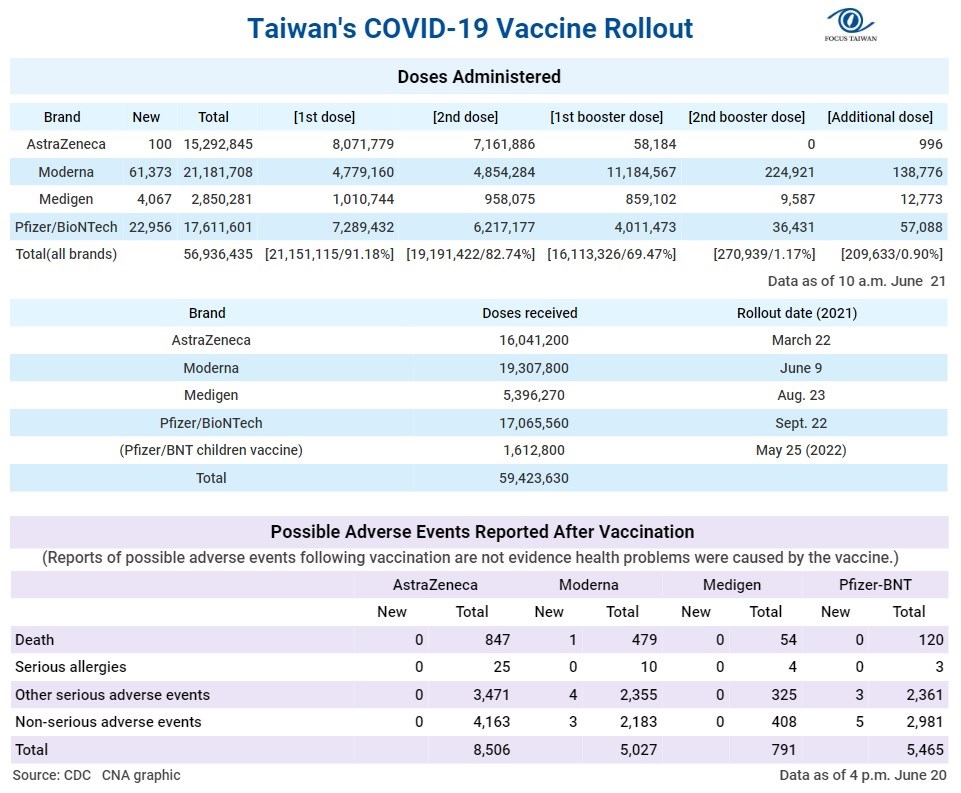 To date, 91.19 percent of Taiwan's population has received at least one dose of a COVID-19 vaccine, while 82.74 percent have gotten at least two doses, and 69.47 percent have gotten a booster shot, according to CECC data.
The first-dose and second-dose coverage for the 12-17 age group is 94.9 percent and 84.1 percent, respectively, and 49.8 percent of this age group has gotten a booster, according to the CECC.
A total of 74.6 percent of children aged 5-11 have gotten their first dose, while 2 percent have received their second dose.
Related News
June 20: Taiwan in talks to buy Pfizer-BioNTech vaccines for kids under 5
June 19: Taiwan to receive 450,000 Moderna vaccine doses in July
June 17: Taiwan grants EUA to Moderna COVID-19 vaccine for children under 6
View All