CORONAVIRUS
/
Taiwan to roll out Moderna COVID-19 vaccine for children under 6 in July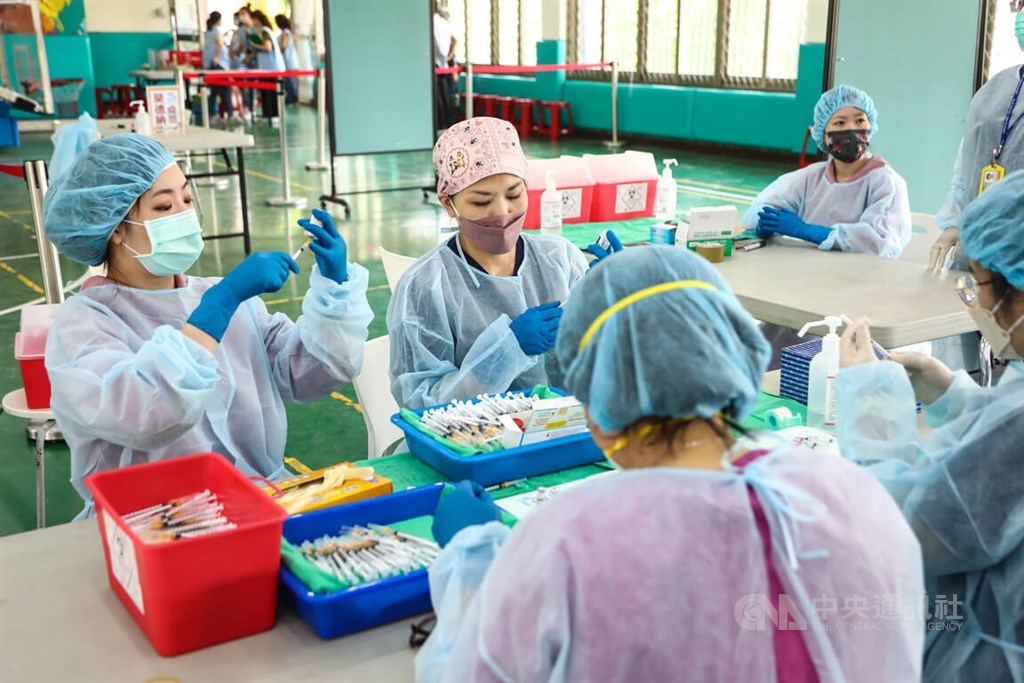 Taipei, June 18 (CNA) The Moderna COVID-19 vaccine will become available next month for children in Taiwan aged 6 months to 5 years, the Central Epidemic Command Center (CECC) said Saturday.
A shipment of the Moderna COVID-19 vaccine for children is scheduled to arrive to Taiwan in July, and the rollout is expected to start in the third week of the month, Lo Yi-chun (羅一鈞), deputy head of the CECC's medical response division, said at a daily COVID-19 press briefing.
Discussions are still ongoing with the American drugmaker on the exact date of the vaccine shipment and the number of doses, he said.
Meanwhile, Taiwan's Centers for Disease Control (CDC) is still waiting for the technical information from the makers of the Pfizer-BioNTech (BNT) vaccine concerning its use for children under the age of 5 years, Lo said.
Taiwan began offering the Moderna COVID-19 vaccine to children aged 6-11 on May 2 and started the rollout of the Pfizer-BioNTech (BNT) COVID-19 vaccine for children aged 5-11 on May 25.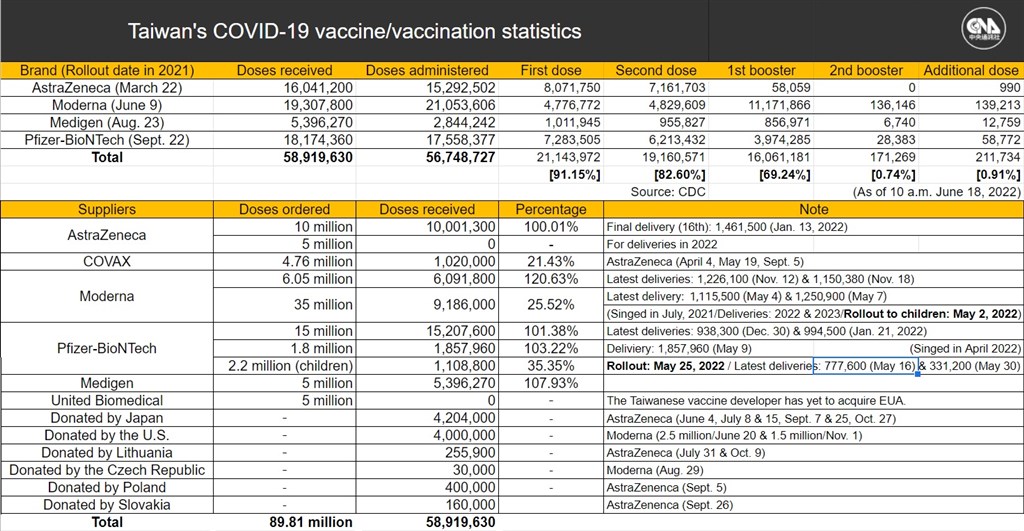 On Friday, Taiwan further granted emergency use authorization (EUA) to the Moderna vaccine for children aged 6 months to 5 years.
Regarding COVID-19 vaccine supplies for the wider population, Lo said Taiwan is likely to receive a shipment of Novavax, via the global vaccine sharing initiative COVAX, in July.
Taiwan has ordered more than 2 million doses of Novavax vaccine through COVAX and granted EUA for that brand on Friday.
To date, 91.15 percent of Taiwan's population has received at least one dose of a COVID-19 vaccine, while 82.6 percent has gotten at least two doses and 69.24 percent has received a booster shot, according to the latest CECC statistics.
Update
June 19: Taiwan to receive 450,000 Moderna vaccine doses in July
Related News
June 18: Taiwan reports 53,707 new COVID-19 cases, 181 deaths
June 17: Taiwan grants EUA to Moderna COVID-19 vaccine for children under 6
June 17: Taiwan FDA approves Novavax emergency use authorization
June 10: COVID vaccine dosing interval for children cut to 4 weeks: CECC
May 25: Taiwan reviewing Moderna, Pfizer COVID vaccine EUA request for younger kids
April 28: Taiwan inks new Pfizer-BioNTech vaccine deal, approves use for children
April 20: Taiwan approves Moderna vaccine for children aged 6-11
View All