CORONAVIRUS
/
Doctors mull factors for acute encephalitis in child COVID-19 cases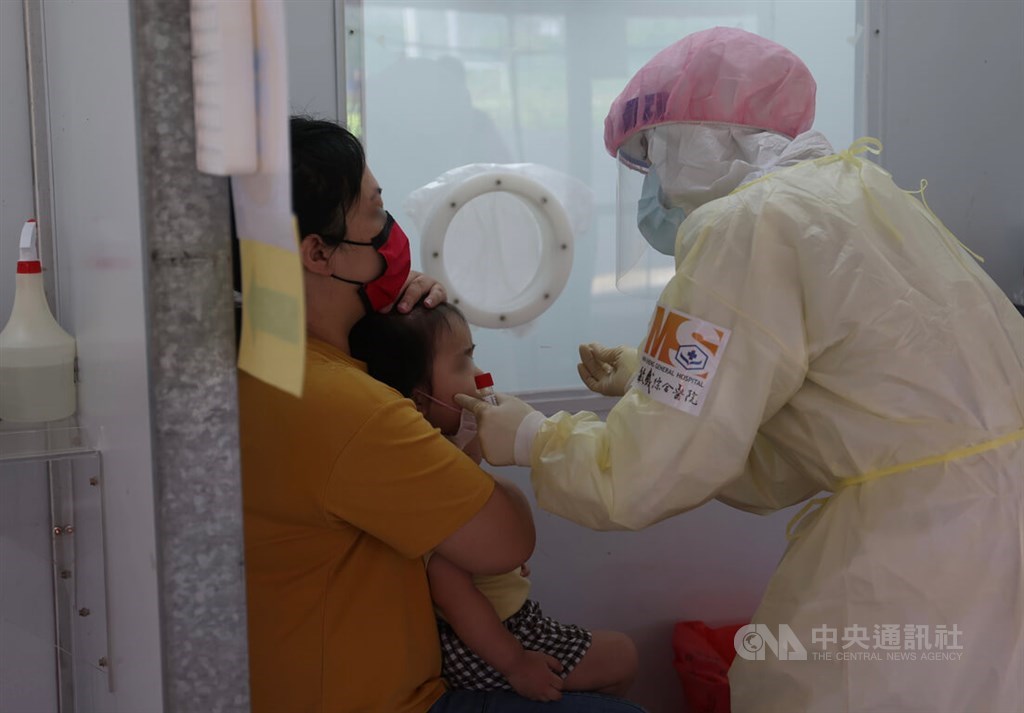 Taipei, May 29 (CNA) COVID-19 has caused acute encephalitis, a life-threatening complication, in a number of children in Taiwan, which local physicians believe may be due to factors such as an excessive immune response, immature blood-brain barrier, genes, and the environment.
Of the 22 severe COVID-19 cases of children aged 1-12 as of Sunday, 11 of the patients developed acute encephalitis, or inflammation of the brain, according to the Central Epidemic Command Center (CECC).
For the 10 deaths linked to the disease in that age group since April 19, acute encephalitis was a factor in five of those, the CECC statistics showed.
Physicians have come up with different explanations for the high rate of acute encephalitis found in severe child COVID-19 cases, while the CECC is planning to investigate possible causes of what it described as an "increasing trend" that was also observed in Hong Kong.
The main mechanism that contributes to acute encephalitis in such cases is the sudden release of cytokine, a type of small protein, in large amounts that damage the nervous system, known as a "cytokine storm," said Chiu Nan-chang (邱南昌), president of the Pediatric Infectious Diseases Society of Taiwan.
Cytokines are part of the body's immune system that mount a response against pathogens when they infect an individual. However, if the virus triggers an excessive immune response, it can lead to a cytokine storm that damages organs including the nervous system, said Chiu, also a pediatric infection physician at Mackay Memorial Hospital.
In addition to cytokine storm, other paths by which the coronavirus can enter a person's central nervous system and cause acute encephalitis were also observed in those cases, Chiu said at the CECC's news briefing on Saturday.
This can make it difficult to take specific measures to prevent the complication that can suddenly cause severe symptoms, he said.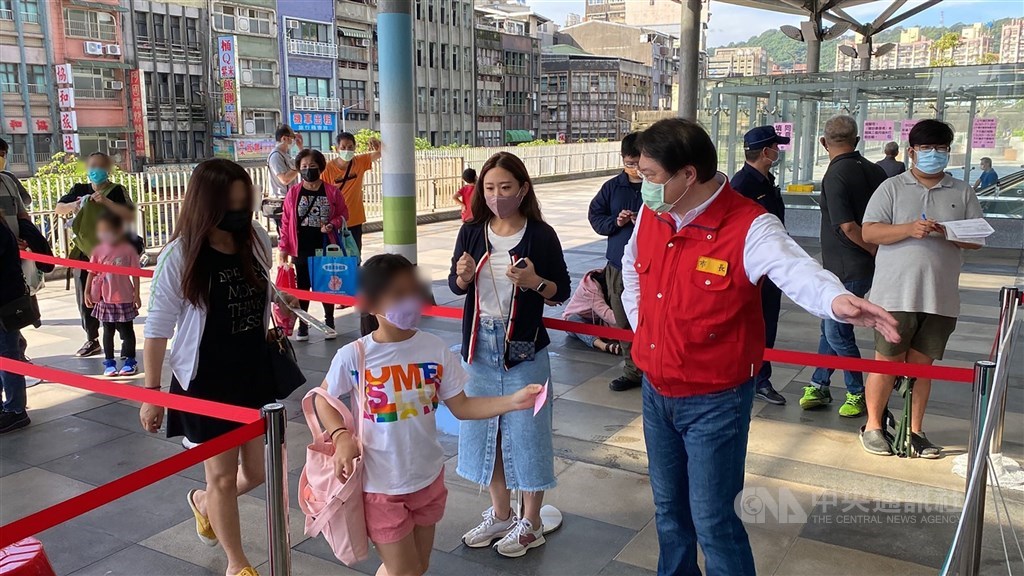 Lee Chien-chang (李建璋), a physician at the Department of Emergency Medicine of National Taiwan University Hospital (NTHU), said he suspected that the virus can penetrate the system in the brain that shields against substances including pathogens in blood circulation, known as the blood-brain barrier (BBB).
In children infected with COVID-19, the virus could directly cross the BBB because it is still immature in children, he said in an interview published by online media outlet The Reporter on May 27.
He added, however, that the reason why acute encephalitis had developed in those cases would remain undetermined without a pathologic anatomy of the infection.
As coronavirus can cause symptoms of cranial nerve problems such as involuntary muscle jerk and loss of consciousness, the virus can move from the nerve to the brain stem, resulting in acute encephalitis, Lee Ping-ing (李秉穎), a pediatric infectious diseases physician at the NTHU, said in a radio interview on May 26.
The situation is similar to the enterovirus 71 epidemic in Taiwan in 1998 during which brain stem inflammation caused by the virus proved fatal for many young children, Lee recalled in the interview.
As brain stem inflammation in these children progressed abruptly and caused excessive fluid in the lungs or acute heart failure, they would die one or two days after infection, he said.
According to the CECC, during the 1998 outbreak, around 120,000 children were confirmed to be infected with the virus, of which 405 were severe cases and 78 died, equal to a fatality rate of around 6 per 10,000 cases.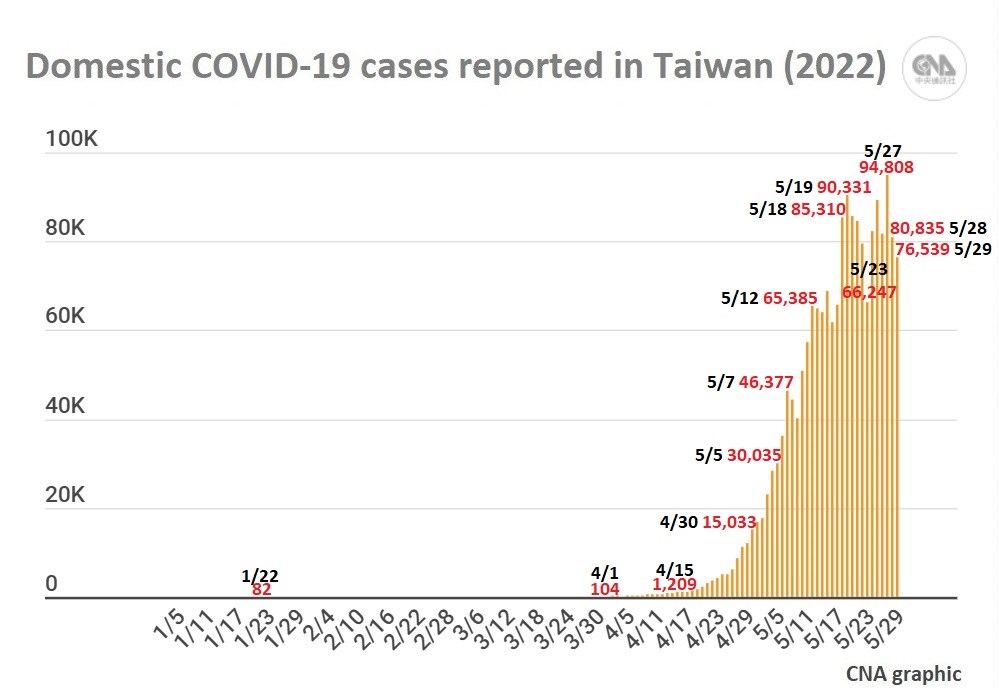 Since the Omicron variant of COVID-19 hit Taiwan earlier this year, 172,927 children aged 0-9 have contracted the virus as of May 26, representing 10.7 percent of total cumulative cases of the age group, according to the CECC.
As of May 26, the mortality rate for children aged 0-9 in Taiwan was around 0.3 per 10,000 cases, according to the CECC.
The rate of severe infections among Taiwanese aged 18 and under -- around 3-7 per 10,000 cases -- was similar to international levels, Deputy Health Minister Shih Chung-liang (石崇良) said on May 26.
While advising parents to have their children vaccinated against COVID-19 as soon as possible amid the increasing number of infected children developing acute encephalitis, the CECC said the trend was also observed in Hong Kong.
The trends have led some physicians to suspect that host genetic factors could have affected the clinical outcomes of COVID-19 infections.
CECC official Lo Yi-chun (羅一鈞) said on May 25 that the condition may be more prevalent among ethnic Chinese, though it could also be related to metabolic or environmental factors.
Lee Chien-chang held the same view, saying the different theories for the pathogenesis of brain inflammation linked to COVID-19 infection all failed to explain the trend because it was not seen in Western countries.
Enterovirus 71 infections in young children in Western countries mostly manifested as hand, foot, and mouth disease, a mild viral illness, rather than fatal complications of patients' brain stems as in Taiwan, Lee Chien-chang said.
To this day, discussions about why enterovirus 71 caused more severe outbreaks in Asia countries remain inconclusive, he said.
Medical experts believe that genes, environment, ethnicity, body constitution and their interactions are possible factors for the differences in clinical manifestations, Lee Chien-chang added.
Related News
May 29: Taiwan reports 76,605 new COVID-19 cases, 145 deaths
May 27: Taiwan to offer free rapid COVID tests to children aged 6 or younger
May 25: Taiwan reviewing Moderna COVID vaccine EUA request for kids under 6
View All