CORONAVIRUS
/
Taiwan COVID-19 News Briefs: May 27
Taipei, May 27 (CNA) Taiwan on Friday reported 94,855 new COVID-19 cases -- 94,808 domestic infections and 47 imported -- and a single-day high of 126 deaths from the disease, according to the Central Epidemic Command Center (CECC).
Here are some of the new developments regarding the COVID-19 situation around Taiwan on Friday:
Vaccine mandates at gyms relaxed
Starting Friday, people are no longer required to have received three doses of a COVID-19 vaccine in order to visit a gym, a requirement implemented on April 22, according to the Sports Administration.
Over the past month, gym users needed to show proof of having received three COVID-19 vaccine shots, unless exempted for medical reasons, a rule also applied to key workers and individuals working at hospitals, schools, correctional facilities and care services.
However, people who have not received three vaccine shots have to wear a face mask when working out in gyms, while those who have received three vaccine shots can exercise without a mask, the Sports Administration said in its announcement Friday.
Meanwhile, Minister of Health and Welfare Chen Shih-chung (陳時中) said during a press briefing Friday that it is not yet time to relax the rule in other areas, for example when taking part in intercity religious events, traveling in local tour groups arranged by travel agencies, or visiting licensed adult entertainment venues, including nightclubs, karaoke bars and massage parlors.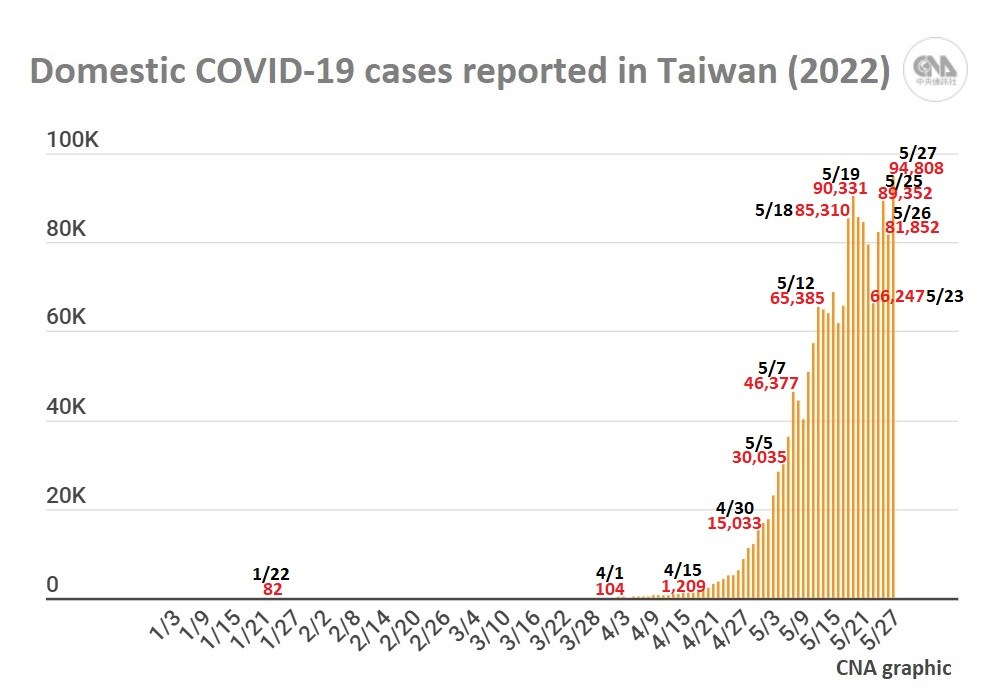 Taichung, Kaohsiung report over 10,000 cases
On Friday, Taichung reported 11,501 locally transmitted COVID-19 cases, while Kaohsiung had 11,270, the first time the two cities saw their daily case numbers exceed 10,000 amid the ongoing surge in COVID-19 infections.
Both cities announced details of their rollout of the Pfizer-BioNTech (BNT) COVID-19 vaccine for children aged 5-11, with Kaohsiung set to begin vaccinations on campuses May 30.
According to Kaohsiung City government, more than 8,000 children in the age group have received a first dose of the vaccine at hospitals and clinics since Wednesday.
In addition to rollouts on campuses, Taichung City government said it has negotiated with local hospitals and clinics to add extra clinic hours from May 30 to June 2 so children born from Sept. 1, 2015 to June 2, 2017 can be vaccinated, if they have not begun attending elementary school.
Although most elementary and high schools in Taiwan have moved classes online through early June, the rollout on campuses in both cities will go ahead as scheduled.
Miaoli County government said Friday that it plans to set up vaccination services for children on June 3 in Miaoli City, Toufen City, Yuanli Township and Zhunan Township to meet the high demand for the Pfizer-BNT vaccine.
In Changhua County, parents can make appointments for the Pfizer-BNT vaccine to be administered on June 1-2 to children aged 5 and above, who have not yet enrolled at school, the county government said.
The appointments can be made on the county's Public Health Bureau website between 8 a.m. and 5 p.m. on May 30.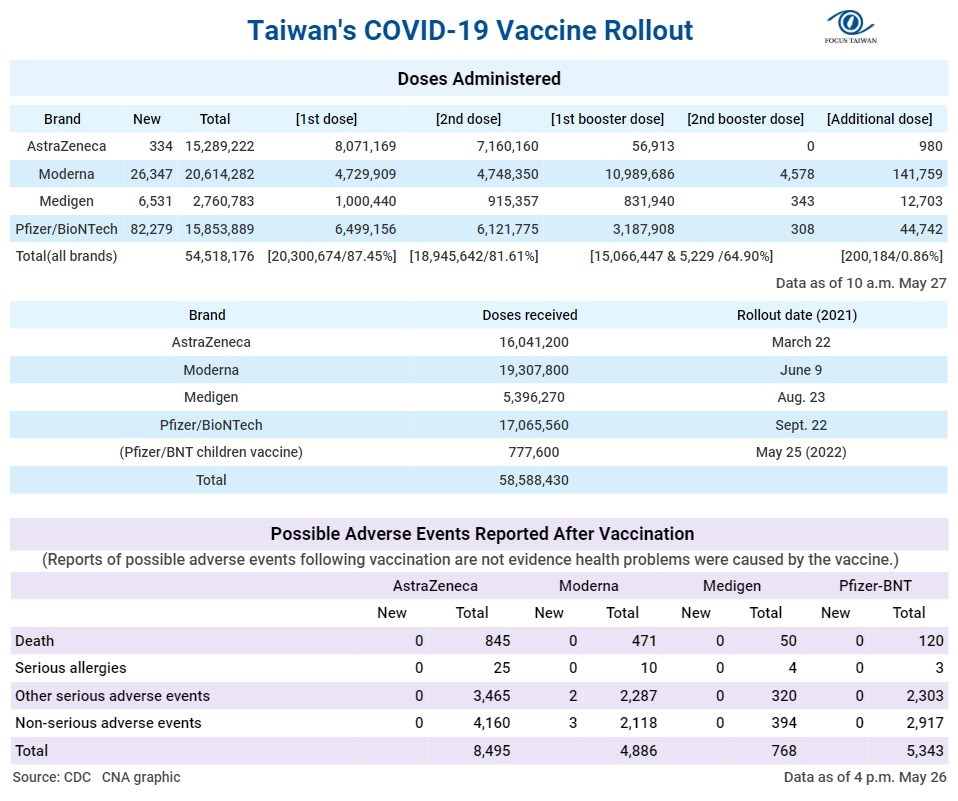 More free rapid tests
Taichung announced that two free rapid tests will be distributed to children aged 2-12, as well as residents of the city's rural Heping District, while Kaohsiung will give two free tests to seniors aged 65 and above, residents in three Indigenous districts and children aged 2-12.
Meanwhile, in Hsinchu County seniors aged 65 and above, or Indigenous people aged 55 and above will receive two free test kits and shopping vouchers of NT$1,000 (US$34), if they take a COVID-19 vaccine shot before June 30.
School trips halted in Taipei
The Taipei City Department of Education said Friday that elementary and high schools in the city will not take students on field trips, while the campus area of elementary schools will not be open to the public, between May 30 and June 12.
The announcement came as elementary and high school students were asked to taking classes at home for another week through June 2.
Each school will decide whether to move graduation ceremonies online after discussions with parents' and teachers' groups, the department said.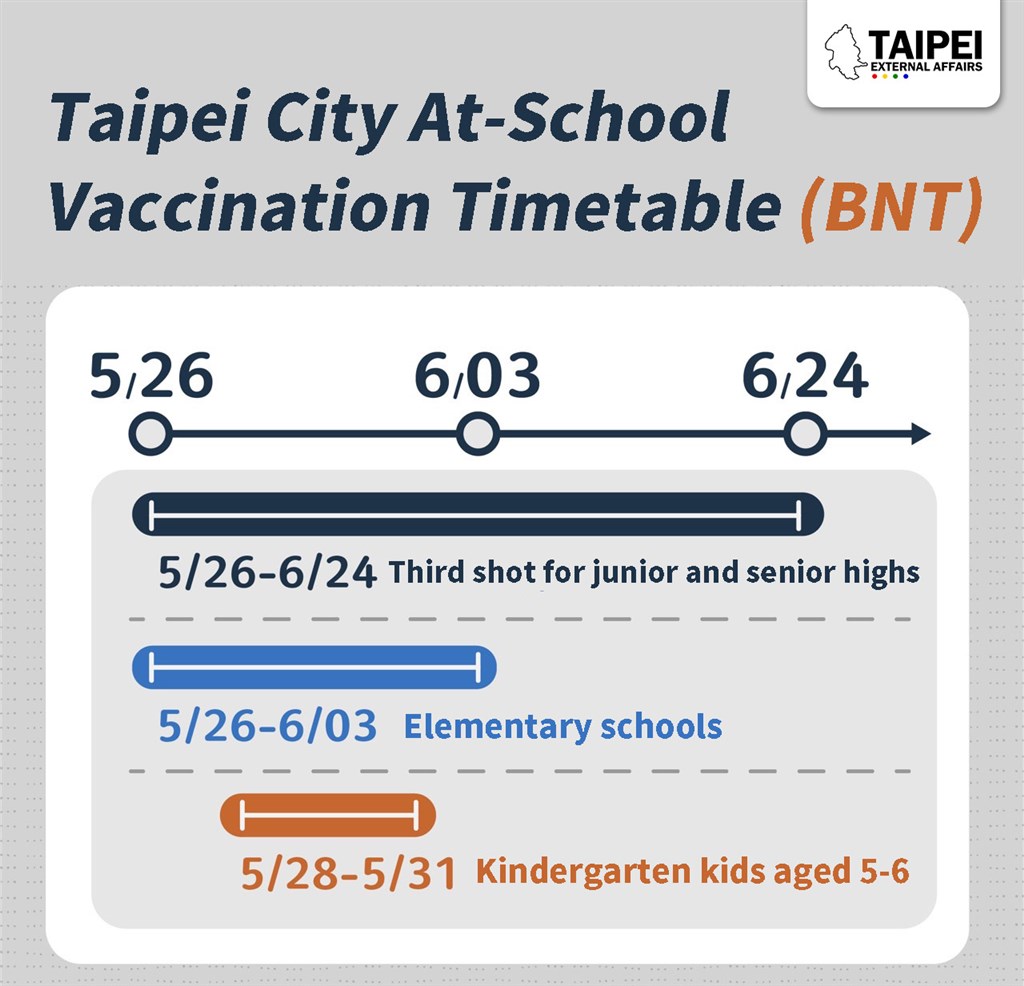 In Hualien County, where classes have also been moved online through June 2, 56 of the schools set to hold their graduation ceremonies next week decided to hold them for students on campus. The events will only be available to parents online, the county government said.
Some 17 schools will hold online-only ceremonies, while 53 said they will hold traditional on-campus ceremonies, according to the county government.
Regarding vaccine rollout, Hualien is also offering two free rapid test kits to seniors aged 65 and above and Indigenous people aged 55 and above if they receive a COVID-19 vaccine shot before June 30. Vaccine shots for elementary and high school students will be provided on campus from May 30-June 7.
The county government suggested that students take a rapid test and only go to school for their vaccine shot if the result is negative.
Related News
May 27: Taiwan reports 94,855 new COVID-19 cases, 126 deaths
May 27: COVID to remain at 'high but stable plateau' for 2 weeks: health minister
May 27: Taiwan to offer free rapid COVID tests to children aged 6 or younger
May 27: Taiwan records eighth child COVID-19 death since April 19
May 27: Legislature approves one-year extension of COVID-19 relief act
View All