CORONAVIRUS
/
Taiwan COVID-19 News Briefs: May 25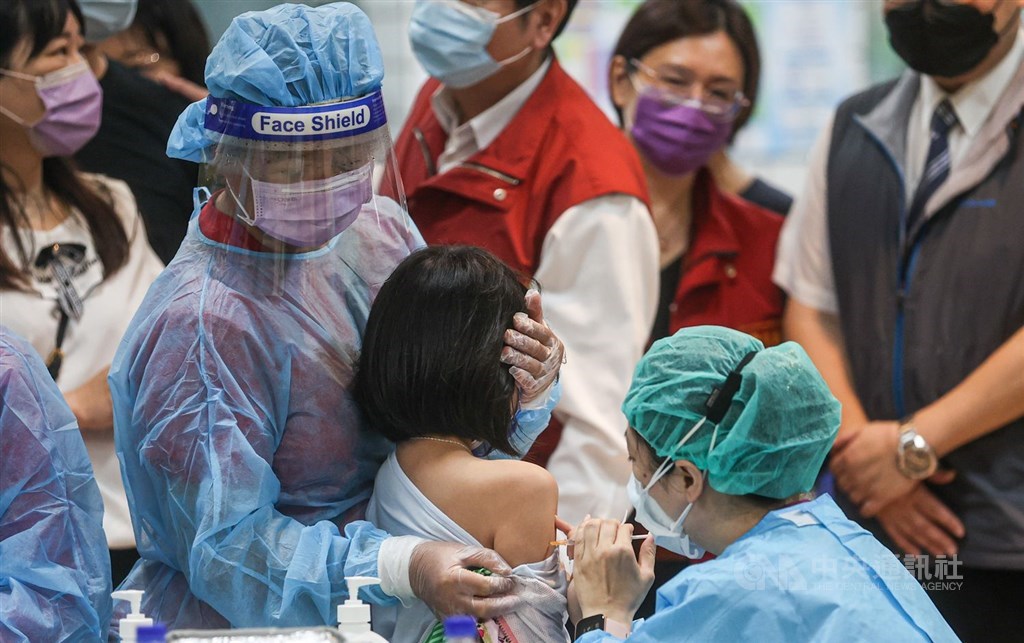 Taipei, May 25 (CNA) Taiwan on Wednesday reported 89,389 new COVID-19 cases and a single-day high of 76 deaths, topping the previous high of 59 set twice earlier this month, according to the Central Epidemic Command Center (CECC).
Here are some of the new developments regarding the COVID-19 situation around Taiwan on Wednesday:
Rollout of Pfizer-BioNTech children's vaccine
Many cities and counties in Taiwan began rolling out the Pfizer-BioNTech children's vaccine for kids aged 5-11 on Wednesday after 403,000 doses were distributed to local governments the day before.
At the CECC press conference, Health Minister Chen Shih-chung (陳時中) said the government was planning to allocate an additional 280,000 doses on Friday and that around 100,000 more doses would be distributed based on demand.
A new shipment of around 330,000 doses of the Pfizer children's vaccine is expected to arrive in Taiwan on May 30, he added.
Kinmen, which began its rollout of the vaccine on Wednesday, said that nearly 70 percent of the county's parents of kids in the 5-11 age group had agreed to have their children vaccinated.
Government to offer seniors free rapid tests to get vaccinated
Local governments will soon begin offering two free COVID-19 rapid tests to seniors aged 65 and above, and Indigenous people aged 55 and above, if they receive a COVID-19 vaccine shot, the CECC said Wednesday.
In a press release, the CECC said it had asked local health departments to begin issuing the free tests to vaccination sites as soon as possible and to continue doing so at least until June 30.
As of Monday, 86.4 percent of people aged 65 and above in Taiwan have received at least one dose of a COVID-19 vaccine, while 81.7 percent have received two and 71.2 percent have received three, according to CECC statistics.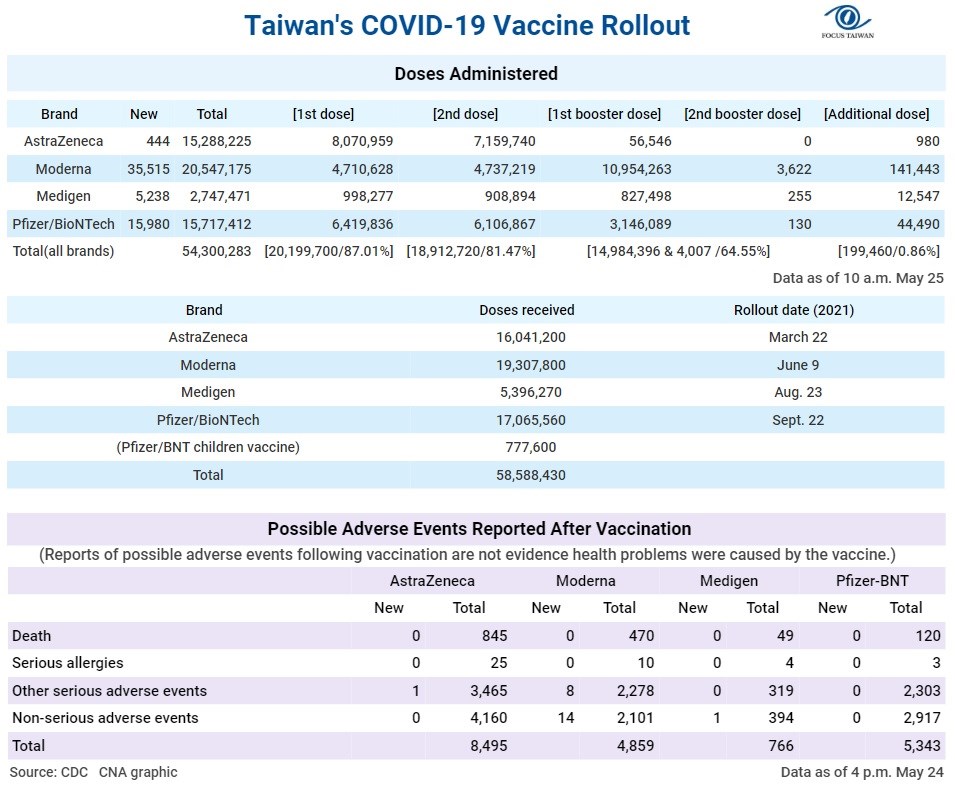 FDA reviewing EUA of Moderna vaccine for children under 6
Taiwan's Food and Drug Administration (FDA) has begun a review for Emergency Use Authorization (EUA) of Moderna's COVID-19 vaccine for children under the age of six, the CECC said Wednesday.
The announcement comes amid concern over the high rate of encephalitis, or inflammation of the brain, found among children with severe cases of COVID-19.
Of the 15 severe COVID-19 cases to date among children aged 10 and under, seven developed acute encephalitis. Of the six patients who died, encephalitis was a factor in five, CECC statistics show.
On Monday, CECC official Lo Yi-chun (羅一鈞) speculated that the condition may be more prevalent among ethnic Chinese, though it could also be related to metabolic or environmental factors.
Despite these fears, Deputy Health Minister Shih Chung-liang (石崇良) said Wednesday that the rate of severe infections among Taiwanese aged 18 and under, around 3-7 per 10,000 cases, was similar to international levels.
To date, around 20 percent of children in this age group have contracted the disease, he added.
MOE quashes early summer break rumors
The Ministry of Education said Wednesday that it "currently has no plans" to allow students to start summer vacation early, putting an end to speculation that arose with many schools holding remote classes this week.
Under Taiwanese law, summer vacation can last for a maximum of 60 days, meaning that starting summer vacation early would require moving up the start of the next academic year, the MOE said in a press release.
The ministry said, however, that it was planning to revise guidelines to make it easier for junior and senior high schools to switch over to remote learning when a student in class tests positive for COVID-19.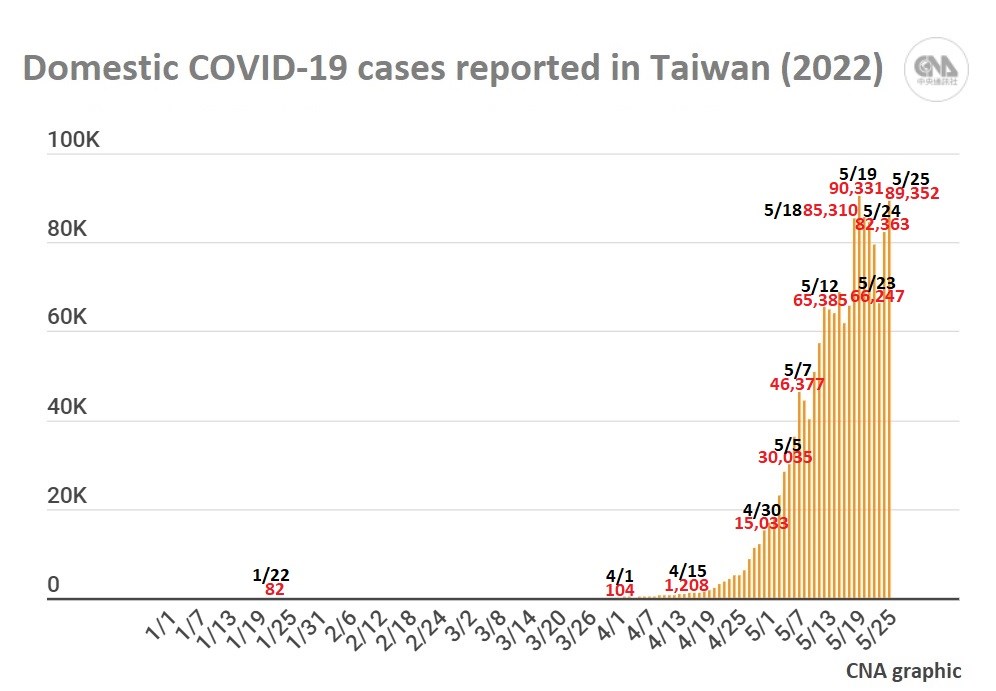 COVID cases have already peaked in Taipei: Ko
Taipei has already passed the peak of its COVID-19 outbreak, though the number of infections could plateau for the next four weeks or so, Mayor Ko Wen-je (柯文哲) said Wednesday.
Despite averaging around 10,000 new infections per day, the city has sufficient medical resources, with 851 of the total 2,570 beds in COVID-19 hospital isolation wards currently unoccupied, Ko said.
COVID-19 mortality rate
At the CECC press briefing, Health Minister Chen Shih-chung said that COVID-19 infections had plateaued, with a mortality rate on Wednesday of 8 or 9 deaths per 10,000 cases, similar to the rates recorded on May 18 and 19.
Meanwhile, epidemiologist and former Vice President Chen Chien-jen (陳建仁) noted in a Facebook post that Taiwan's COVID-19 case fatality rate from January through May 23 was relatively low, at 0.04 percent.
By comparison, the case fatality rate during the same period was 0.06 percent in Singapore, 0.09 percent in Australia and New Zealand, 0.11 percent in South Korea, 0.17 percent in Japan, and 0.76 percent in Hong Kong, he said.
As of Wednesday, there were a total of 1,554 COVID-19 fatalities in Taiwan, with 701 recorded this year.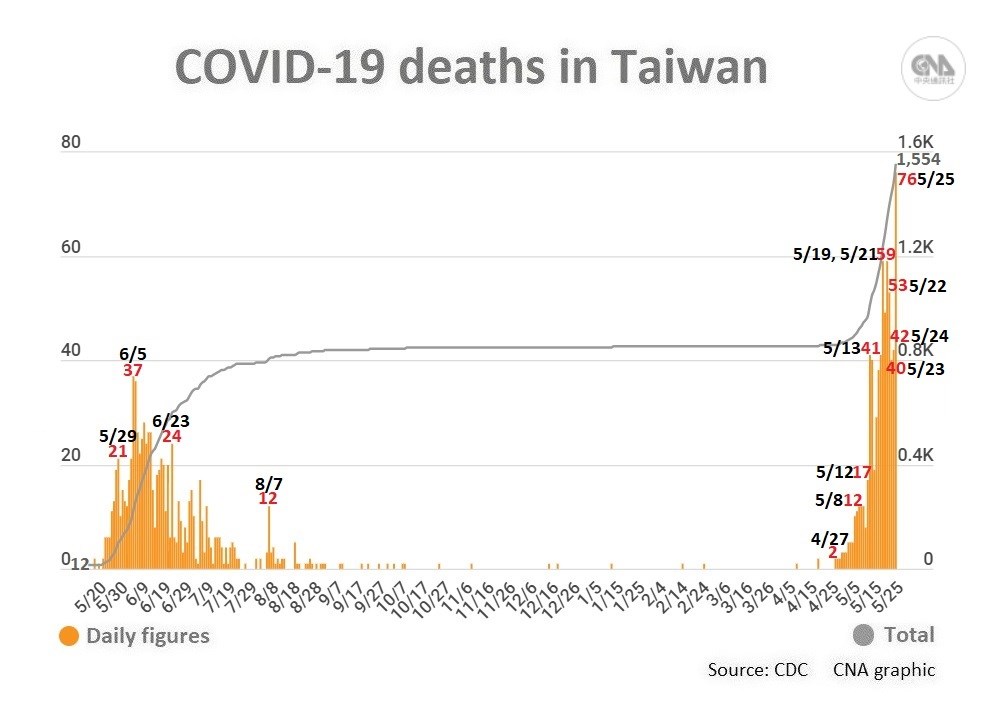 Rapid test COVID diagnoses valid for insurance claims: FSC
A new government policy taking effect Thursday, which allows positive COVID-19 rapid test results that have been confirmed by a doctor to be counted as official cases, will also apply to insurance claims, according to the Financial Supervisory Commission (FSC).
Given that rapid test results will become a legally valid form of diagnosis, they must also be accepted for claims on COVID-19-related insurance policies, the agency confirmed on Wednesday.
Insurance companies are already taking major losses on COVID-19 policies, having paid out a total of NT$2.582 billion (US$87.3 million) in claims as of Monday, in comparison to only NT$2.119 billion in premium income.
View All