CORONAVIRUS
/
Taiwan COVID-19 News Briefs: May 23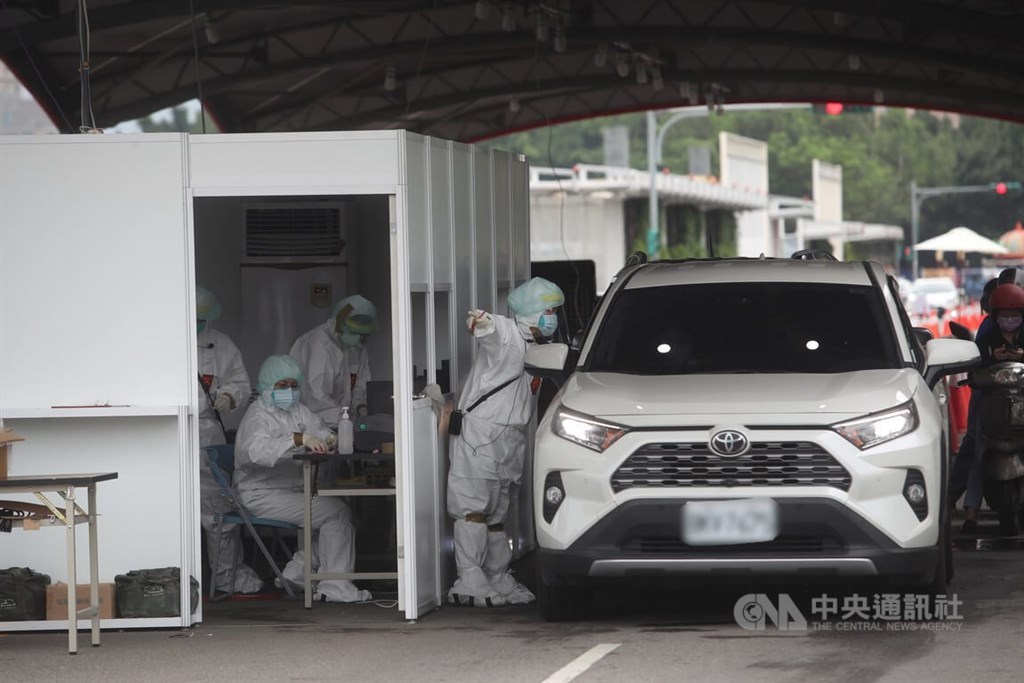 Taipei, May 23 (CNA) Taiwan on Monday reported 66,283 new COVID-19 cases and 40 deaths, as the number of reported new infections dipped to its lowest in six days, according to the Central Epidemic Command Center (CECC).
Here are some of the new developments regarding the COVID-19 situation around Taiwan on Monday:
Rapid test-based COVID diagnosis policy coming Thursday?
A plan to allow rapid test-based COVID-19 diagnoses nationwide, rather than only for specific groups, will "definitely" be announced this week, Deputy Minister of Health and Welfare Shih Chung-liang (石崇良) said Monday.
The government is still working out the details of the policy, which will place a larger burden on rank-and-file doctors, who will be required to confirm people's rapid test results, Shih said.
Meanwhile, CECC spokesman Chuang Jen-hsiang (莊人祥) said Monday evening that the policy was "tentatively" slated to take effect on Thursday, confirming remarks made by Taipei Deputy Mayor Huang Shan-shan (黃珊珊) earlier that day.
Under Taiwan's current policy, rapid test-based diagnoses are only available to people in isolation or quarantine, those aged 65 and above, and people living in Indigenous areas or on offshore islands.
Service launched to track availability of COVID-19 herbal remedy
The National Research Institute of Chinese Medicine (NRHCM) has set up an online spreadsheet to help people find clinics with government-funded courses of Taiwan Chingguan Yihau (NRICM101), a traditional Chinese medicine formula promoted by the NRHCM as an effective treatment for COVID-19.
The service can be used to search lists of hospitals and clinics in each city and county which carry the formula, and which are updated daily with information on how many courses are available at each facility.
Taipei to roll out Pfizer children's vaccine on Thursday
Taipei will offer the Pfizer-BioNTech COVID-19 children's vaccine to kids aged 5-11 beginning on Thursday, the city government said Monday.
From Tuesday, Taipei's vaccine booking website will begin accepting reservations for about 7,000 doses of the Pfizer-BNT children's vaccine to be administered at area health facilities, Deputy Mayor Tsai Ping-kun (蔡炳坤) said in a statement to the press.
Plans to begin vaccination on elementary school campuses Thursday will also go ahead as scheduled, Tsai said, despite the fact that Taipei schools are holding remote classes this week.
Meanwhile, vaccination drives on junior high and high school campuses will also offer the adult version of the Pfizer-BNT vaccine to students between Wednesday and June 15, he added.
Keelung, Yunlin issue free rapid tests to high-risk groups
Keelung City government said Monday that it has begun distributing around 100,000 independently-purchased COVID-19 rapid tests to pregnant women and children aged 12 and under.
Under the initiative, the city will make available five free rapid tests to pregnant women and mothers of newborn babies and three free rapid tests for children aged 12 and under, said Mayor Lin Yu-chang (林右昌).
Keelung residents can pick up the tests through May 31 at their local household registration office, by bringing a copy of their Maternal Health Booklet, the birth certificate of their newborn child or their household registration certificate, Lin said.
Lin added that the city also sent rapid tests to area elementary schools last Friday, to be issued to students aged 7-12.
Meanwhile, Yunlin County announced that it was distributing 10,000 saliva-based rapid tests to 131 area preschools, in light of the difficulty that many young children have in taking nasal swab-based tests.
CECC to probe high rates of encephalitis among severe pediatric COVID cases
The CECC said Monday that it is planning to investigate the apparently high rate of encephalitis, or inflammation of the brain, found among children with severe cases of COVID-19.
Of the 14 severe COVID-19 cases to date among children aged 1-10, six of the patients developed acute encephalitis, while four had pneumonia and two had sepsis. Of the six patients who died, encephalitis was a factor in five, the latest CECC statistics show.
Lo Yi-chun (羅一鈞), deputy head of the CECC's medical response division, said the "increasing trend" of encephalitis had been observed among pediatric COVID-19 patients in both Taiwan and Hong Kong.
However, it is not yet understood whether this is something that is more prevalent in ethnic Chinese, or whether it is due to metabolic or environmental factors, Lo said.
The CECC is planning to hold a meeting with health experts on the subject, and could possibly issue new guidance on warning signs for encephalitis, as well as treatment guidelines for healthcare providers, Health Minister Chen Shih-chung (陳時中) said.
Why are case numbers down?
After hitting a high of over 90,000 last Thursday, new COVID-19 infections dropped to a six-day low of 66,283 on Monday.
When asked what had caused the drop, Health Minister Chen Shih-chung (陳時中) said that while some of it may have to do with "the weekend," the COVID situation was also being "well controlled."
View All