CORONAVIRUS
/
Five-year-old, 9-month-old reported as severe COVID-19 cases: CECC
Taipei, May 21 (CNA) A 5-year-old child and 9-month-old infant were reported Saturday as having severe COVID-19 infections, bringing to nine the number of children in Taiwan under the age of 10 who have had severe infections or died from the disease.
Lo Yi-chun (羅一鈞), deputy head of the Central Epidemic Command Center's (CECC) medical response division, said at a press briefing Saturday that one of the 70 new severe cases reported involved a 5-year-old boy with congenital muscular dystrophy who developed leg pain on May 17.
The CECC defines severe symptoms as being unable to eat, losing consciousness, or having respiratory distress, pneumonia or blood oxygen levels below 90 percent.
The 5-year-old fainted at home and was sent to a hospital, where he was also diagnosed with pneumonia and cerebral edema, Lo said.
The boy was intubated and sent to an intensive care unit, and is being given the antiviral medication remdesivir while receiving other forms of care, Lo said.
At present, the boy still has pneumonia symptoms, and doctors are also trying to determine if he has encephalitis, Lo said.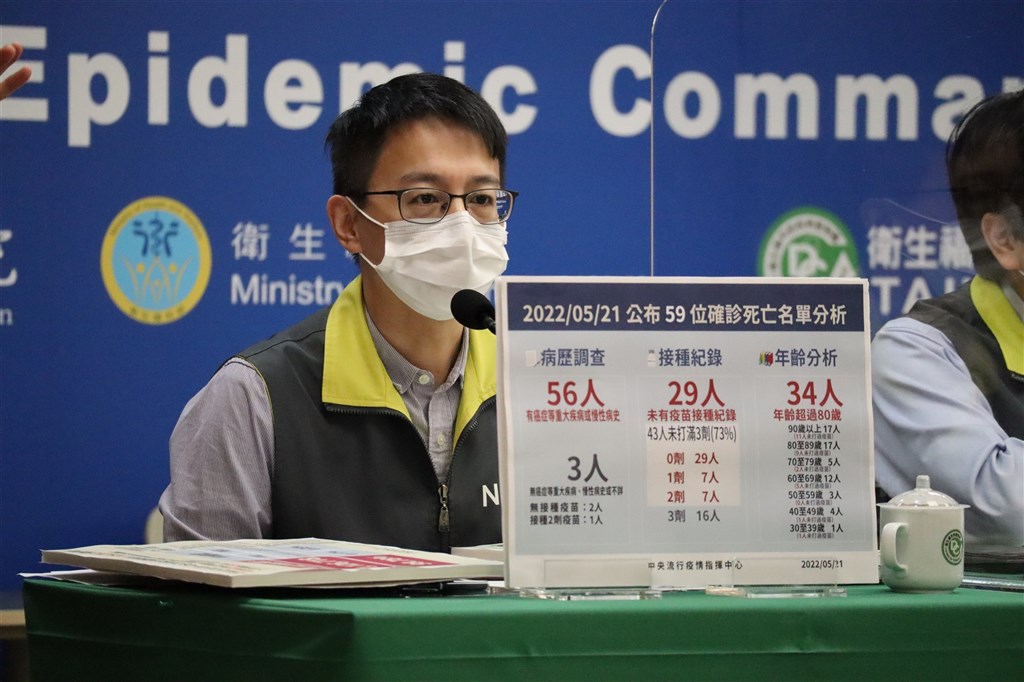 The 9-month-old baby boy did not have any known underlying medical conditions, Lo said.
He developed a fever and cough on May 15 and was sent to the doctors for testing and was found to be positive the next day, according to Lo.
He developed a high fever and asthma symptoms on May 17, and was later diagnosed as having low blood oxygen levels and laryngotracheobronchitis, Lo said, adding that the boy had severe inflammation and obstruction of the upper respiratory tract.
The young boy was sent to a children's intensive care unit and put on a respirator while being given remdesivir, Lo said.
As of Friday, the boy had been taken off the respirator but was still being treated in the intensive care unit, Lo said.
Another new severe case reported Saturday involved a woman in her 20s, who has had cancer and received two doses of a COVID-19 vaccine, Lo said.
After she was infected with COVID-19, she underwent five days of respiratory distress and was admitted to the intensive care unit for treatment, Lo said.
She was treated with remdesivir and has since been discharged from the hospital, he said.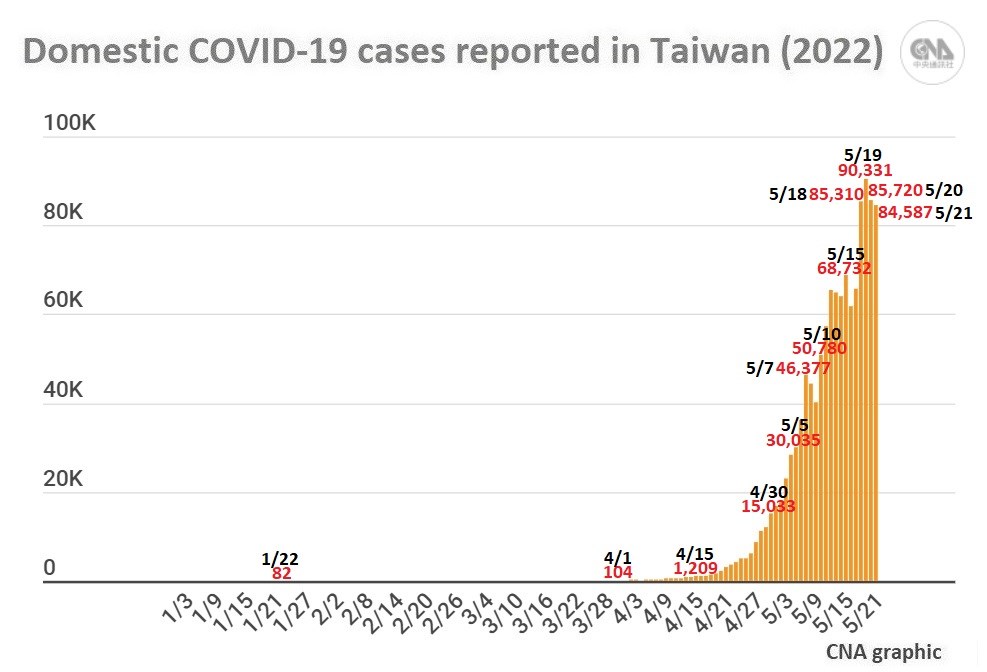 Taiwan recorded 84,639 new COVID-19 cases and 59 deaths Saturday, the fourth consecutive day it has recorded more than 80,000 cases in a single day, according to the CECC.
The CECC also reported Saturday that 153 more people developed moderate COVID-19 symptoms and 70 more people developed severe symptoms.
There have been a total of two deaths from COVID-19 and seven severe cases among children under 10 in Taiwan, according to CECC data. A total of 131,346 children 9-years-old or under have been confirmed as having COVID-19 so far this year.
View All