CORONAVIRUS
/
Taiwan reports 61,754 new COVID-19 cases, 29 deaths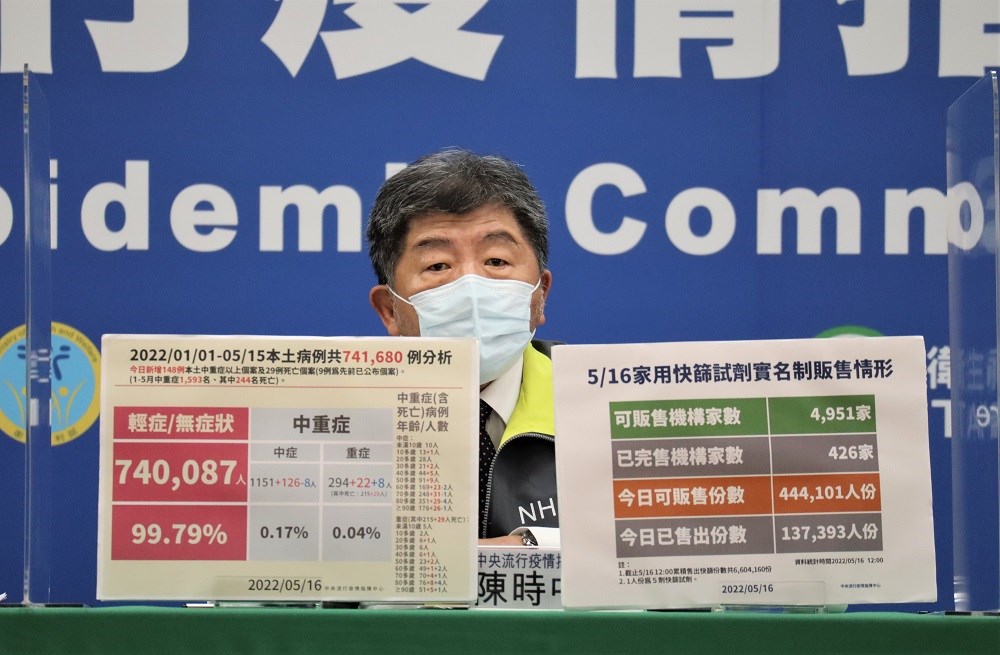 Taipei, May 16 (CNA) Taiwan recorded over 60,000 daily COVID-19 cases for the fifth straight day on Monday, reporting 61,754 new infections and 29 deaths from the disease, according to the Central Epidemic Command Center (CECC).
The new cases consisted of 61,697 domestically transmitted infections and 57 that were contracted abroad, the CECC said.
The 29 new deaths were among individuals in their 20s to 90s, 16 of them unvaccinated, the CECC said. All but one of the patients had chronic illnesses or suffered from severe diseases such as cancer, it said
The youngest person who died, a man in his 20s, had a neuromuscular disease and had been on respiratory support for a long time, the CECC said, adding that he was unvaccinated.
The CECC also said Monday that 22 people who had been reported earlier as COVID-19 cases had developed severe infections, while 126 others had developed moderate symptoms of the disease.
Of the 741,680 domestic cases recorded in Taiwan so far this year, 1,269 have been classified as moderate infections and 324 as severe, accounting for 0.17 percent and 0.04 percent of the total, respectively, according to CECC data valid as of May 15.
All other cases have been either mild or asymptomatic, the data showed.
Of the new cases Monday, New Taipei reported the highest number, 19,898, while Taipei recorded 9,274 cases, and Taoyuan 8,635.
Taichung reported 4,357 cases, Kaohsiung 4,191, Tainan 2,612, Keelung 1,756, Yilan County 1,646, Hsinchu County 1,635, Changhua County 1,411, Pingtung County 1,092, and Miaoli County 1,014.
Hualien County reported 860 cases, Hsinchu City 832, Yunlin County 644, Nantou County 493, Chiayi County 401, Taitung County 379, Chiayi City 254, Kinmen County 153, Penghu County 141, and the Matsu Islands 19.
Meanwhile, of the 57 new imported cases, 35 were travelers who tested positive on arrival in Taiwan, according to the CECC.
To date, Taiwan has confirmed 830,257 COVID-19 cases since the pandemic began in early 2020, including 817,940 domestically transmitted infections.
With 29 deaths reported Monday, the number of confirmed COVID-19 fatalities in the country rose to 1,097, with 244 recorded this year.
Also on Monday
● Taiwan COVID-19 News Briefs: May 16
May 16: 35,000 courses of antiviral medication molnupiravir arrive in Taiwan
May 16: No evidence that expectorants can reduce COVID-19 mortality: CECC
May 16: CECC revokes isolation rule for boosted housemates of COVID-19 patients
May 16: COVID-19 drug eligibility simplified for seniors
May 16: Taiwan Navy confirms multiple COVID-19 cases on warship
May 16: Taiwan receives first shipment of Pfizer-BNT vaccines for children
● Q&A/What you need to know about COVID-19 telemedicine consultations
Related News
● Q&A/What to do if you or your contacts get COVID-19
May 14: Taiwan to roll out second COVID-19 booster from Monday: CECC
May 14: Taiwan FDA reviewing data on Novavax vaccine following EUA request
May 7: Quarantine cut to 7 days for mild, asymptomatic COVID-19 cases: CECC
May 7: Taiwan rolls back quarantine rules for contacts of COVID-19 patients
May 4: Taiwan adjusts hospital policy for COVID-19 patient
Recent cases
May 15: Taiwan reports 68,769 new COVID-19 cases, 19 deaths
May 14: Taiwan reports 64,041 new COVID-19 cases, 40 deaths
May 13: Taiwan reports 65,011 new COVID-19 cases, 41 deaths
May 12: Taiwan reports 65,446 new COVID-19 cases, 17 deaths
May 11: Taiwan reports 57,216 new COVID-19 cases, eight deaths
View All