CORONAVIRUS
/
Taiwan to roll out second COVID-19 booster from Monday: CECC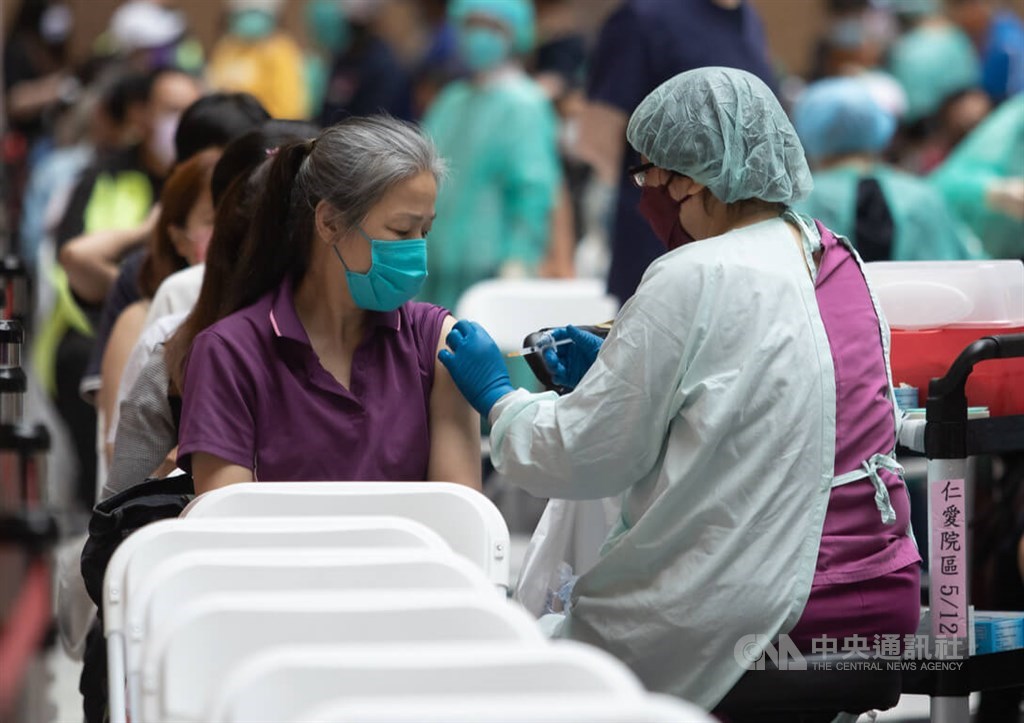 Taipei, May 14 (CNA) Older people and certain immunocompromised individuals aged 18 and over will be authorized to receive a second booster dose of a COVID-19 vaccine starting Monday, according to the Central Epidemic Command Center (CECC).
Taiwan is currently undergoing a major surge in domestic COVID-19 infections and members of the Advisory Committee on Immunization Practices (ACIP) decided in late April to roll out a fourth COVID-19 jab with individuals advised to wait at least five months after receiving their third dose before getting a fourth.
Health Minister Chen Shih-chung (陳時中) said at a daily press briefing Saturday that the aim of rolling out the fourth jab is to reduce the risk of moderate and severe infections as COVID-19 spreads rapidly in the community.
Taiwan's single-day COVID-19 cases surpassed 60,000 for the third straight day on Saturday, with the CECC reporting 64,041 new cases and 40 deaths from the disease.
Note: Centers for Disease website listing hospitals, clinics and public health centers that offer COVID-19 vaccination (in Chinese)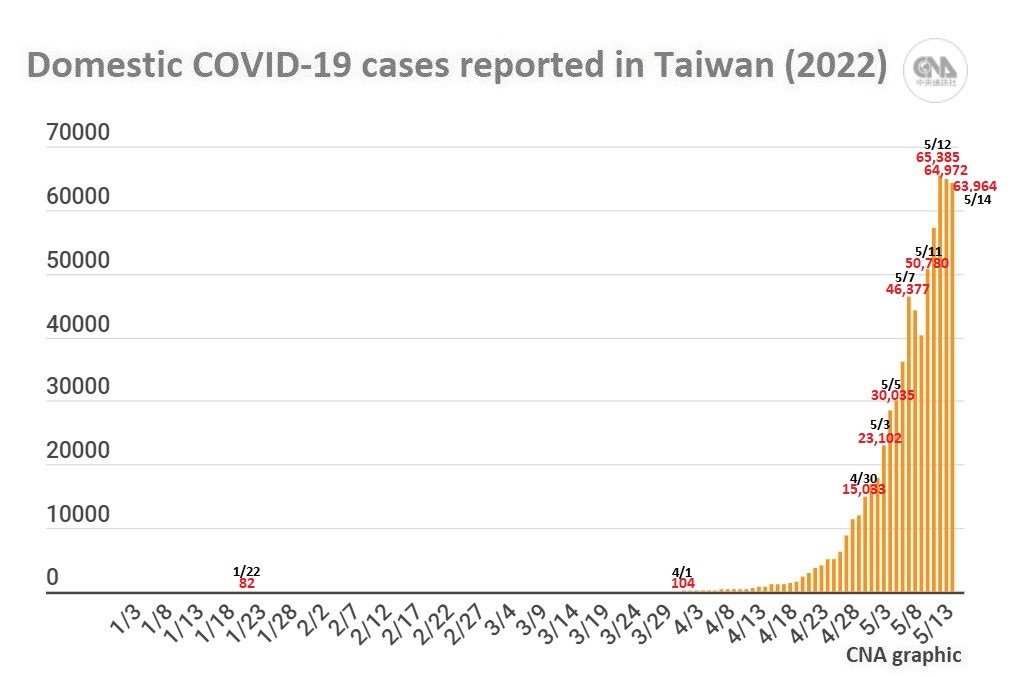 The three types of people who will be allowed to receive a fourth COVID-19 vaccine shot starting Monday are those aged 65 and over, residents of long-term care institutions, and people aged 18 and over with illnesses that compromise their immune systems, Chen said.
According to the CECC, this includes cancer patients who are currently undergoing or have received immunosuppressive therapy within the past year, organ transplant or stem cell transplant patients, moderate or severe congenital immunocompromised patients, dialysis patients and HIV positive patients.
Others include those currently taking highly immunosuppressive drugs, individuals who received chemotherapy or radiation therapy within the past 6 months, and those considered to be equally immunocompromised after an evaluation by a medical doctor, according to the CECC.
Furthermore, if an individual was previously infected with COVID-19, that person must wait at least three months after the onset of their symptoms or confirmed date of infection for asymptomatic cases, before receiving the second booster, according to the Taiwan Centers for Disease Control.
Regardless of the brand of COVID-19 vaccine previously received, individuals can get a half dose of Moderna or full dose of Pfizer-BioNTech, Medigen, or Novavax for their second booster, Chen said.
Related: Taiwan FDA reviewing data on Novavax vaccine following EUA request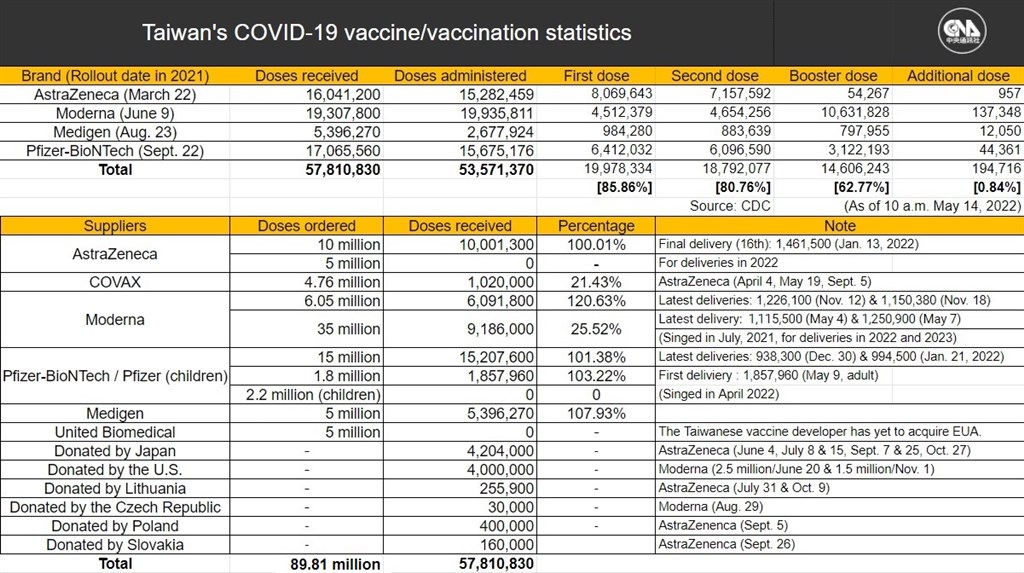 Meanwhile, 19 hospitals in Taipei will start taking online reservations to book second booster shots, according to the city's Deputy Mayor Tsai Ping-kun (蔡炳坤).
The hospitals are Taipei Chang Gung Memorial Hospital, Taiwan Adventist Hospital, Pojen General Hospital, Tri-Service General Hospital Songshan Branch, Taipei Medical University Hospital, National Taiwan University Hospital, Postal Hospital, Taipei Renji Hospital, Wanfang Hospital, and Kang-Ning General Hospital, Tsai said.
Also, Taipei Veterans General Hospital, Tri-Service General Hospital Beitou Branch, Central Clinic and Hospital, Taipei City Hospital Renai Branch, Taipei City Hospital Linsen Chinese Medicine Branch, Taipei City Hospital Zhongxing Branch, Taipei City Hospital Yangming Branch, Taipei City Hospital Zhongxiao Branch, and Taipei City Hospital SongDe Branch, Tsai added.
In addition, those eligible can make reservations on Taipei's online COVID-19 vaccination registration system between 9 a.m.-5 p.m. on Tuesday and Wednesday to get their second boosters on May 23-29, Tsai added.
As of Friday, 85.86 percent of Taiwan's population had received at least one vaccine dose, 80.76 percent had gotten at least two doses, and 62.77 percent had received a booster shot, according to the latest CECC data.
View All