CORONAVIRUS
/
Taiwan rolls back quarantine rules for contacts of COVID-19 patients
Taipei, May 7 (CNA) People in Taiwan who are identified as contacts of a COVID-19 patient will no longer be required to observe strict quarantine rules, unless they live in the same quarters as the infected person, the Central Epidemic Command Center (CECC) said Saturday.
The new policy is aimed at maintaining Taiwan's public health capacity, as new domestic COVID-19 cases have surged to tens of thousands per day since April 28, Health Minister Chen Shih-chung (陳時中) said at a daily briefing.
Only cohabitants to be listed as contacts
When the new regulation takes effect Sunday, only people who live in the same household or dormitory as a COVID-19 infected person will have to quarantine at home for three days, after which they will be required to closely monitor their health for another four days, Chen said.
Furthermore, those contacts will no longer be subject to the government's "digital fence system," which uses a person's mobile phone to monitor whether they leave their quarantine location, according to the Central Epidemic Command Center (CECC).
Update: CECC revokes isolation rule for boosted housemates of COVID-19 patients (May 17)
With the implementation of its new policy, the CECC is rolling back the quarantine rules for other contacts, including those who sit close to a classmate or colleague confirmed as a COVID-19 case.
The CECC advised that companies decide whether employees should work from home or self-isolate at home, if they are identified as COVID-19 contacts.
Colleagues, classmates
Employees who sit in close proximity to an infected person are considered at high risk of contracting COVID-19, according to the CECC.
In such situations, if the worker has not received three shots of a COVID-19 vaccine, they should self-isolate or work remotely for three days after their last contact with the infected person, said Chen, who heads the CECC.
After the three-day period, the contact should take a COVID-19 rapid test every other day for the next four days, he said.
If the worker had received a booster shot at least 14 days before their last contact with a COVID-19 case, the employee can go to office but must observe self-health management for seven days after the date of their last contact, Chen said.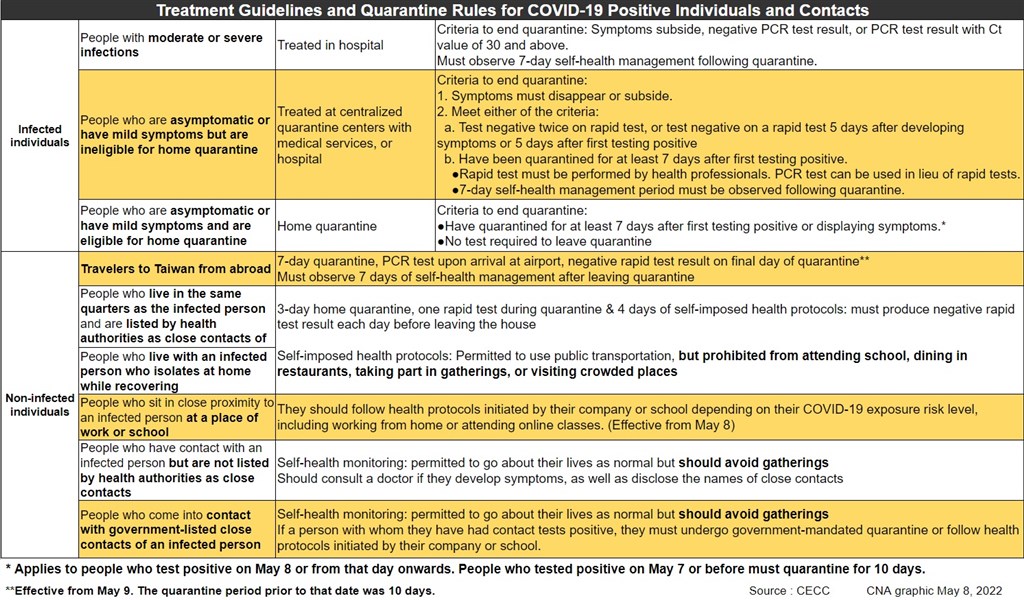 Other revised measures
The new policy was among a number of decisions made at a meeting Saturday between Chen and local government officials, who were discussing how to strengthen the health system amid the spike in domestic COVID-19 cases.
The decision to discontinue the "digital fence system" for COVID-19 contacts in mandatory home quarantine was also reached during that meeting, on grounds it would not be practical for a three-day quarantine period, according to the CECC.
The digital monitoring system will still be employed, however, for infected COVID-19 people who are in home quarantine and travelers to Taiwan who are in quarantine at designated facilities, according to the CECC.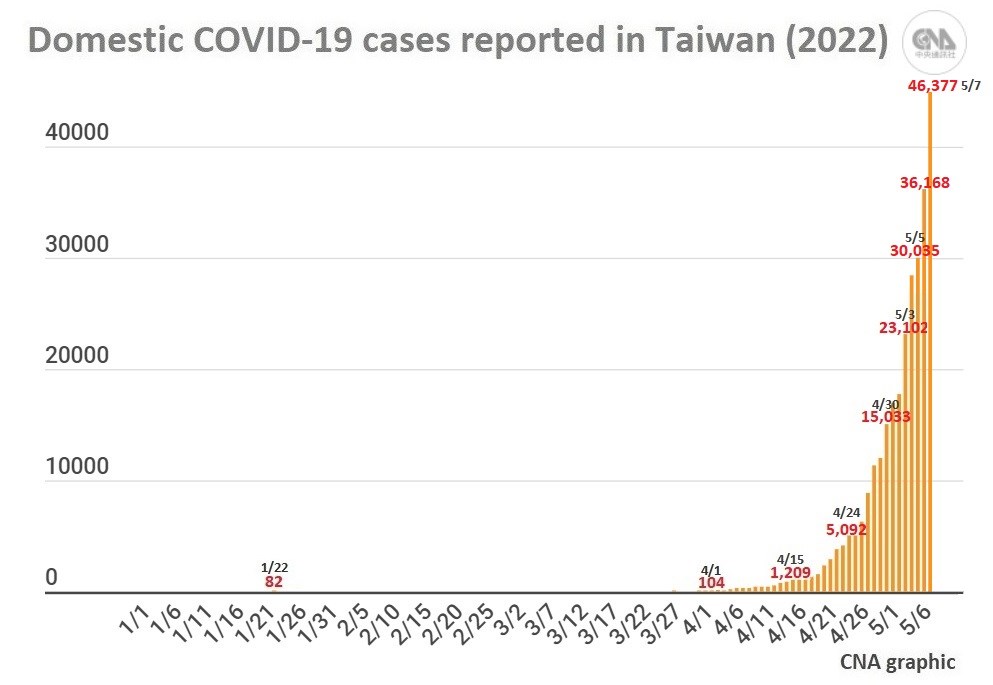 On Saturday, Taiwan reported 46,536 new COVID-10 cases and 11 deaths from the disease.
Related News
● Q&A/What to do if you or your contacts get COVID-19
May 7: Taiwan reports 46,536 new COVID-19 cases, 11 deaths
May 7: Quarantine cut to 7 days for mild, asymptomatic COVID-19 cases: CECC
May 5: Rapid test positives to be counted as confirmed COVID cases from May 12
May 4: Taiwan adjusts hospital policy for COVID-19 patients
May 3: Taiwan to shorten quarantine for arriving travelers from 10 to 7 days
View All