CORONAVIRUS
/
Taiwan reports 30,106 new COVID-19 cases, 5 deaths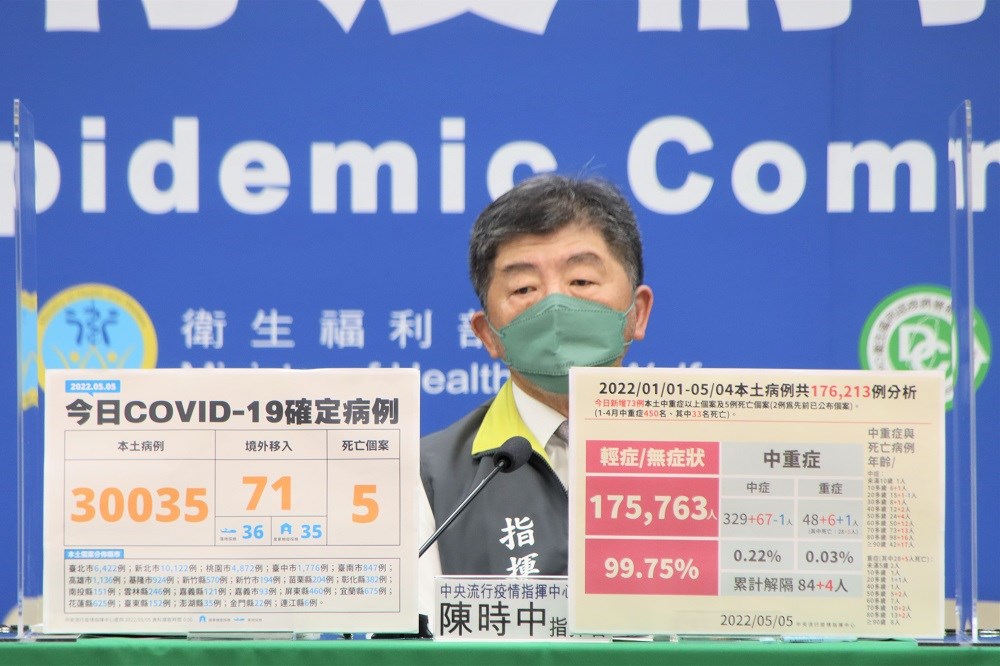 Taipei, May 5 (CNA) Taiwan saw its single-day COVID-19 case number surpass 30,000 for the first time on Thursday after reporting 30,106 new cases and five deaths from the disease, according to the Central Epidemic Command Center (CECC).
The new cases consisted of 30,035 domestically transmitted infections and 71 cases that were contracted abroad, the CECC said.
The five deaths reported Thursday involved two patients in their 70s who had gotten two or three vaccine doses, as well as three others in their 20s, 50s, and 80s who were unvaccinated.
The patient in his 20s had a nervous system disorder, and he had been bed-ridden and reliant on a ventilator for a significant amount of time prior to contracting COVID-19, according to the CECC.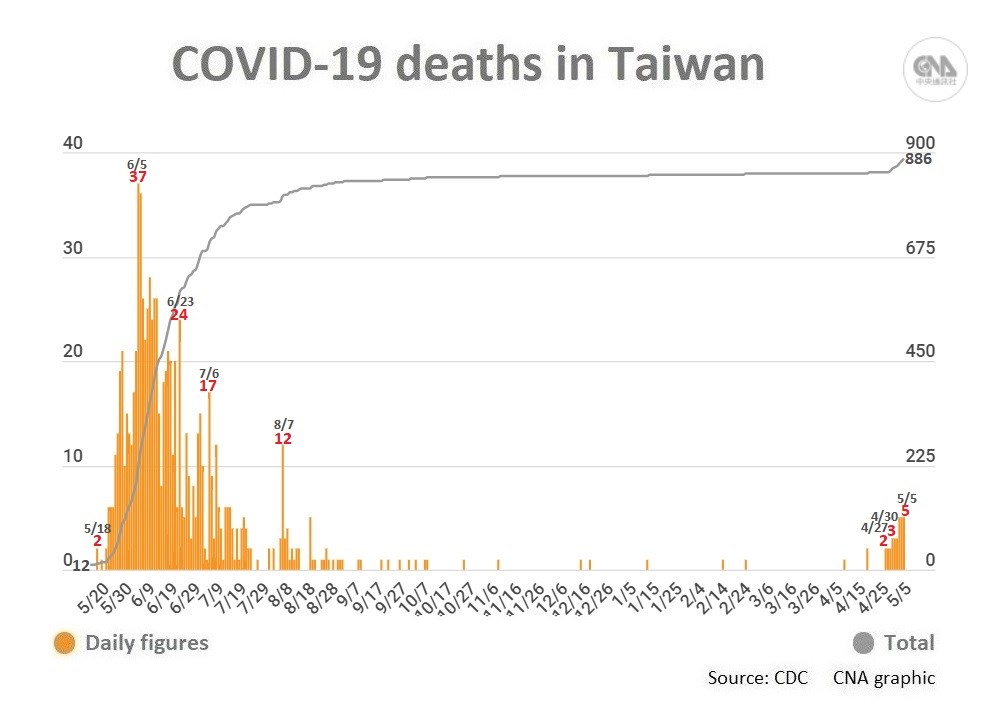 The CECC also reported that 67 patients had developed moderate symptoms and six had developed severe symptoms.
Of the 176,213 domestic cases recorded in Taiwan from Jan. 1 to May 4, 395 have been classified as moderate infections and 55 as severe, accounting for 0.22 percent and 0.03 percent of the total, respectively.
All other cases have involved individuals with only mild symptoms or individuals who were asymptomatic, according to the CECC.
Of the domestic cases Thursday, New Taipei reported the highest number, 10,122, followed by Taipei with 6,422, Taoyuan with 4,872, Taichung with 1,776, and Kaohsiung with 1,136.
Keelung reported 924 cases, Tainan 847, Yilan County 675, Hualien County 625, Hsinchu County 570, Pingtung County 460, Changhua County 382, Yunlin County 246, Miaoli County 204, Hsinchu City 194, Taitung County 152, Nantou County 151, and Chiayi County 121.
Chiayi City reported 93 cases, Penghu County 35, Kinmen County 22, and the Matsu Islands six.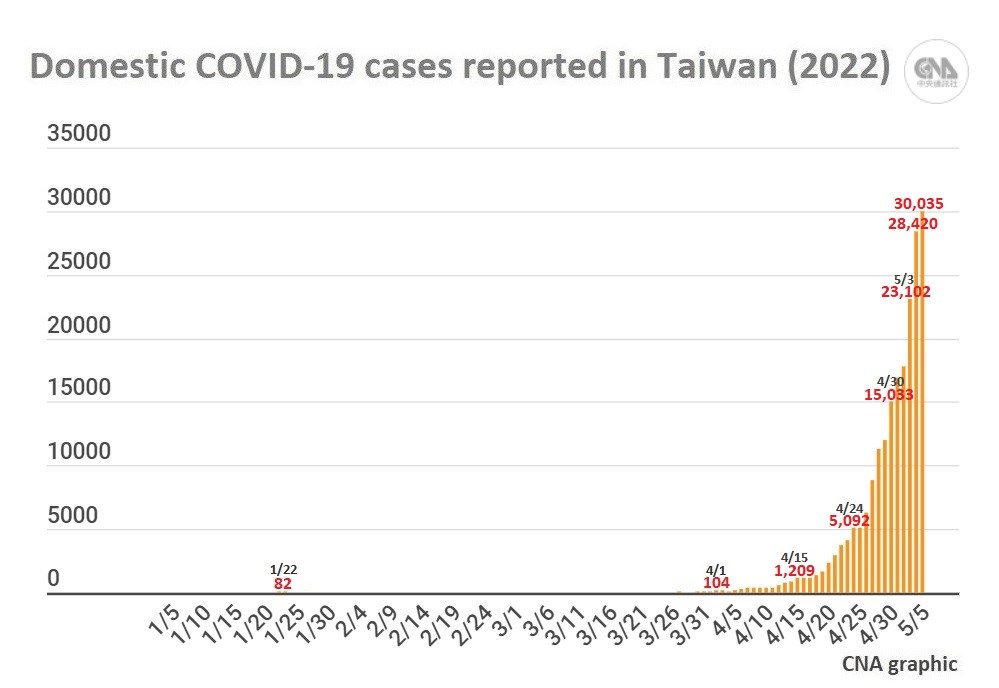 Meanwhile, of the 71 new imported cases, 36 were travelers who tested positive on arrival in Taiwan, according to the CECC.
To date, Taiwan has confirmed 232,402 COVID-19 cases since the pandemic began in early 2020, including 220,737 domestically transmitted infections.
With five deaths reported Thursday, the number of confirmed COVID-19 fatalities in the country reached 886, of which 33 have been recorded this year.
Also on Thursday
May 5: Rapid test positives to be counted as confirmed COVID cases from May 12
May 5: Over 2.63 million Pfizer-BioNTech vaccine doses to arrive in Taiwan
May 5: COVID-19 antiviral drugs now available to patients in home quarantine
May 5: Labor insurance benefits now available for COVID-19 cases
May 5: 'Hidden' COVID cases to spike if daily infections hit 150,000: Chen
Related News
May 4: Taiwan adjusts hospital policy for COVID-19 patients
May 3: Taiwan to shorten quarantine for arriving travelers from 10 to 7 days
May 2: Symptomless people to face restrictions in getting PCR test
May 1: Taiwan's COVID wave to peak in second half of May: health minister
April 28: Taiwan inks new Pfizer-BioNTech vaccine deal, approves use for children
April 27: Taiwan to maintain current mask mandate through May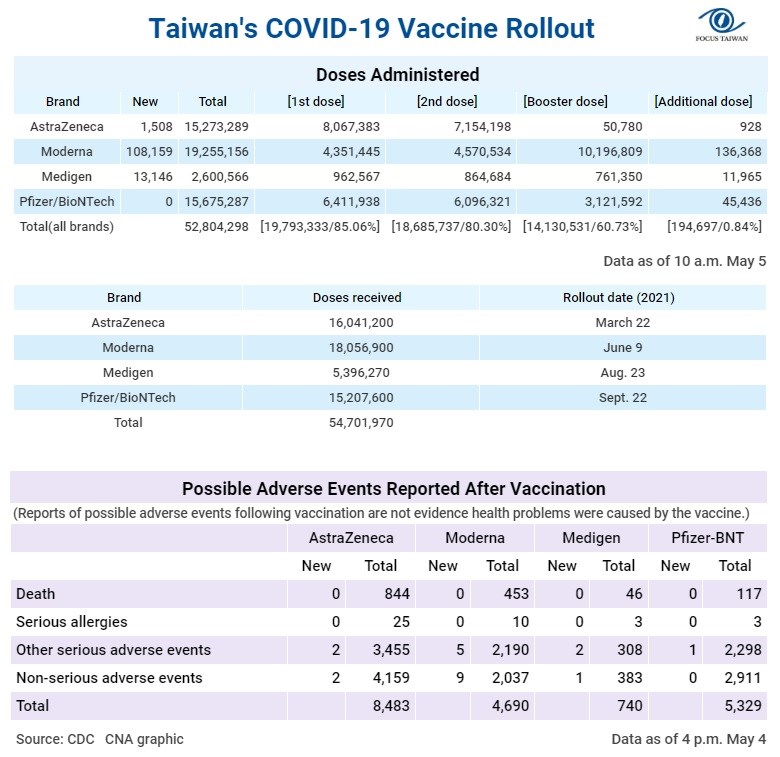 Recent cases
May 4: Taiwan reports 28,487 new COVID-19 cases, five deaths
May 3: Taiwan reports 23,139 new COVID-19 cases, five deaths
May 2: Taiwan reports 17,858 new COVID-19 cases, 3 deaths
May 1: Taiwan reports 17,085 new COVID-19 cases, three deaths
April 30: Taiwan ends April with record 15,149 new COVID-19 cases
View All