CORONAVIRUS
/
Taiwan reports 17,858 new COVID-19 cases, 3 deaths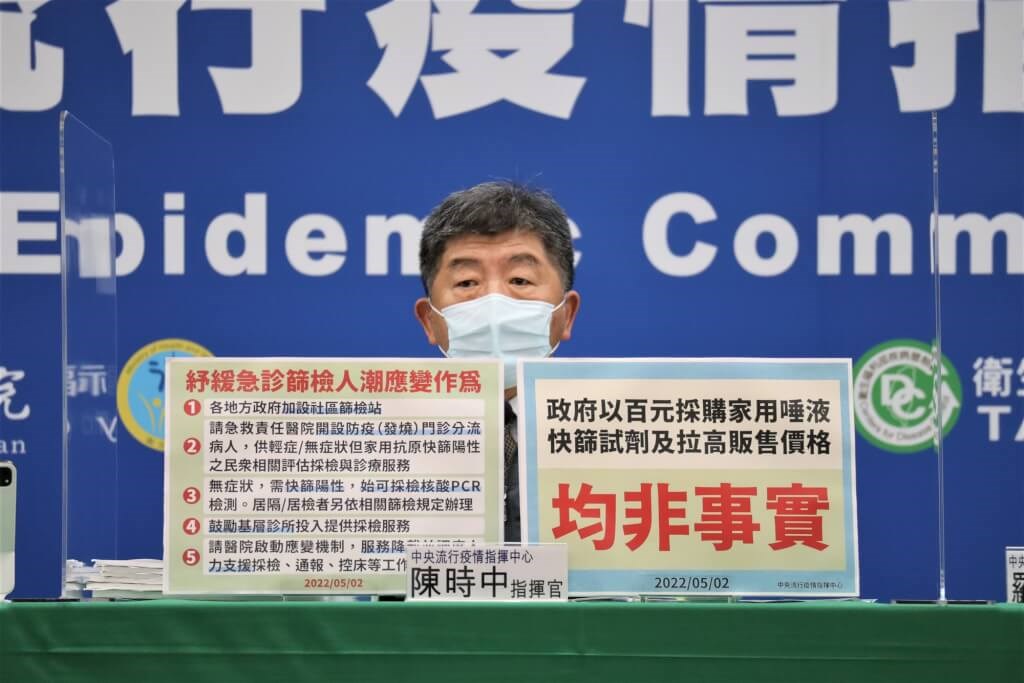 Taipei, May 2 (CNA) Taiwan on Monday reported 17,858 new COVID-19 cases and three deaths from the disease, the fifth consecutive day the single-day total exceeded 10,000 cases, according to the Central Epidemic Command Center (CECC).
The new cases consisted of 17,801 domestically transmitted infections and 57 cases that were contracted abroad, Health Minister Chen Shih-chung (陳時中) said at a CECC briefing.
The three deaths from COVID-19 complications involved two women between the ages of 80 and 100 and one man in his 70s.
All three had been previously listed as severe cases and had histories of chronic illness.
They tested positive on April 20, April 23 and April 26, and died on April 27 and April 28, respectively.
The CECC also reported that 14 patients had developed moderate symptoms, while seven had developed severe symptoms.
Of the 106,912 domestic cases recorded in Taiwan from Jan. 1 to May 1, 240 have been classified as moderate infections and 35 as severe, accounting for 0.22 percent and 0.03 percent of the total, respectively.
All other cases have involved only mild symptoms or the individuals were asymptomatic, according to the CECC.
Of the 17,801 domestic cases reported on Monday, New Taipei reported the most with 6584, followed by Taipei with 3,718, Taoyuan with 2,577, Keelung with 874, and Taichung with 839.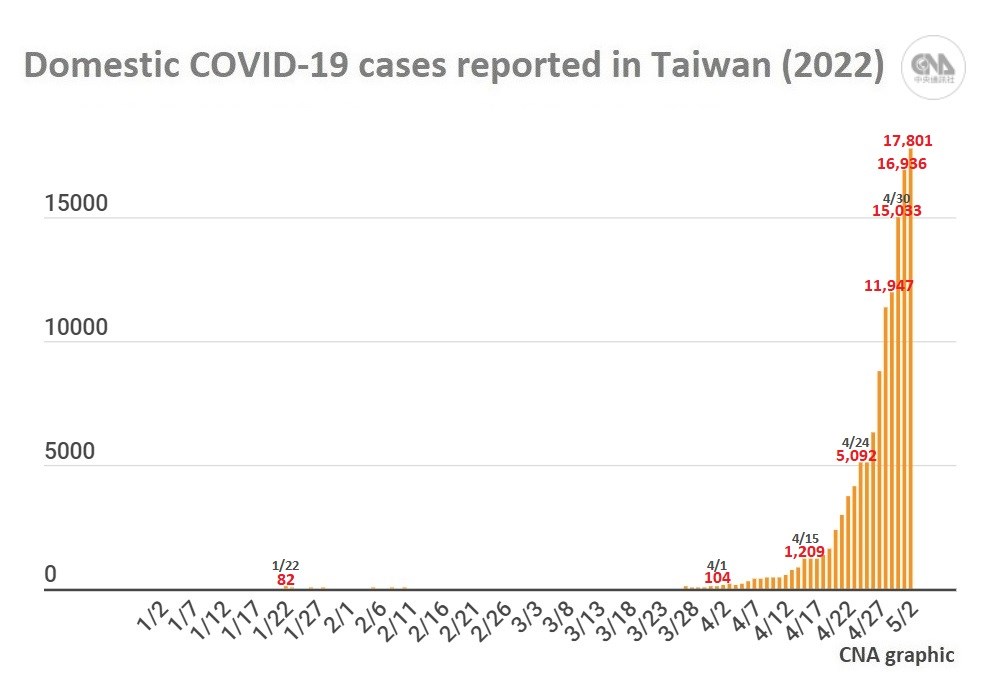 Kaohsiung reported 660 cases, Yilan County 397, Hualien County 393, Tainan 390, Pingtung County 285, Hsinchu County 228, Changhua County 203, Yunlin County 142, Taitung County 87, Nantou County 86, Chiayi County 83, Miaoli County 81, Hsinchu City 75 and Chiayi City 62.
The outlying Kinmen islands recorded 16 cases, Penghu islands 15, and Matsu islands six.
Meanwhile, the 57 new imported cases include 30 men and 27 women who arrived in Taiwan between March 10 and May 1, according to the CECC.
To date, Taiwan has confirmed 150,808 COVID-19 cases since the pandemic began in early 2020, including 139,311 domestically transmitted infections.
With three deaths reported Monday, the number of confirmed COVID-19 fatalities in the country reached 871, of which 18 have been recorded this year.
Also on Monday
May 2: Baby under age 1 becomes Taiwan's youngest patient with severe COVID
May 2: Symptomless people to face restrictions in getting PCR test
May 2: Local pharmacies to distribute COVID-19 antiviral drugs
May 2: OCAC pledges to help ethnic Chinese students obtain COVID-19 rapid test kits
Recent cases
May 1: Taiwan reports 17,085 new COVID-19 cases, three deaths
April 30: Taiwan ends April with record 15,149 new COVID-19 cases
April 29: Taiwan reports 12,313 new COVID-19 cases, two deaths
April 28: Taiwan reports 11,517 new COVID-19 cases, two deaths
View All