CORONAVIRUS
/
Bookings for Feb. 28-March 6 COVID booster shots to begin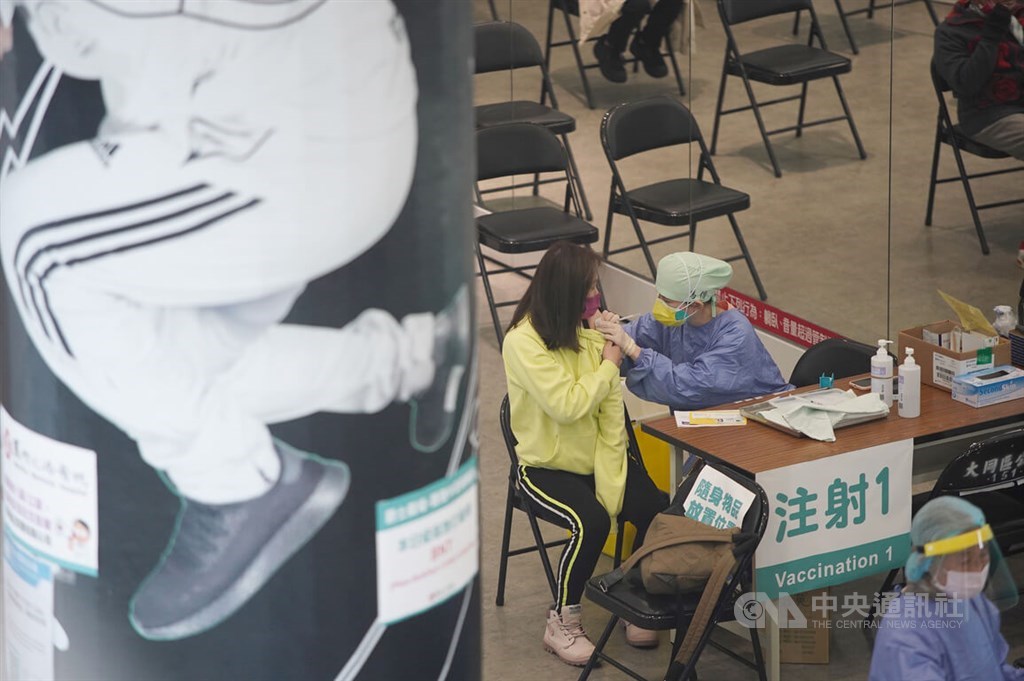 Taipei, Feb. 22 (CNA) The government's 1922 COVID-19 vaccination booking website will begin accepting appointments between Wednesday and Friday for booster doses to be administered from Feb. 28-March 6, the Central Epidemic Command Center (CECC) said Tuesday.
Of the 6.46 million eligible recipients, the 1922 website will first accept appointments from people aged 55 and over who received their second dose before Dec. 12, from 10 a.m. Wednesday, while those aged between 38 and 54 can book their shot from noon, the CECC said.
The remaining eligible recipients aged 18 and above will be able to make an appointment from 2 p.m., the CECC said, adding that the website will stop accepting appointments at noon Friday.
A total of 1.65 million vaccine doses will be available during the round starting Feb. 28, CECC spokesperson and Centers for Disease Control Deputy Director-General Chuang Jen-hsiang (莊人祥) said during a press briefing Tuesday.
Included will be 1.2 million doses of the Moderna vaccine, 360,000 Pfizer-BioNTech doses, 72,000 doses of Taiwan's locally produced Medigen vaccine, and 16,000 AstraZeneca doses, according to Chuang.
For the ongoing vaccination round that started on Monday, 959,720 people booked their booster shot a week earlier, 60.58 percent of the more than 1.58 million doses the CECC planned to offer.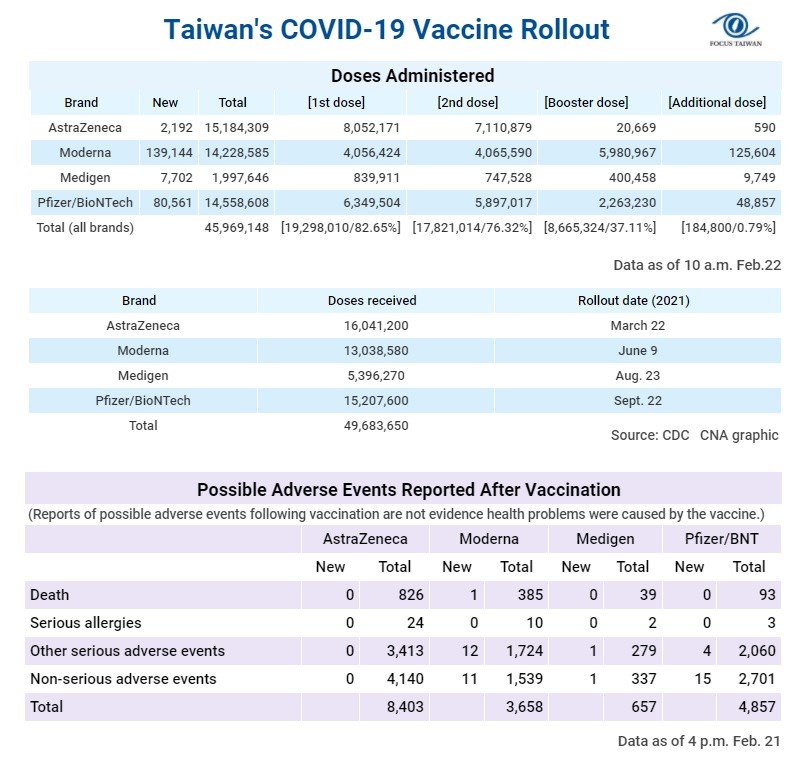 In addition to the 1922 website, people can also receive a booster shot arranged by the local governments. Some local governments, such as Taipei, have set up their own vaccine booking website, while some have been sending notices to eligible residents to tell them where and when they can get boosted.
People can also make an appointment with hospitals and clinics that are contracted to administer the COVID-19 vaccine for a booster dose, as well as a first or second dose.
Since the rollout of the vaccine booster program in late December, 37.11 percent of Taiwan's 23.35 million population have been given a booster shot. The doses can be administered to people 12 weeks after they received their second dose, according to the CECC.
Meanwhile, 82.65 percent have received at least one dose of a COVID-19 vaccine, 76.32 percent have been given two doses, and 0.79 percent have received an "additional dose" administered to those aged 12 or older classified as being immunocompromised or having a weakened immune system 28 days after their second dose.
View All