Rehabilitated false killer whale returned to sea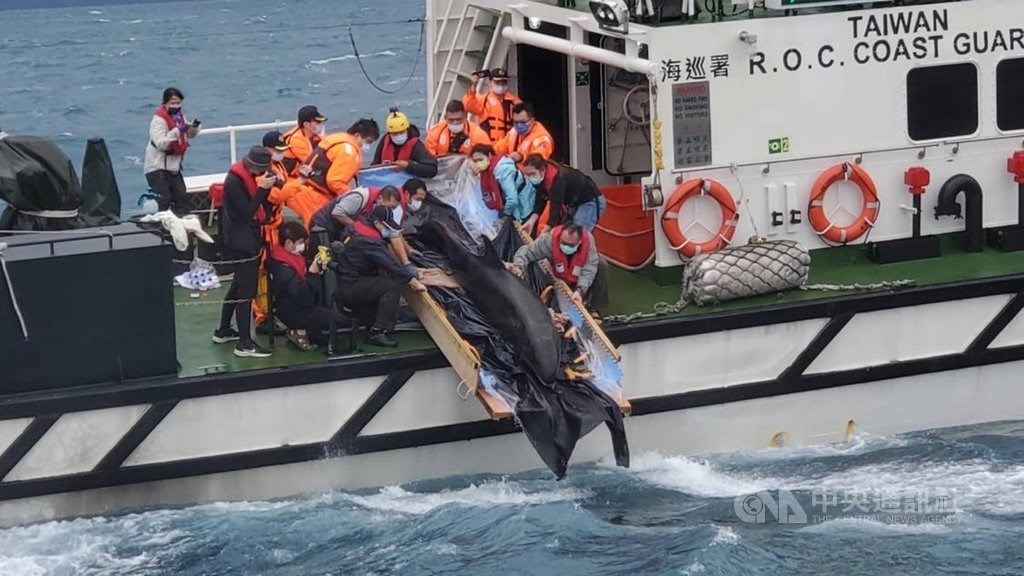 Taipei, Nov. 25 (CNA) A false killer whale that was recently rescued after it beached in northeastern Taiwan was released back to the sea from a fishing port in Keelung Thursday, following nine days of successful treatment and rehabilitation.
In a statement, the Ocean Conservation Administration (OCA) hailed the case as a major milestone in its marine mammal conservation efforts.
Over the last 27 years, seven false killer whales have been found alive beached on Taiwan's coast, but this is the first to have been successfully rehabilitated and released back into the sea since the Marine Animal Rescue Network was established, the administration said.
The 3.20-meter 350-kilogram male false killer whale was found stranded on a beach in Yilan County on Nov. 17. It was then sent to a rescue center in nearby Keelung the same day.
It could not float or swim on its own, and there were also wounds with inflammation on its body, the OCA said.
Thanks to veterinarians and volunteers working round the clock to look after and help rehabilitate the false killer whale, it has been recovering well and can float on its own, according to the OCA.
It can now eat up to 8 kg of food a day, a big improvement from just 2 kg when it was first rescued, the OCA said.
The false killer whale is listed on the IUCN Red List of near-threatened species, and can be found in oceans worldwide but mainly frequents tropical regions.
False killer whales have been spotted near Yilan, Hualien, Taitung, and Pingtung counties, as well as the outlying Penghu, Green and Orchid islands, according to the Taiwan Cetacean Society.
A mature false killer whale can weigh 1-2 metric tons, grow to 4-6 meters length, and live to 55-60 years of age, it said.