CORONAVIRUS
/
Availability of second COVID vaccine shot of different brand expanded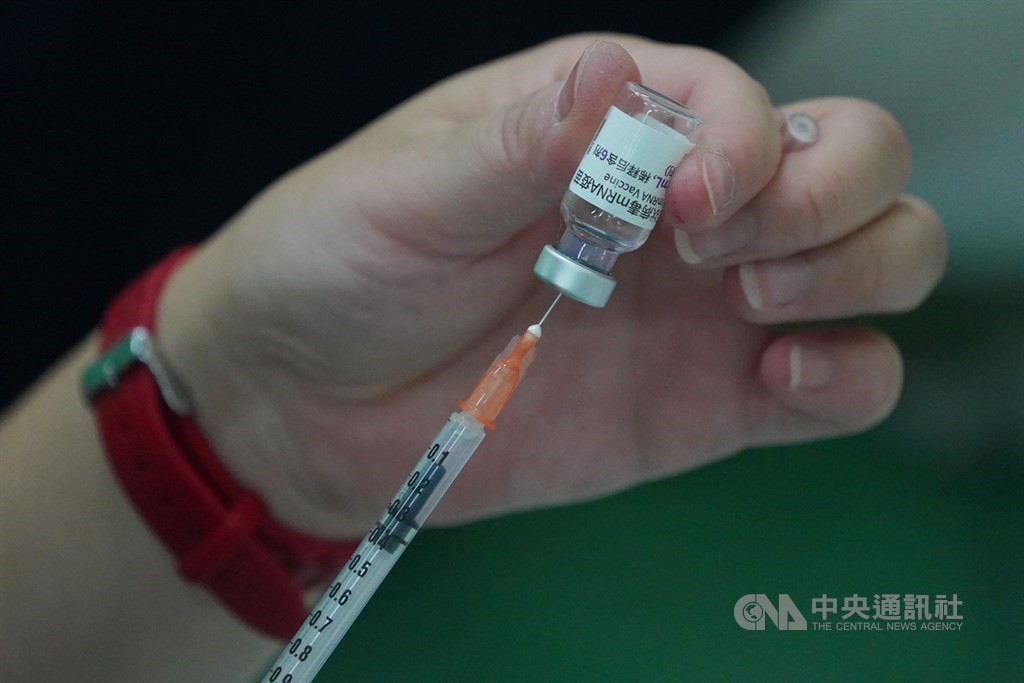 Taipei, Nov. 23 (CNA) Anyone who has received one AstraZeneca COVID-19 vaccine shot can now make an appointment with designated hospitals or clinics for a second shot of either the Pfizer-BioNTech or Moderna vaccine from Thursday, Health Minister Chen Shih-chung (陳時中) announced Tuesday.
Individuals who received their first AstraZeneca shot at least eight weeks ago can book a second vaccination jab through the government vaccination website or directly make an appointment with designated hospitals or clinics, Chen said during Tuesday's Central Epidemic Command Center (CECC) press briefing.
The measure is to ensure people can complete their COVID-19 vaccination as soon as possible, he said.
However, Chen also pointed out that people taking either of the two mRNA COVID-19 vaccines after receiving an AstraZeneca shot have a higher chance of serious side effects, and should consult a doctor beforehand.
Chen reminded those who booked through the government website to take a different brand of the vaccine as their second shot to keep their appointment in the next vaccination round which starts Thursday.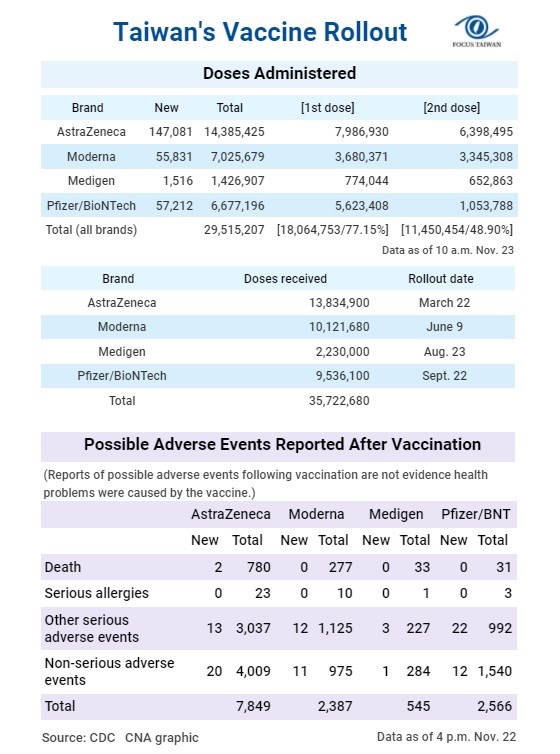 Taiwan began offering the two brands of COVID-19 vaccine to individuals who had one AstraZeneca shot and were due to have a second jab, on Nov. 20, if they registered their intention to do so during the current vaccination round set to conclude on Wednesday.
Previously, only front line medical workers could be given a Moderna jab following their first AstraZeneca shot, because of supply issues during the first few months of Taiwan's vaccine rollout which began on March 22.
People in Taiwan are free to book their AstraZeneca or Pfizer-BioNTech shots without going through the government website after the CECC agreed to the approach on Nov. 6.
To date, 77.15 percent of Taiwan's 23.41 million population have received at least one shot of a COVID-19 vaccine, while 48.90 percent have been fully vaccinated, according to CECC data.
View All