CORONAVIRUS
/
Taiwan reports 8 new COVID-19 cases, one death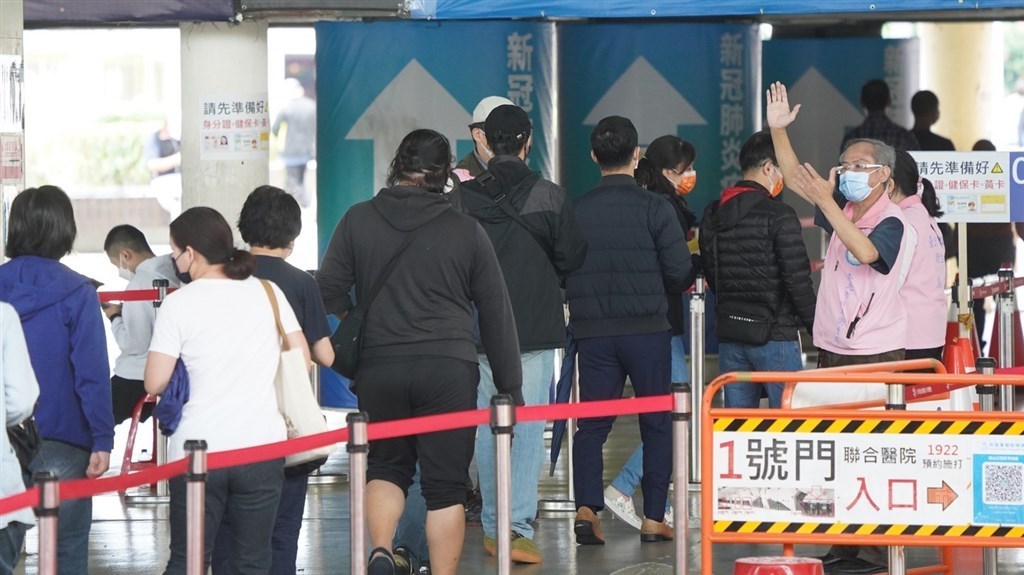 Taipei, Oct. 25 (CNA) Taiwan on Monday reported eight new COVID-19 cases, all but two of them contracted overseas, and one death from the disease, according to the Central Epidemic Command Center (CECC).
One of the two new domestically transmitted cases was a man in his 20s who took a COVID-19 test Sunday, and the result came back positive Monday, CECC deputy head Chen Tsung-yen (陳宗彥) said.
Another local case was a man in his 40s who got tested on Oct. 23 in preparation to accompany his wife in the hospital as she was to give birth and was confirmed as having the virus Monday.
Further tests showed the two men had relatively high cycle threshold (CT) values of 33 and 37, which indicates a low viral load and the possibility that they have had the infection for a while.
One of the two men had received two doses of the AstraZeneca COVID-19 vaccine, one in July and the other earlier this month, while the other had gotten one AZ jab in July, according to CECC Emergency Response Group Deputy Division Director Lo Yi-chun (羅一鈞).
Judging by the high CT values the men living in the Greater Taipei area had, they might have been infected with the disease before being inoculated or during the period between their first and second doses without being diagnosed, Lo said.
According to the CECC, six people who came in contact with the two men are being required to quarantine at home.
The six new imported cases included two men and four women in their teens and 50s, who arrived in Taiwan between Oct. 10 and Oct. 22, including four from Indonesia and one each from the United Kingdom and the United States, according to the CECC.
Upon arrival, they all presented proof of a negative COVID-19 test result conducted within three days before their flight to Taiwan.
The one death involved a man in his 80s who had a history of a chronic disease and a case contact history. He began experiencing a loss of appetite and lethargy on June 8 and then took a COVID-19 test before being admitted to the hospital that same day.
The man was confirmed as having COVID-19 on June 10 and was released from isolation on July 14. He was discharged from the hospital on July 23 but was readmitted again on Oct. 1 because of discomfort. He tested negative for COVID-19 several times while in the hospital before passing away on Oct. 22, according to the CECC.
To date, Taiwan has confirmed a total of 16,376 COVID-19 cases since the pandemic began in early 2020, with 14,589 of them contracted domestically.
With the new death reported Monday, the number of confirmed COVID-19 fatalities in the country rose to 847, according to the CECC.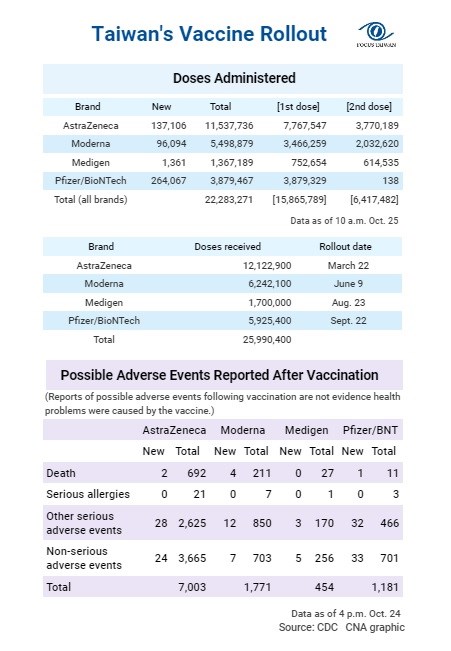 Recent cases
Oct. 24: Taiwan reports 4 new COVID-19 cases, no deaths
Oct. 23: Taiwan reports 7 imported COVID-19 cases and no deaths
Oct. 22: New COVID cases suggest hidden community infection: Health minister
Oct. 21: Taiwan reports two imported COVID-19 cases, zero local ones
Oct. 20: 4 new imported COVID cases Wednesday include 3 breakthrough infections
View All