CORONAVIRUS
/
Taiwan reports 6 six new COVID-19 cases, one locally transmitted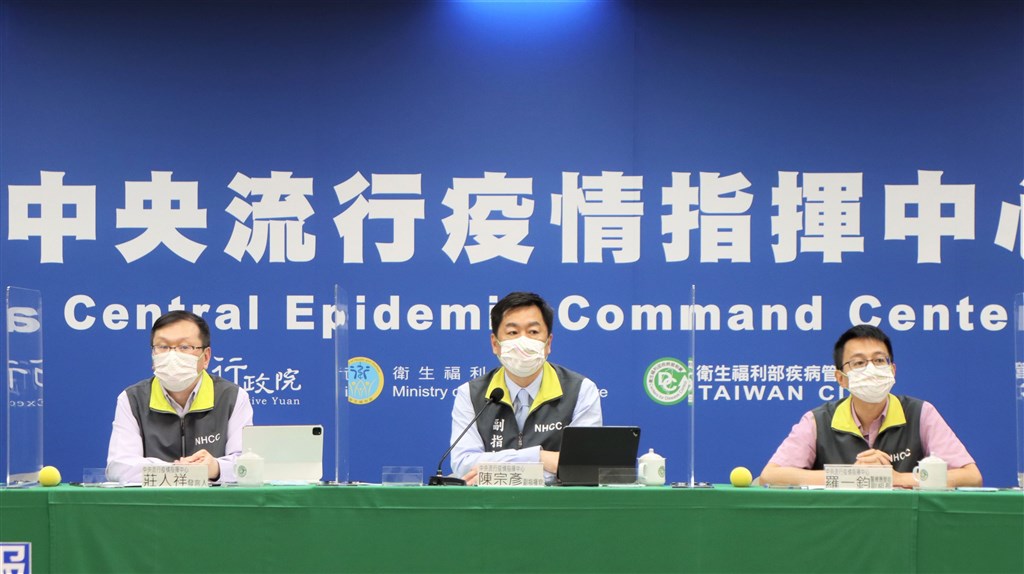 Taipei, Oct. 19 (CNA) Taiwan on Tuesday reported six new COVID-19 cases, all but one contracted overseas, and no deaths from the disease, according to the Central Epidemic Command Center (CECC).
The one domestically transmitted case involved a New Taipei resident in his 60s, who went to a doctor and was tested on Oct. 17, the day after developing a fever and other symptoms, the CECC said in a statement on Tuesday.
The man was confirmed as having COVID-19 on Tuesday.
However, at a CECC regular press conference, CECC official Lo Yi-chun (羅一鈞) said the man may have contracted the disease some time earlier without being diagnosed as he had a relatively high cycle threshold (CT) value.
The CT value indicates the number of cycles required in the PCR test to detect the virus, and the lower the number, the higher the viral load.
The man's CT value was 33.1, indicating a low viral load, Lo said, adding that the man's fever may have been caused by inflammation of his kidneys.
The man received his first shot of the Moderna COVID-19 vaccine on July 14 but has yet to obtain the second jab to be fully vaccinated, Lo said.
The source of the infection is still being investigated, CECC deputy head Chen Tsung-yen (陳宗彥) said.
Twelve people who came into contact with him have been instructed to quarantine at home or closely monitor their health, Chen said.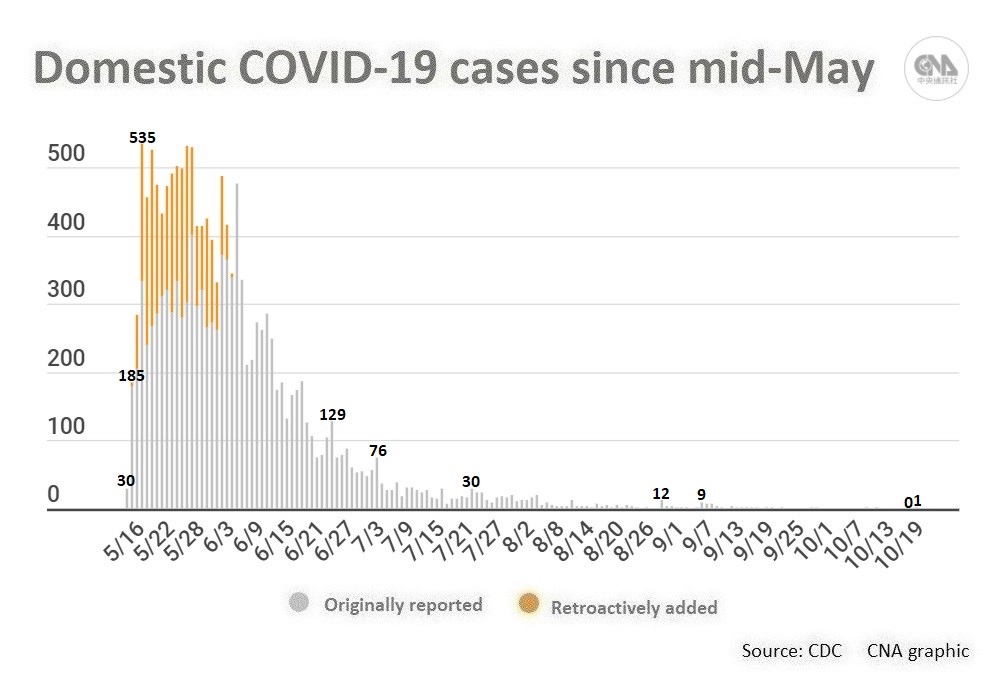 Meanwhile, the five imported cases reported Tuesday are four men and one woman between the ages of 10 and 70, according to the CECC.
Four of them have been identified as breakthrough infections, as they have been fully vaccinated with two doses of the AstraZeneca, BioNTech or Sinovac vaccines, Lo said.
Two of them traveled to Taiwan from the United States, and the other three arrived from the United Arab Emirates, the Philippines and Malaysia, the CECC said.
They all entered Taiwan between Oct. 5 and Oct. 17, and presented proof of a negative COVID-19 test result taken within three days of flying to Taiwan, the CECC said.
Taiwan has confirmed a total of 16,343 COVID-19 cases since the pandemic began in early 2020, of which 14,585 were domestic infections, CECC data said.
To date, the disease has claimed 846 lives in the country, the data showed.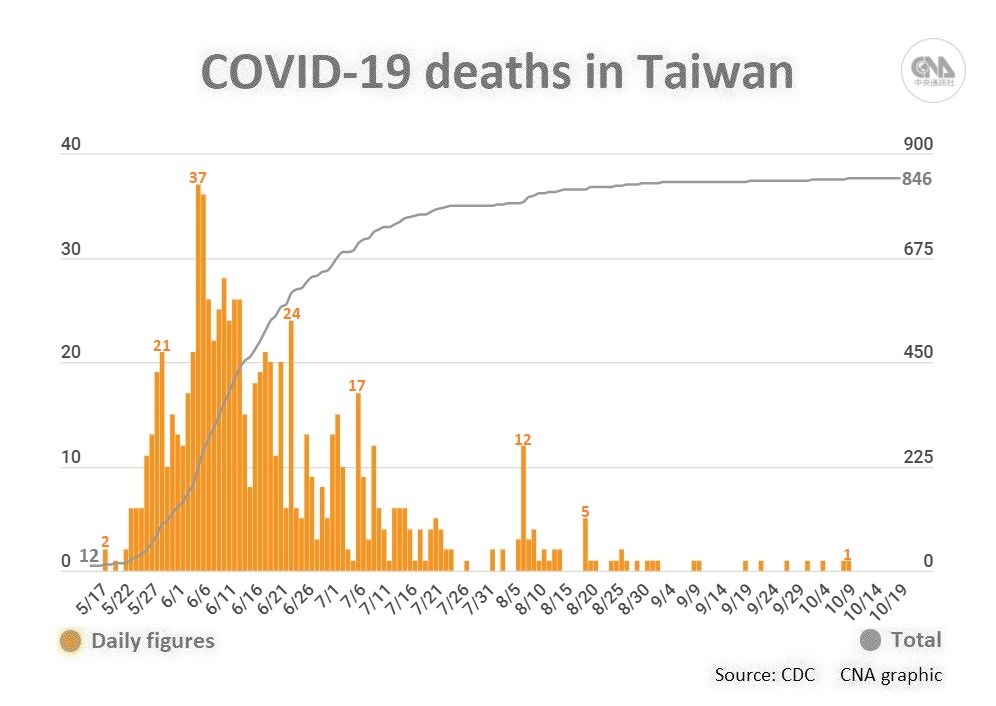 Since Taiwan began rolling out COVID-19 vaccines in March, 14.87 million people, or 63.5 percent of the population, have received their first vaccine shot, while 5.3 million people, or 22.7 percent, have obtained their second dose, according to the CECC. (1st-dose BNT; 2nd-dose AZ, Moderna in Oct. 22-Nov. 3 vaccine rollout: CECC)
Recent cases
Oct. 18: Taiwan reports no new COVID-19 cases, deaths for first time in 193 days
Oct. 17: Level 2 alert extended to Nov. 1, one new imported COVID-19 case reported
Oct. 16: Taiwan reports 11 new COVID-19 cases, zero deaths
Oct. 15: Taiwan reports 4 new COVID-19 cases, no deaths
Oct. 14: Taiwan reports 8 new imported COVID-19 cases, zero deaths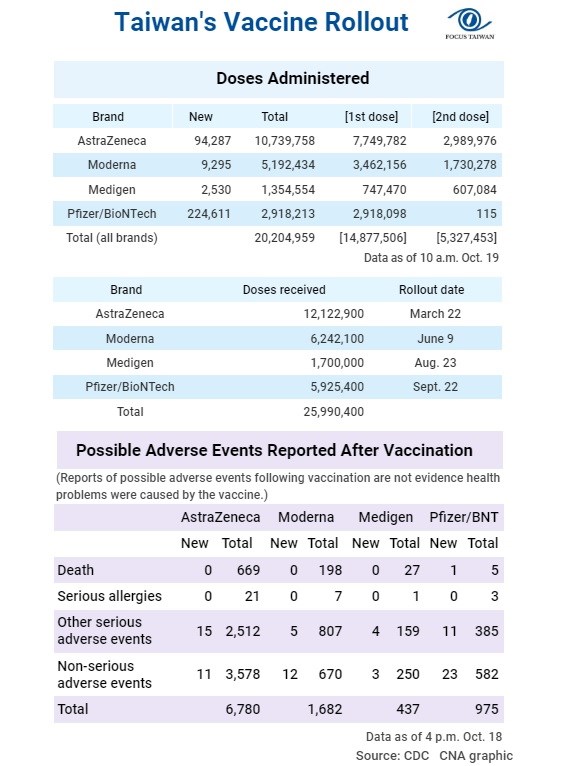 View All