CORONAVIRUS
/
Taiwan reports 12 new imported COVID-19 cases, one death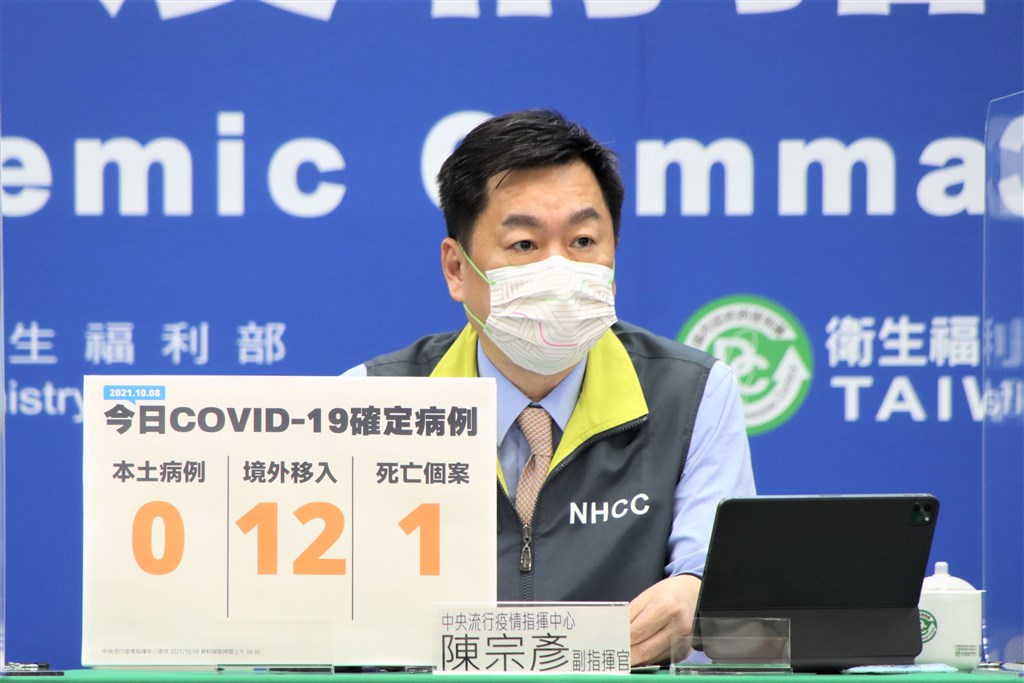 Taipei, Oct. 8 (CNA) Taiwan recorded 12 new imported COVID-19 cases and one death Friday, with zero new domestic cases for the ninth consecutive day.
At its daily press briefing, the Central Epidemic Command Center (CECC) said the 12 imported cases were made up of seven men and five women between the ages of 10 and 70, who arrived in Taiwan from Sept. 13-Oct. 6.
Four of the arrivals came into Taiwan from Myanmar, with two from the United States and one each from Malaysia, the Philippines, the United Kingdom, Japan and Indonesia. The CECC said it was still investigating the travel origin of the remaining case.
The death recorded Friday was a woman in her 40s with several preexisting conditions. The CECC said the woman had been in contact with confirmed COVID-19 cases prior to infection.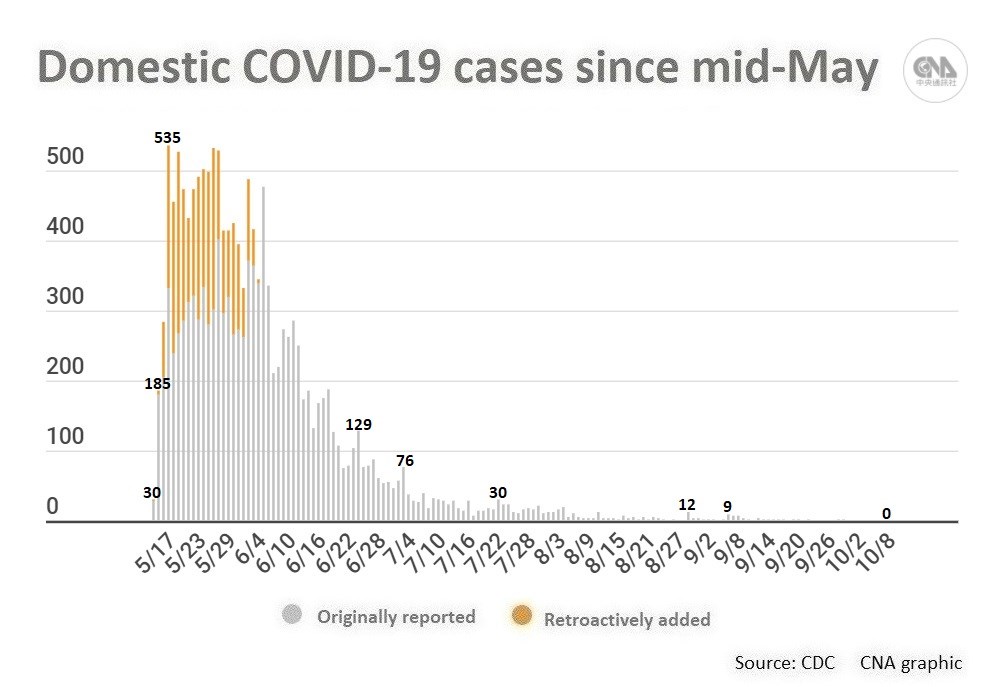 With the confirmation of 12 new imported COVID-19 cases, the total number of cases in Taiwan to date stands at 16,283.
Of these, 14,417 are domestic infections reported since May 15, when the country first recorded more than 100 cases in a single day.
However, the daily number of domestic cases has fallen to mostly single digits from Aug. 15, totaling 114 since then, according to CECC data.
Friday's fatality brings the total number of COVID-19 deaths in Taiwan to 845. All but 13 of these have been recorded since the beginning of a surge in cases on May 15.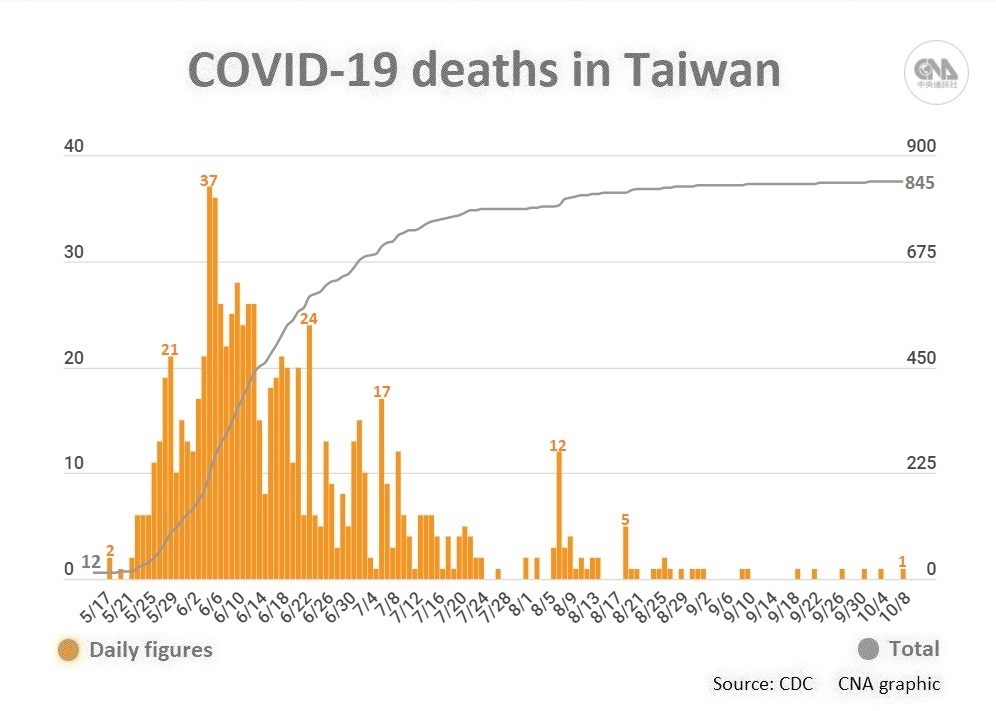 CECC official Lo Yi-chun (羅一鈞) also announced Friday that gene sequencing had determined there was no link between a Delta-infected co-pilot and cluster infections in Pingtung County, Taoyuan and New Taipei that broke out between June and September.
According to the CECC, the co-pilot, a Taiwanese woman in her 40s, is fully vaccinated against COVID-19, having received a second dose of the Moderna vaccine in early August.
Following an assignment in Alaska from Sept. 23-26, the co-pilot quarantined for five days upon her return to Taiwan, testing negative for COVID-19 on the final day.
She spent a day out of quarantine on Oct. 2 and flew to Singapore and back Oct. 3. After returning home, the co-pilot then tested positive on Oct. 5, with the CECC listing it as an imported case.
Despite not leaving the plane in Singapore, test results indicate the infection was recent, with the CECC saying it was unsure if the co-pilot became infected through interactions with ground crew in Singapore.
Meanwhile, a female junior high school student that fell into a coma 11 days after receiving a dose of the Pfizer-BioNTech (BNT) vaccine is in a stable condition and being treated with extracorporeal membrane oxygenation (ECMO), Taoyuan Mayor Cheng Wen-tsan (鄭文燦) said Friday.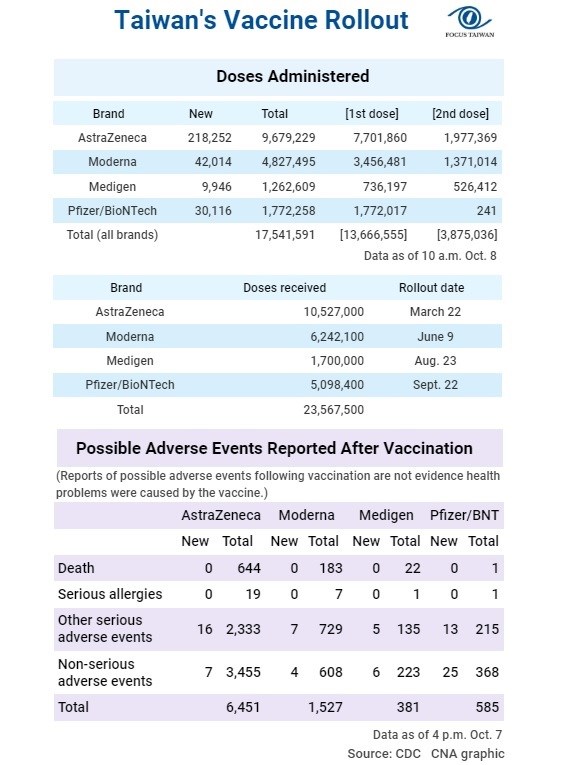 Asked about the case, CECC spokesperson Chuang Jen-hsiang (莊人祥) said the student, who had initially reported no discomfort besides muscle pain in the three days following vaccination on Sept. 24, began to suffer from a fever, shortness of breath and irregular heartbeat on Oct. 5.
The student was later diagnosed with myocarditis, an inflammatory disease of the heart, after being admitted to hospital, Taoyuan City health officials said.
Following reported myocarditis diagnoses in several BNT recipients, Cheng said the student's reaction should be considered severe.
Recent cases
Oct. 7: Taiwan reports 4 new COVID-19 cases, all imported
Oct. 6: Taiwan reports 5 new COVID-19 cases, no deaths
Oct. 5: Taiwan reports no new domestic COVID-19 cases for sixth straight day
Oct. 4: Taiwan extends Level 2 COVID-19 alert two weeks, reports five new cases
Oct. 3: Taiwan reports zero new domestic cases, relaxes mask mandate
View All