CORONAVIRUS
/
Taiwan reports 12 new COVID-19 cases, no deaths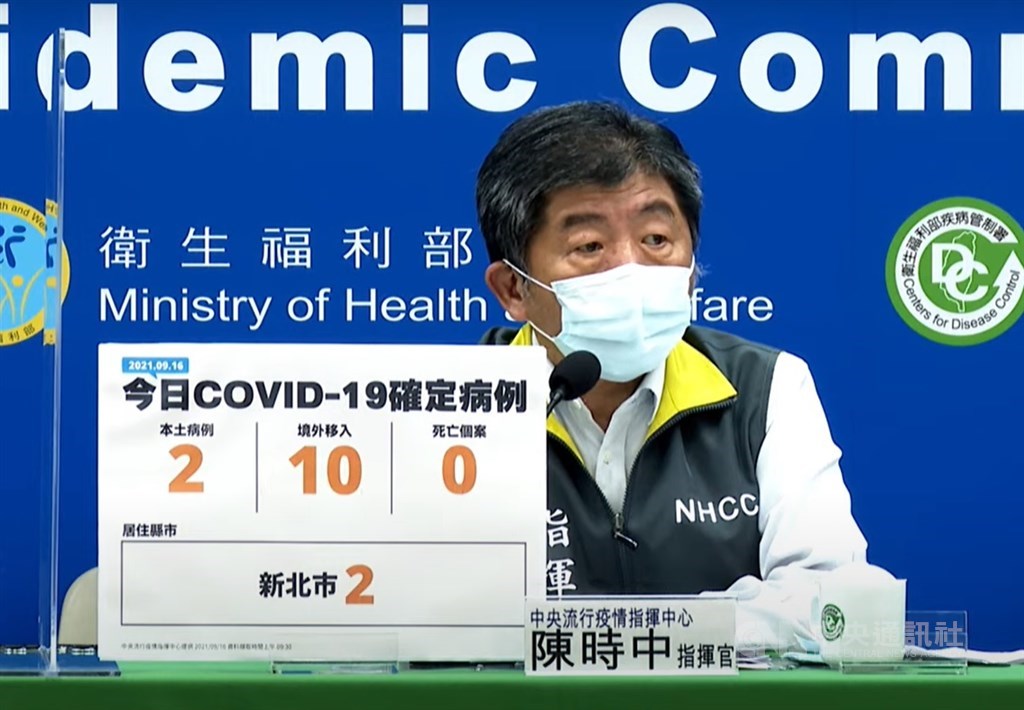 Update: New Taipei COVID-19 Delta cluster grows to 33 cases
Taipei, Sept. 16 (CNA) Taiwan reported 12 new COVID-19 cases -- two transmitted domestically and 10 contracted overseas -- and no deaths from the disease on Thursday, according to the Central Epidemic Command Center (CECC).
The two domestic cases were both in New Taipei, and one was linked to a preschool cluster in Banqiao District, the CECC said.
Meanwhile, the 10 new imported cases involved six Taiwanese nationals who recently returned from the United States, the United Arab Emirates and Japan, while the other four were citizens of South Africa, Japan, India and Indonesia, the CECC said.
The 12 new cases bring the total in Taiwan to 16,115, of which 14,409 are domestic infections reported since May 15, when the country first recorded more than 100 COVID-19 cases in a single day.
No new deaths from the disease were recorded Thursday, the CECC said.
To date, 839 people have died of COVID-19 in Taiwan, including 827 since May 15.
Recent cases
Sept. 15: New COVID-19 case with Delta visited Taipei, New Taipei, Taoyuan
Sept. 14: COVID cluster under control; no immediate plans to tighten rules: CECC
Sept. 13: One new COVID-19 case confirmed in preschool cluster; total at 30
Sept. 12: Two new cases confirmed in New Taipei preschool cluster; total at 29
Sept. 11: Majority of COVID cases in preschool cluster are Delta variant: CECC
View All