Magnitude 6.1 earthquake shakes Yilan, aftershocks to come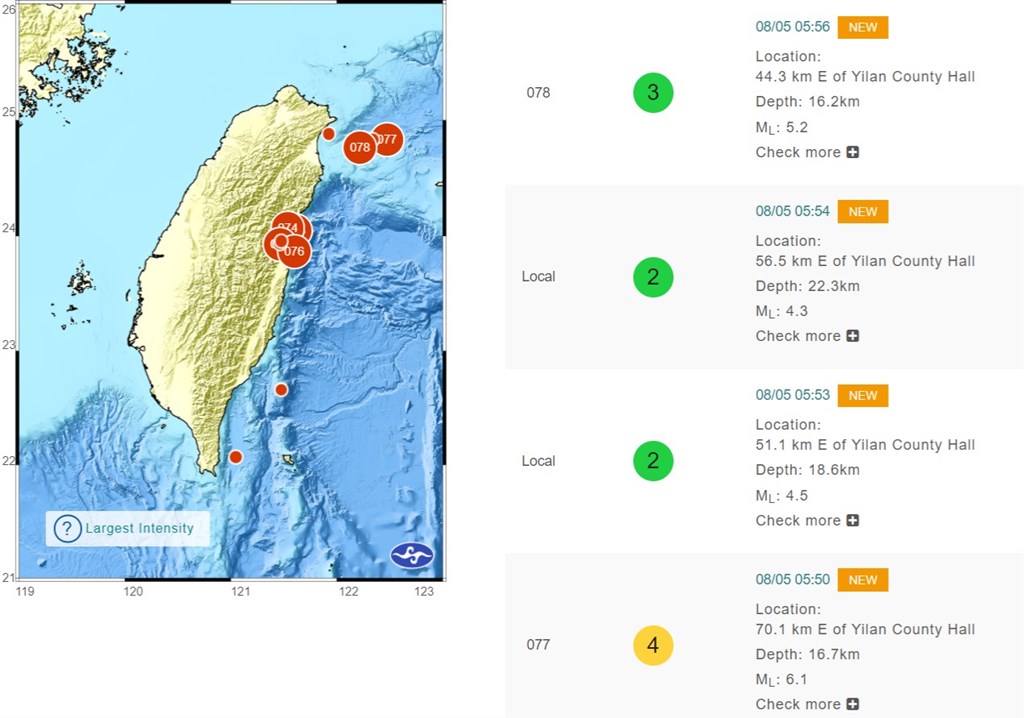 Taipei, Aug. 5 (CNA) A magnitude 6.1 earthquake jolted Yilan County in northeastern Taiwan at 5:50 a.m. Thursday and was followed by three others occurring within less than 10 minutes, according to the Central Weather Bureau (CWB).
The first temblor was centered 70.1 kilometers east of Yilan County Hall in nearby coastal waters and occurred at a depth of 16.7 km, the CWB's Seismology Center said.
The earthquake's intensity, which gauges its actual effect, was highest in Yilan County, where it measured 4 on Taiwan's 7-tier intensity scale, the CWB said.
It was followed by three aftershocks occurring between 5:53 a.m. and 5:56 a.m., and ranging from magnitude 4.3 to 5.2, all of which took place in the same area, according to the bureau.
No immediate damage or injuries from the quake or aftershocks were reported.
However, 28 train services were temporarily halted due to the temblors, with 2,296 passengers affected, according to the Taiwan Railways Administration.
Taiwan is situated on the convergent boundary of the Eurasian and Philippine Sea plates where two tectonic plates continuously push against one another, said Wu Chien-fu (吳健富), deputy head of the bureau's Seismology Center.
The area where the earthquakes occurred on Thursday experiences about 70 percent of the temblors in Taiwan because that's where the Philippine Sea plate is subducted beneath the Eurasian plate.
Stress is built up where the plates converge until one eventually pushes another into the subduction zone, releasing the tension and causing an earthquake, according to the center.
Taiwan reports two to three earthquakes of magnitude 6 or greater each year, Wu said, adding that the temblor on Thursday has been the third earthquake of magnitude 6 or higher this year.
Aftershocks ranging from magnitude 4-5 are likely for the region in the coming two weeks, according to Wu.
Noting that eastern Taiwan is prone to earthquakes, Wu said the swarms of aftershocks reported in Shoufeng Township in Hualien County in April and July give the impression that more temblors than usual have hit the region this year.
In fact, the number of earthquakes Hualien experienced this year has been normal, according to Wu.