CORONAVIRUS
/
Taiwan reports 24 new COVID-19 cases, lowering of alert level 'likely'
Taipei, July 20 (CNA) The Central Epidemic Command Center (CECC) on Tuesday said that Taiwan recorded 24 new cases of COVID-19, and that if case numbers continue to be stable, it is "very likely" that the nationwide Level 3 alert will be lowered next week.
Of the 24 cases, 18 were domestic transmissions and six originated overseas, Health and Welfare Minister Chen Shih-chung (陳時中) said at the CECC press briefing.
The domestic cases were all reported in northern Taiwan, with seven cases in Taipei, six in New Taipei, three in Keelung and two in Taoyuan, Chen said.
Thirteen of the cases had known sources of infection, including nine who tested positive while in quarantine, and five had no apparent links to previously confirmed COVID-19 patients, Chen said.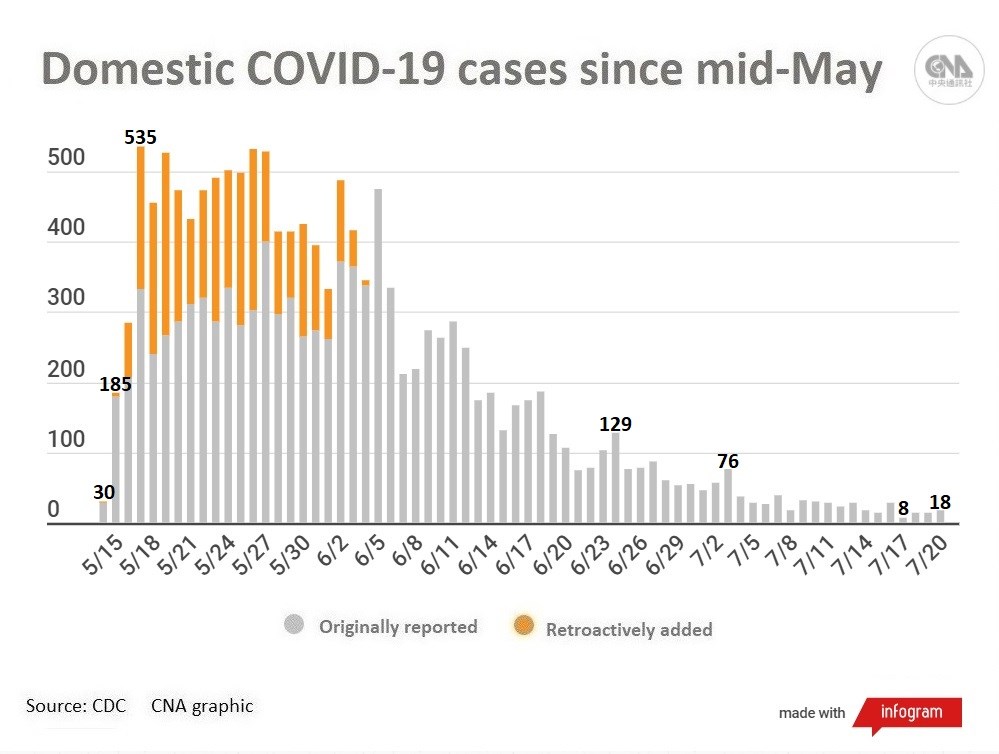 In the past two weeks, the CECC has noticed that most of the COVID-19 clusters reported were family clusters, Chen said, and the age of new COVID-19 patients have skewed younger.
The CECC informed local governments of this trend in its weekly meeting earlier Tuesday, and urged them to focus disease prevention efforts on young adults, Chen said.
The CECC also planned to meet with local officials again later this week to discuss the easing of COVID-19 restrictions, he said.
"We aren't saying that (the alert level) will definitely be lowered, but if the situation continues to be under control, then it is very likely that it will be," he said.
The six imported COVID-19 cases, meanwhile, involved five Taiwanese nationals and an Indonesian national who recently traveled to Taiwan from the United States, Indonesia and Myanmar.
The four deaths reported Tuesday were three women and one man, in their 60s and 70s, who passed away between July 16 and July 19, according to the CECC.
To date, Taiwan has confirmed a total of 15,453 COVID-19 cases, of which 13,995 are domestically transmitted infections reported since May 15, when the country first recorded more than 100 cases in a single day since the beginning of the pandemic.
The number of confirmed COVID-19 deaths in the country has risen to 773, with all but 12 recorded since May 15, CECC data showed.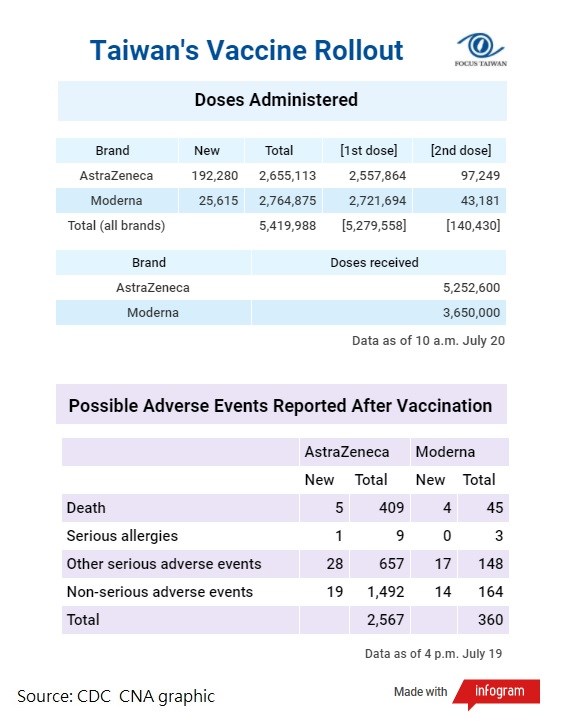 Recent cases
July 19: Taiwan reports 21 new COVID cases, restrictions to be lifted gradually
July 18: Taiwan adds 15 new domestic COVID-19 cases, but says trend stable
July 17: CECC to mull lowering Level 3 alert after fall in COVID-19 cases
July 16: COVID-19 trend moving in positive direction despite fluctuations
July 15: Domestic COVID-19 cases drop to 14, lowest in 2 months
View All