CORONAVIRUS
/
Domestic COVID-19 cases drop to 14, lowest in 2 months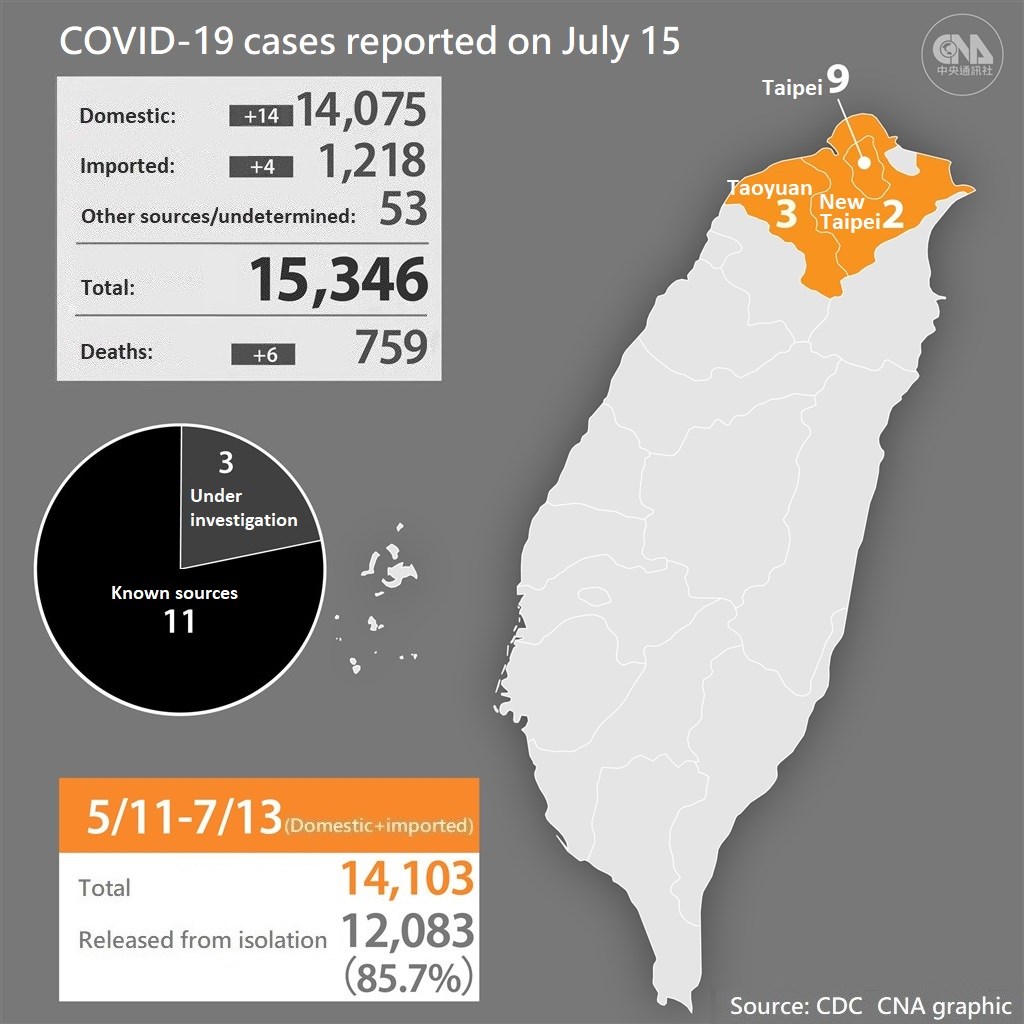 Taipei, July 15 (CNA) Taiwan on Thursday reported 18 new cases of COVID-19, including 14 domestic infections and four imported ones, as well as six deaths from the disease, according to the Central Epidemic Command Center (CECC).
The number of locally transmitted cases is the lowest number in a single day since a Level 3 COVID-19 alert was first announced on May 15.
Speaking at a daily press briefing, deputy CECC chief Chen Tsung-yen (陳宗彥) said that of the domestic cases, seven had tested positive while in quarantine.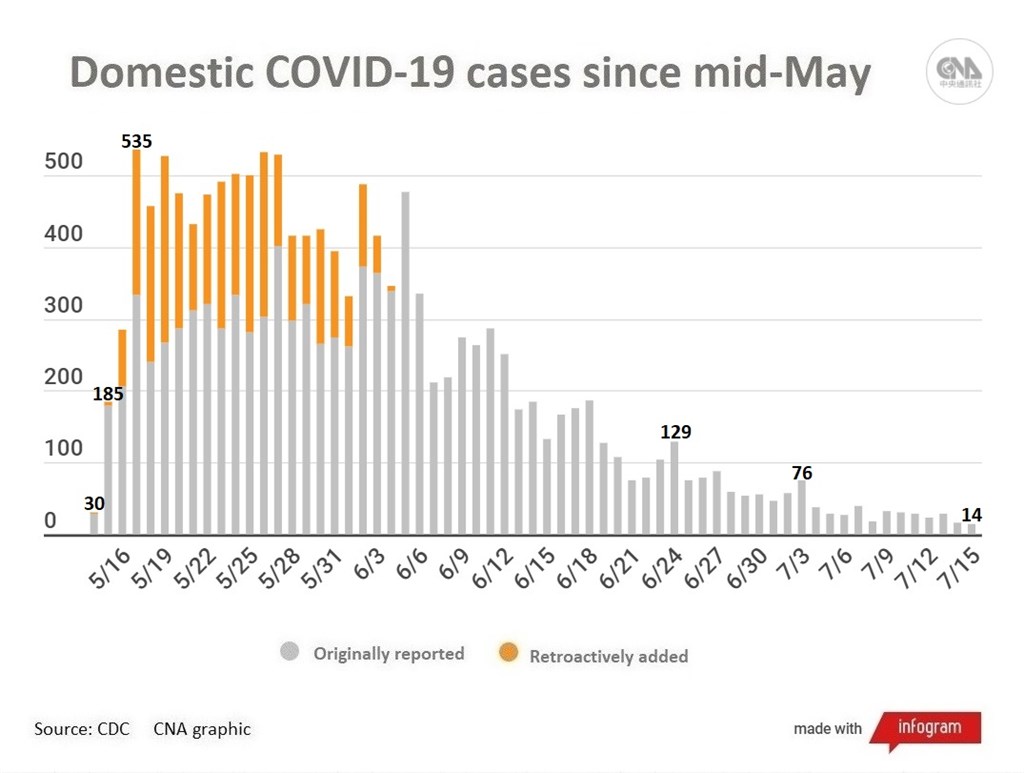 Eleven of the 14 cases had a known source of infection, while the other three are under investigation, Chen added.
In terms of location, nine of the cases were reported in Taipei, followed by three in Taoyuan and two in New Taipei.
The six deaths reported Thursday were five women and one man, in their 60s to their 80s, who passed away between July 6 and July 13, the CECC said.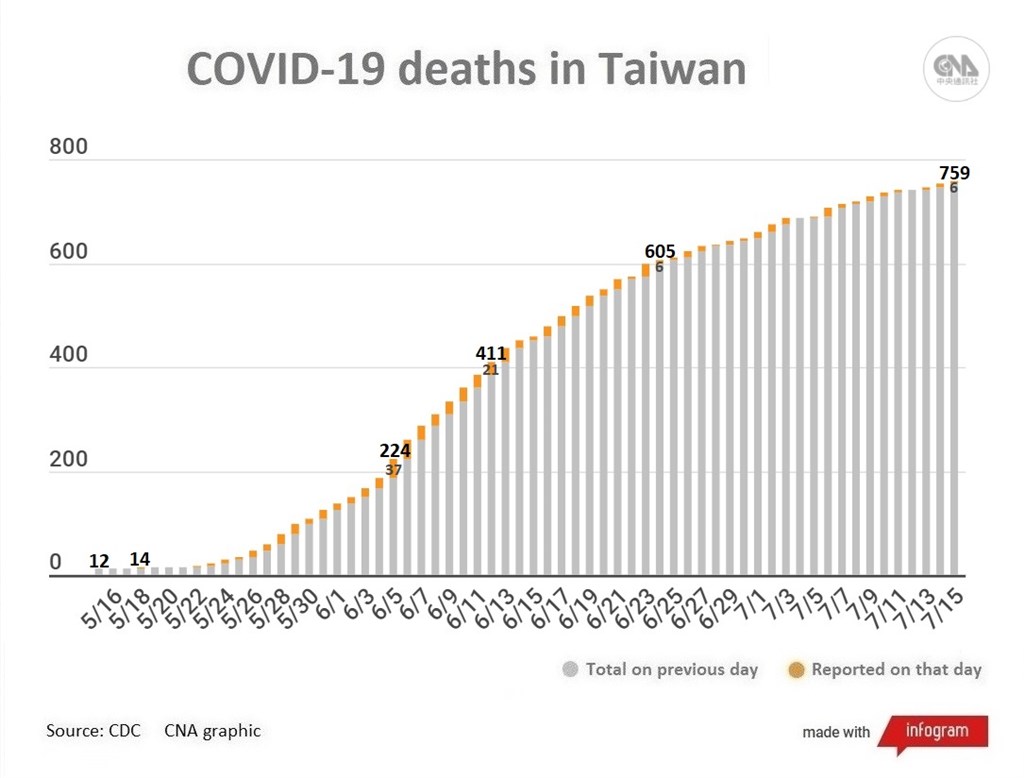 The imported cases, meanwhile, involved two Indonesian fishing crewmen, as well as an Afghan man and a Dutch man, all of whom had traveled to Taiwan for work.
The CECC said it had identified four contacts of the two Indonesian men, who tested positive three days after completing their 14-day quarantine, while no contacts were listed in the two other cases.
The new cases on Thursday bring the total in the country to 15,346, of which about 13,900 are domestic infections reported since May 15, when the country first recorded more than 100 COVID-19 cases in a single day.
The number of deaths in Taiwan from COVID-19 has now risen to 759, including 747 since May 15.
As of Thursday, 85.7 percent, or 12,083, of the 14,103 people whose infections were confirmed between May 11 and July 13, had been released from quarantine after being ruled by doctors to be no longer infectious, the CECC said.
Meanwhile, Chen said during the same news briefing that because available Moderna vaccines are running out, for the next four weeks starting July 17, only the AstraZeneca brand will be available.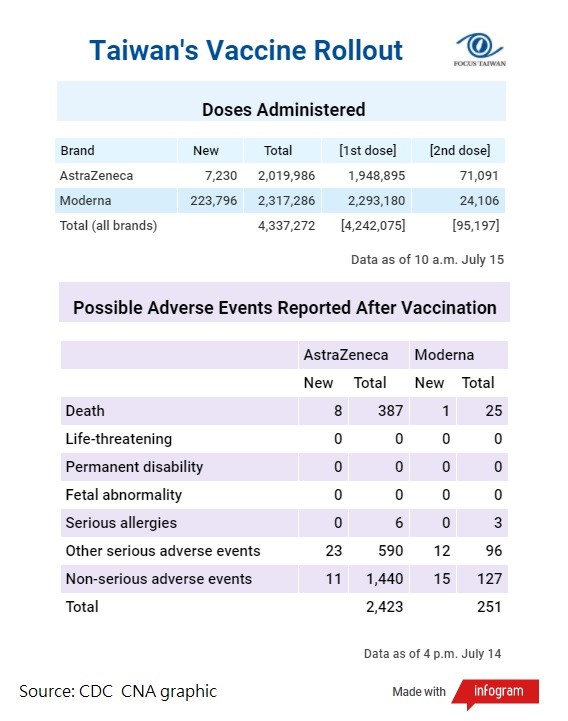 However, the plans could be changed if Taiwan receives other brands of vaccine in the near future, he added.
Chen's remarks amount to a one-week extension of an earlier CECC announcement, which said that AZ would be the only vaccine brand available for the next three weeks.
Recent cases
July 14: Taiwan reports 27 new COVID-19 cases; adult daycare centers can open
July 13: Taiwan reports 29 new COVID-19 cases, 6 deaths
July 12: Taiwan reports 24 new COVID-19 cases, Rt value under 1 for 3 weeks
July 11: Taiwan reports 31 new COVID-19 cases, 'relatively low' number
July 10: Taiwan adds 33 new COVID-19 cases; Taipei, Pingtung clusters 'contained'
View All