CORONAVIRUS
/
Taiwan reports 18 new domestic COVID-19 cases, all in Greater Taipei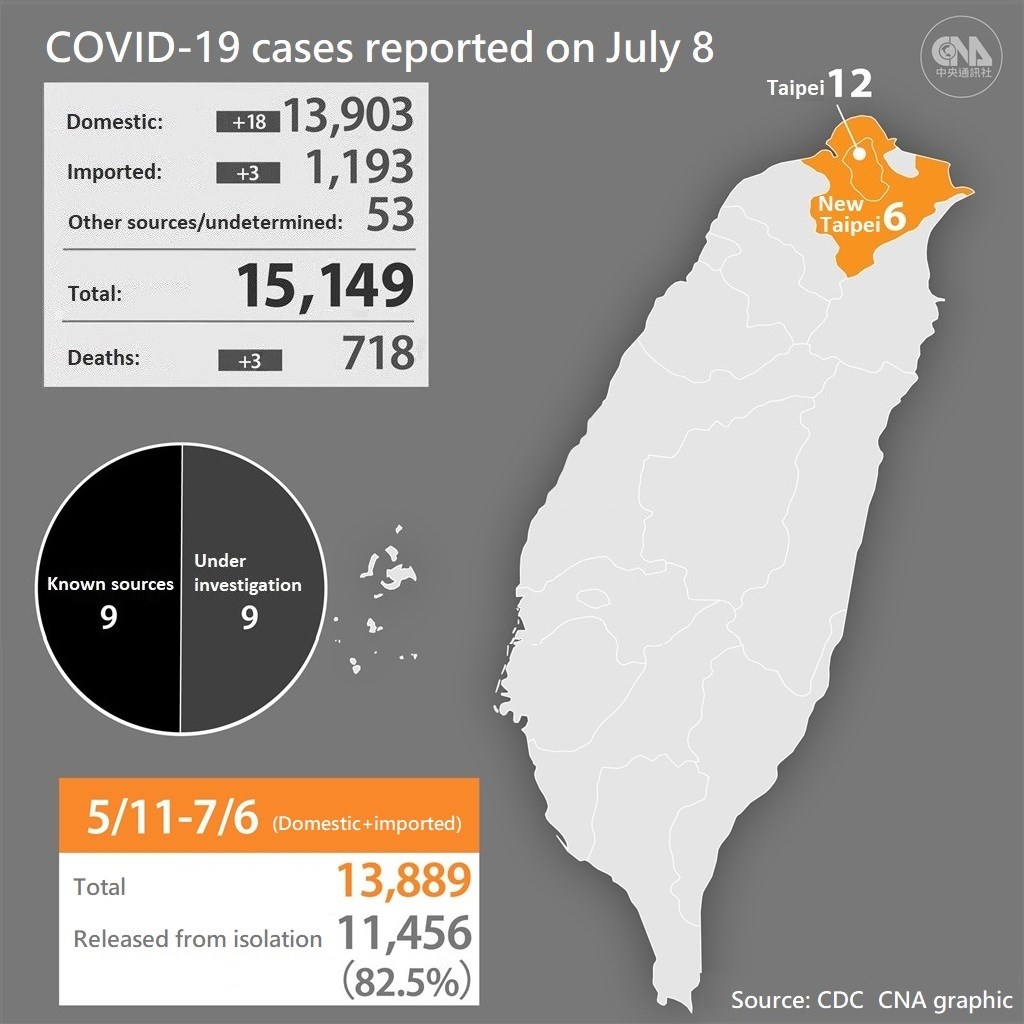 Taipei, July 8 (CNA) Taiwan on Thursday reported 18 new domestic cases and three imported cases of COVID-19 as well as three deaths from the disease, according to the Central Epidemic Command Center (CECC).
The daily case number was the lowest since May 15 when the COVID-19 alert was raised to level 3 for Taipei and New Taipei City due to a spike in case numbers, said Health and Welfare Minister Chen Shih-chung (陳時中), who heads the CECC.
All of the 18 domestic cases were reported in the Greater Taipei area, with Taipei recording 12 cases and New Taipei six.
In nine of the cases the source of infection has been identified, whereas the remaining cases are still being investigated, according to Chen.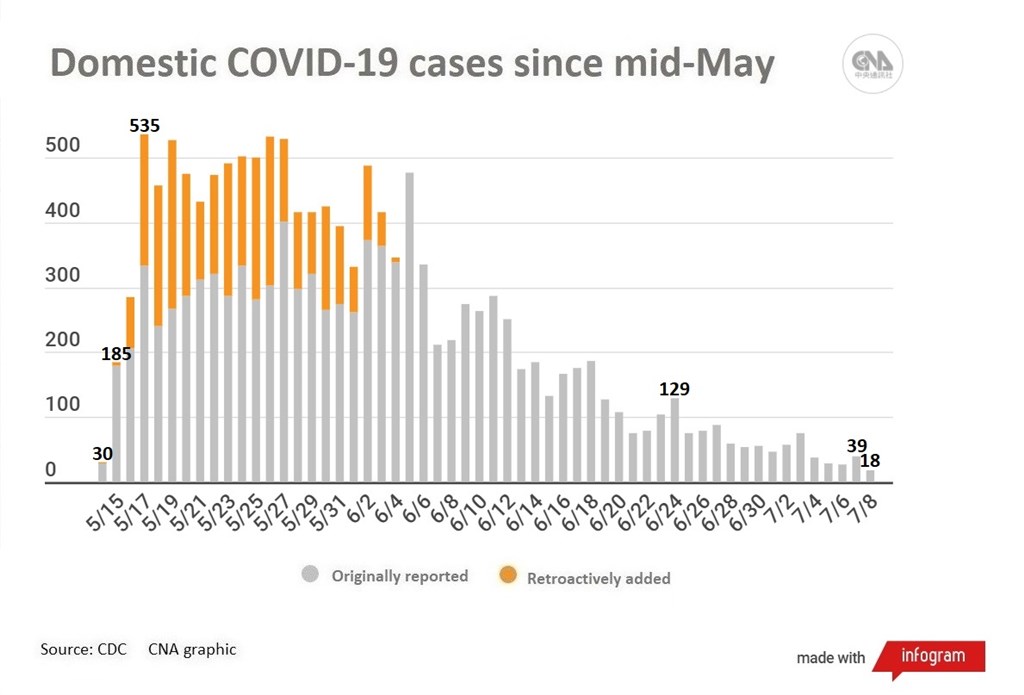 Among the local cases recorded Thursday, eight were male and 10 female, aged from under five to over 60, with the onset of symptoms occurring from July 1 to July 7, according to Chen.
Six of those who tested positive did so during isolation or on ending isolation, Chen added.
The three imported cases were a Taiwanese national in his 30s, who returned from Thailand on June 23; an Indonesian fisherman in his 20s who returned from Indonesia on May 10; and a Taiwanese national in her teens, who returned from the United States on July 6, Chen said.
The deaths reported were two men and one woman in their 60s and 70s, who passed away from July 5-6.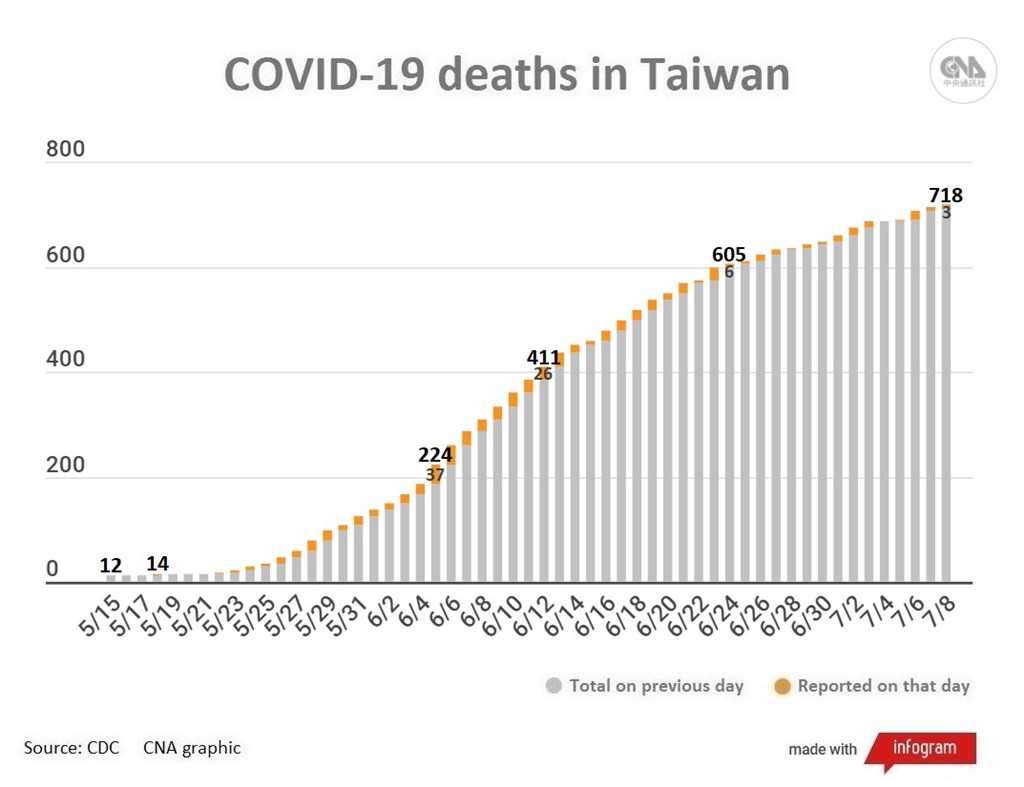 The new cases brought the total in the country to 15,149, of which over 13,700 are domestic infections reported since May 15, when the country recorded more than 100 cases in a single day for the first time since the beginning of the outbreak in early 2020.
To date, 718 people have died of COVID-19 in Taiwan, including 706 since May 15.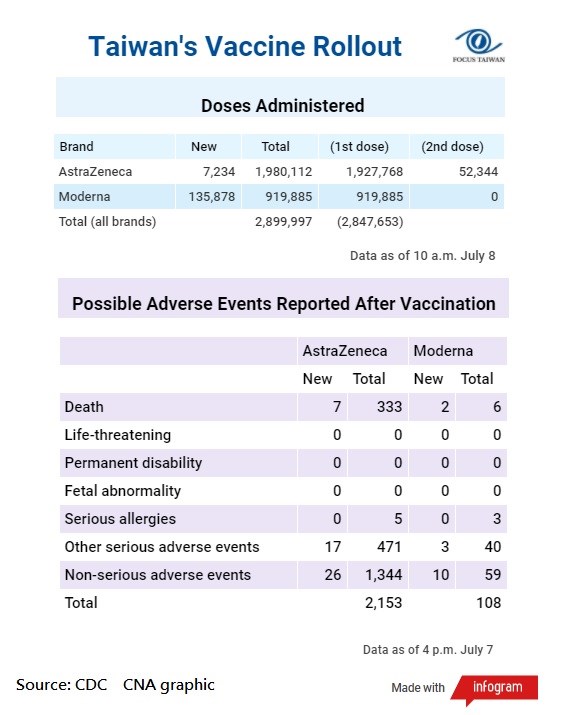 Recent cases
July 7: Taiwan reports 40 new COVID-19 cases, sees flat trend
July 6: Taiwan reports 29 new COVID-19 cases, 1 more in Delta cluster
July 5: Taiwan reports 31 new COVID-19 cases, Delta cluster grows to 16 cases
July 4: Taiwan reports 39 new COVID-19 cases, pushing total case numbers past 15,000
July 3: Taiwan adds 80 new COVID-19 cases, driven by Taipei market cluster
View All