CORONAVIRUS
/
Taiwan eases restrictions on entry of foreign visitors (update)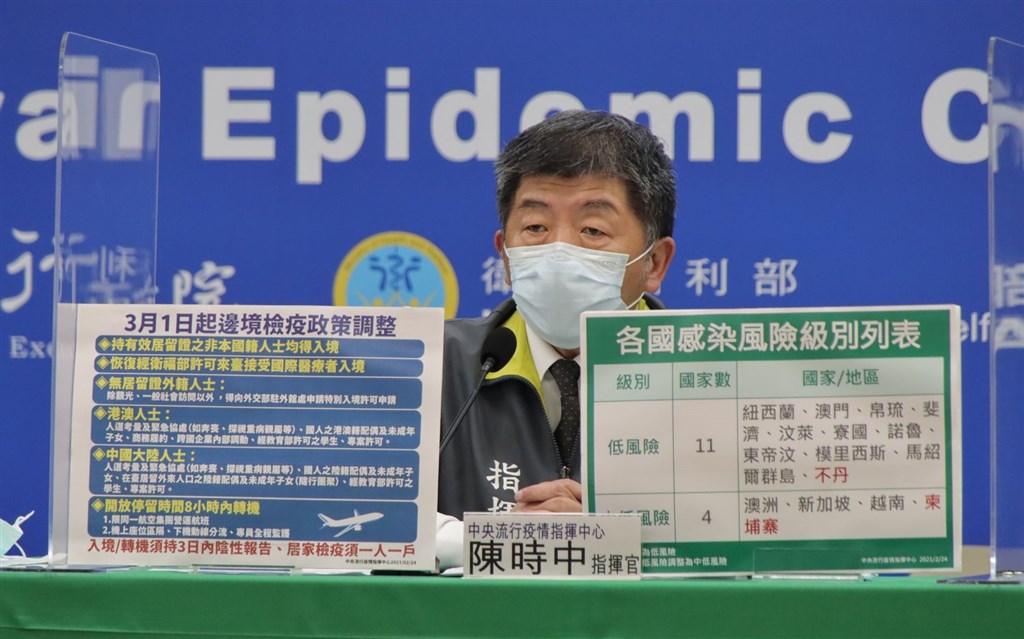 Taipei, Feb. 24 (CNA) Taiwan will partially lift restrictions on the entry of foreign visitors starting from March 1, as well as allow transit flights through Taiwan Taoyuan International Airport, the Central Epidemic Command Center (CECC) said Wednesday.
Under the new policy, foreign nationals without residency permits will be allowed to enter Taiwan for reasons excluding tourism, as long as they receive advance permission from Taiwan's overseas representative offices, the CECC said.
Indonesian migrant workers will continue to be banned entry, however, as the Ministry of Labor has not yet reached an agreement with the Indonesian government on issues related to their entry, the CECC said.
In the case of Chinese nationals, those with Taiwan residency, their spouses and children will be allowed entry. Chinese nationals can also enter Taiwan for humanitarian reasons, medical purposes or if they are students.
The same applies to Hong Kong and Macau residents, but employees of international companies who have been transferred to Taiwan and must fulfill business contracts, will be admitted as well, according to the CECC.
Taiwan will also continue to give consideration on a case-by-case basis to people from China, Hong Kong and Macau who apply to enter under special circumstances.
Non-Taiwanese residents planning to visit for medical purposes must cooperate with a local hospital and come up with a treatment plan that must be approved by the Ministry of Health and Welfare before they can come to Taiwan, according to the CECC.
Currently, Taiwan has strict entry requirements that were put into place on Jan. 1 in view of a new variant of the COVID-19 virus that was found to be more transmissible.
The new policy that will come into effect on March 1 essentially restores the approach that was in place prior to Jan. 1.
Also on Wednesday, the CECC said that transit flights will again be allowed at Taiwan Taoyuan International Airport under certain conditions.
Transits will be allowed only for connecting flights operated by the same airline group and with a maximum stopover time of eight hours.
Transiting passengers will have to be seated in a separate area on the plane and will only have access to designated areas at the airport, according to the CECC.
View All